10-Day Notice of Deficiency
What to do when you get a notice of deficiency on your cannabis application.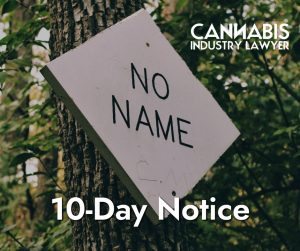 You have gotten an email from the state saying that something is missing from your cannabis application & you have 10 days in which to respond.  The 10-day notice is cryptic and confusing. It uses lots of conditional and/or language so it is hard to know exactly what they are requesting from your application.  What do you do?  Calm down, you came to the right place.  Here at Cannabis Industry Lawyer.com, our boy Tom Howard breaks down cannabis laws like a fraction for you.  If you need any help – email him at [email protected] 
RELATED POST: How to Open a Cannabis Dispensary in Illinois
RELATED POST: How to Grow Your Cannabis Business
Want Help With Your Legal Cannabis Business
What is a 10-day notice of deficiency for your cannabis application?
A 10-day notice of deficiency is routinely handed out by the authority scoring the cannabis applications.  The 10-day notice process helps to weed out some teams from the highly competitive cannabis application process. So you need to be sure to answer your 10-day notice properly. You can receive one of these notices of deficiency on your team's cannabis application for many different things.  Here's an example of a picture of one type of 10-day notice of deficiency.
How to respond to a 10-day notice of deficiency on your cannabis application
Here are some easy steps to respond to your team's 10-day notice of deficiency so you can get your cannabis application back on track. 
calm down – you have 10 days starting the day after you received the email – at least in Illinois you do.
get your application Exhibit in question & a copy of the application itself from the state
a light snack
remain calm while being completely frustrated at strange and/or conditional requests
read in painstaking detail the application, what you submitted for your exhibit & the 10-day notice carefully.
If you want a second opinion or help, contact us.
You should have figured out how to respond after steps 1-6
draft a detailed response specifically complying with their requests.
properly title your response
property format the file type for your response
say several prayers in numerous denominations to hedge your bets
submit your response to the authorities
roll a joint and be happy it's legal in your state.
Get the Naming Convention right on your Notice of Deficiency
Exhibit, title the document "Exhibit [letter of exhibit]_[Organization FEIN Number or Organization Name]_Deficiency_[Region ID(s) separated by underscores]." 

File Naming Convention Example: Exhibit N_81-3780373-Deficiency_1_4_10_17
10-Day Notice Script from YouTube and Podcast
What up everybody? Thank you for a very special episode, we're going to talk all about 10 day notices. And if you stick around until the end, you're going to learn something that might terrify you, especially if you're a social equity applicant for a low amount of marijuana possession that you were arrested for on a very special episode of. So 10 day notices are flying. Lots of 10 day notices are out there right now. And right now we're getting the exhibit p that's a social equity 10 day notice. So we're gonna be talking about the social equity 10 day notice, again, if you have any questions about a 10 day notice that you've received you can see my email address right there. And so you can email me at Tom at collateral base. Even if I don't help maybe I can give you some moment of packs so that when you're hyperventilating from getting your 10 day notice, you can use above attack to make sure that Oh, that is good hemp.
Okay, I don't feel sorry. About the 10 day notices anyone Well, actually my teams, some of them have gotten them, and we've taken care of them. And so right now we're going to talk about what you do after you get one of these 10 day notices because your team probably will get one unless you did everything magically perfect. And the most recent 10 day notices we're seeing and they're still flying right now. Somebody just reached out to me today saying they got one yesterday. And that brings us to our first point of these 10 day notices, calendaring them. Alright, so you get a 10 day notice from the state, it's going to come in an email, it's going to go to you and it's going to go to your secondary contact. And so your secondary contact and you will then start hyperventilating into your candidates. And then you calendar exactly when it's due. And you put that on your calendar, your Google Calendar, something set a reminder don't space on the date, man. And so the way that they've all been written is you have 10 days from tomorrow. So if you get one right now, like you know, it just came in your email box Because KPMG in their infinite wisdom said, Hey, man, we're something. Okay, so you calendar 10 days from the day after he received it. Notice, of course for Illinois, if your 10 day notice is slightly different, I, you know, again, do email me right over there.
And then we can talk about your 10 day notice or whatever type your state does, maybe it's not 10 days, I'm not sure it's still a deficiency, something was missing in your application. After you've calendered, your 10 day notice and you've hyperventilated a little bit, then you really need to dig into it and read it. Because KPMG is very specific about how they want to titled about how they want it, set and submit it. And so follow all the rules to the best that you can in creating the form of your response. Then, after you've figured out how you are going to appropriately title your response, you check that box off now you move on to the subsequent to information at the 10 day notices, and like I said exhibit p was the social equity exhibit in the recent Illinois application period for dispensaries I assume that these will also then come up in a few more months after they start grading the the growers and the infusers and the transporters. Just wanted to thank ONC likes, No, they are not a sponsor, but I've been there. It's fun.
And now you start reading the 10 day notice and one of the things that I hate about these 10 day notices is that they are written in the conditional and they're conditionals on conditionals you are missing this and slash or you are missing that and slash or you're missing this then you know you do after you're like what the effort even talking about you go right back to your stash. You start hyperventilating a little bit. Oh, I love legal stuff. It's always comply with your laws. Because it's very important that we went following the rules and they can make sense to advocate for change. So now you've looked at your your 10 day notice that says it Could be this or it could be that, or it could be this, dive into the exhibit that they're actually complaining about. And then see. And then of course, we got the second thing is you get the exhibit, and then you get the application.
And you read very peculiarly. And specifically, what exactly might be missing –  always get an email me, at least give us a bonus. Or I can help you respond to it and draft a response and be like, Oh, this is what you're missing. Don't forget that. And by the way, next time, maybe I can help you with your whole application, just saying. And so after you've read them, and you figured out what one in particular, they're missing, for example, for exhibit p, oh, I don't have it up right now. And if you go and you read exhibit p, it's a social equity exhibit. It has an ad in it and it has a very, so thank you for sticking around. Now you're going to hear the real magic right? There is an ad in Exhibit B, and it's in bold and that and in bold. We'll give you insight into how to appropriately answer that. And of course,
I'm not talking about anyone in particular. But the things that I've seen about the 10 day notices is for some reason, they're all the same. Usually not I mean, they're they're different ones. But people are getting the same type of 10 day notice from the state. So a lot of teams either made the same mistake or a lot of teams were missing that piece of information.
And now again, if you have any questions, you can email me at Tom collateral base calm. Now we're going to talk about something that is really really scary, and it's really really scary because it is aligned in social equity that may or may not be enforced and I'm not really sure how it's gonna come down. And I think it could create lawsuits but lawsuits are coming and lawsuits are going to come fast because gosh started. This is what happens when you have competitive scoring with KPMG and mistakes are made and all sorts of stuff. But even if you win, prepare to get sued because somebody thinks that they, somebody thinks that they should have beaten you.
Okay, let's take for example, the social equity arrest for cannabis. five grams, let's say 2008. That's a pregnant pause to have some coffee for my legs. So you got arrested for cannabis in Illinois in 2008 for five grams. And in 2016 in Illinois, infinite wisdom, they decriminalized 10 grams or less of cannabis. And the way that the CR ta the cannabis regulation and Tax Act is written. It's an offense eligible for expungement. So since 2016, there hasn't been an offense eligible for expungement for possession of cannabis for 10 grams or less. However, you're issued a ticket. You were not arrested. It was a citation. You know, it was a penalty if you were caught with 10 grams or less after 2016 in Illinois. That didn't go on your record. Now, if you are arrested for five grams in 2008, you were arrested. You had court dates, you probably had to sit in central booking for a little bit. You could have gotten whatever the penalty, the penalty for 10 grams or less was I'd have to look again, the business lawyer and consultant. I'm not a criminal lawyer that is by design. Also do not know anything about divorces or family law. So what happens to that person that was arrested and convicted for five grams in 2008? Is that an offense eligible for expungement? Under the new law? That is a tricky wicket, because the act of 2016 regarding the decriminalization did not create auto expungement. For everybody that had been arrested previously, it did create some auto expungement for people that would get the ticket Afterwards, so like if the ticket will come off your record, please.
That's what I think. And that's one of the amendatory provisions of the CRTA and then again, this this line, oh no, I'd be willing to switch over pages math, people are just bombastic. It's actually 300. And it's 300 pages of amendments. And so the actual law itself also had all these other amendments, and then they refer to these areas. And so then you would have to look at it. And that's going to be an interesting question. You know, how much weed and when were you arrested is something you have to ask your social equity talent on your team? Because if it's for less than 10 grams, that might not be enough, even if it wasn't 2007. And if it's for more than 500 grams, it's too much, which is bizarre, perplexing, all sorts of things. And oh, that's kind of neat. Somebody just asked me a question in real time, and then it disappeared. Thank you Facebook for not helping me out so much. There you go. No, that was a like, Anyway, thanks, shales. And so if you guys do have any questions about elevens watching, go ahead and ask them right now. And they kind of all come together in our stream yard that we use. It's pretty sweet little piece of technology. A lot of people are using it now. I'm listening to the dead. actually listening to the Grateful Dead. The Dead is a different incarnation of the dead.
. And not only that, it is illustrative of how many more days we have to wait. Like I said, I just was contacted today by somebody who said they just got it a 10 day notice. So there we go. Now we're into June, because he had to, um, no, it'd be 10 days from tomorrow, because that's how the the notices are written. So if I was going to counter this 10 day notice that I received today, it would be due June 1. And so now we're into June with 10 day notices. Sorry, man, that's just how it's going right now. And thank you. Thank you would take up. crypto Roger, we've been mostly talking about Illinois 10 day notices. We also had a brief interlude where we talked about Pennsylvania's proposed bill that they have a law they have a bill they just haven't yet voted on it and passed it and signed it into law. So Facebook's coming See, now that's another one. Okay, it's off topic question and answer you guys. We're just going to get a little bit more than and so the Uber of cannabis delivery that is not likely to happen the bill that there is a bill in Illinois. It's a mandatory provision to the CRTA the cannabis regulation and Tax Act for delivery. It is tied to the dispensary license.
CONCLUSION TO THE 10-DAY NOTICE DEFICIENCY EMAIL
Alright, I need to go get back to work. But sometimes I like to take breaks like this and record a 10 day notice video so that we can help you guys respond to them. If you have any questions again, hit me up at sorry, there is collateral base.com is my law firm as collateral base, my blog about all the cannabis logs, laws, of course, cannabis legalization, news blog, that's the show, cannabis industry lawyer.com that's where you can find all the questions and answers that you need about the legal cannabis industry, including this one about 10 day notices that I'm going to now go wrap up Then we are going to post this on a page on that website about how to respond to 10 day notices. See you next time, everybody
Transcribed by https://otter.ai
Want Help With Your Legal Cannabis Business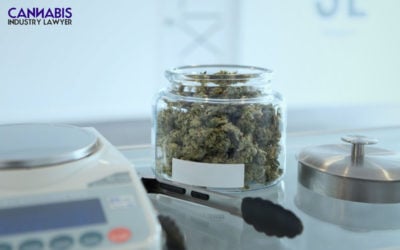 Ohio Marijuana Dispensary License Application With overwhelming evidence supporting medical marijuana's potential to improve the qualify of life for Ohio residents, state lawmakers passed House Bill 523 in the summer of 2016. The passage of this law made medical...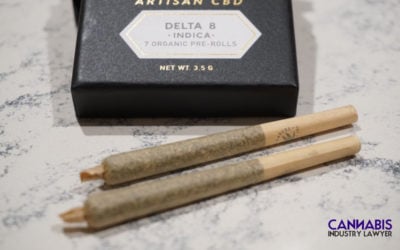 Kentucky Delta-8 THC Hemp Ban Delta-8 THC is illegal according to Kentucky's interpretation of federal law - at least according to the general counsel of the Department of Agriculture - who really has no authority to make conclusions of federal law. Delta-8 THC has...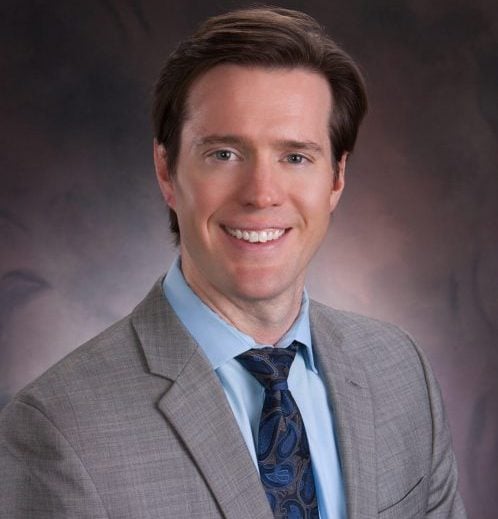 Thomas Howard
Cannabis Lawyer
Thomas Howard has been in business for years and can help yours navigate towards more profitable waters.
Thomas Howard was on the ball and got things done. Easy to work with, communicates very well, and I would recommend him anytime.


316 SW Washington Street, Suite 1A
Peoria, Illinois 61602
Phone: (309) 740-4033 || Email:  [email protected]


150 S. Wacker Drive, Suite 2400,
Chicago IL, 60606 USA
Phone: 312-741-1009 || Email:  [email protected]


316 SW Washington Street, Suite 1A
Peoria, Illinois 61602
Phone: (309) 740-4033 || Email:  [email protected]


150 S. Wacker Drive, Suite 2400,
Chicago IL, 60606 USA
Phone: 312-741-1009 || Email:  [email protected]