The Marihuana Tax Act Was Signed Into Law 82 Years Ago
The Marihuana Tax Act was signed into law on August 2, 1937. This tax act essentially gave feds complete control of the plant, imposed excessive taxes on it, and held high repercussions on those who went around the government. A judge who sentenced one of the first victims of this act said, "I consider marijuana the worst of all narcotics, far worse than the use of morphine or cocaine. Under its influence, men become beasts. Marijuana destroys life itself. I have no sympathy with those who sell this weed." And look how far we've come! 33 states allow cannabis for medical use and just this week the American Bar Association formally endorsed an end to cannabis prohibition.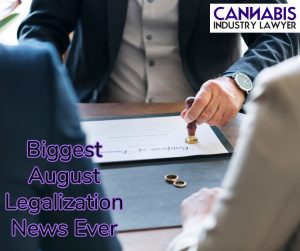 This week we spoke with Tyler Stratford the Director of Client Operations from Canna Advisors, here's what we learned:
Canna Advisors

Based in Boulder, CO
Operating since 2013
Guide entrepreneurs and startups entering the cannabis industry
Assist with licenses, optimize facility design, standardize operations, and maximize business development
Good Strategies for Getting in the Industry

Pay attention to any active license application processes that are going on across the US
Some states do not have open or closed license application processes
Most states outline barriers to entry in their license application process whether they are competitive or not
States have to pin the success of their entire program on the people they give licenses to so many states are incredibly selective

Unfortunately, this means they give priority to people who are able to provide substantial amounts of funding
In New Jersey's recent second round of medical license applications, every person that was selected is a current multi-state operator in another state in the North East

Cannabis is its own world and we need people with all sorts of diverse background
If you're not incredibly well experienced or capitalized, leverage your experience in a way that the industry needs. If all else fails work the labor-intensive side – start as a trimmer and work your way up to a manager. Educate yourself and other opportunities will come from your passion about the industry
Find a niche and fill it
Social Equity

You get extra points if you are a person from a historically disadvantaged group (LGBTQ community, a person of color, veteran)
Hold policymakers accountable. Historically disadvantaged groups need a chance to own the table, not just have a seat
In some states, if you are located in an area that is under the poverty line, you get more points towards your application
New Leaf Project and Minority Cannabis Business Association are great organizations who are fighting for social equity
Interested in coming on as a guest? Email our producer at lauryn@collateralbase.com.