What is the Cannabis Regulation and Tax Act?
Illinois passed the Cannabis Regulation and Tax Act on May 31, 2019. It ushered in a cannabis regulation and taxation scheme that seeks to rectify the wrongs of the drug war in Illinois. It is a highly regulated form of marijuana legalization that sets the marketplace up for small businesses and social equity.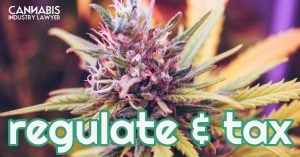 We briefly cover the main sections, called Articles, of the Cannabis Regulation and Tax Act. Here's the Articles we will touch on;
Article 1: Short Title, Findings & Definitions;
Article 5: Authority
Article 7: Social Equity
ARticle 10: Personal use
Article 15: Dispensing Organizations
Article 20: Cultivation Centers
Article 25: Vocational Cannabis Pilot Program for Community College
Article 30: Craft Growers
Article 35: Infuser Organizations
Article 40: Transporter Organizations
Article 45: Enforcement and Immunities
Article 50: Labs & testing
Article 55: General Provisions
Articles 60 & 65: Privilege and Excise Taxes
Article 900: Amendments
Article 999: Miscellaneous
The new Illinois Adult Use of Marijuana (cannabis with more than 0.3% THC) is very complex and requires many issues that a business lawyer with cannabis industry experience can really help your company's grow, infuser or dispensary.
Articles of Cannabis Regulation and Tax Act in Illinois
The adult use of cannabis law has been passed by the Illinois legislature, as you saw that was a time consuming process lasting the entire legislative session from basically the first of the year until the session adjourned on May 31, 2019.  Now the governor signs the bill – then the rule making process begins. There will be an application released by October 2019. We will discuss that more in the specific video and post we do on that article.
The Cannabis Regulation and Tax law is broken up into 999 articles.  But it started with a naming convention before all the amendments that probably went by 5s as bills often do.  Let's go through the various articles of the law:
Article 1: Short Title Findings and Definitions.  This is a very important article that creates "terms of art" in the new law of Illinois regarding the adult use of cannabis, specifically the version that has more than 0.3% of THC.
Article 5: Authority – Basically charges the department of Ag to expand (now has all the plant) – Medical marijuana, industrial hemp & soon adult use cannabis.
Article 7: Social Equity in Cannabis – Strange naming convention – Social Equity Inclusion Plans – Very big
Article 10:Personal Use of Cannabis makes me wonder if the social equity was added after the initial bill – or maybe they thought 7 is lucky – personal use of cannabis. This goes well beyond home grow – it goes to discrimination, punishments for underage or unauthorized use, employer liability, and policy objectives
Article 15: Dispensing organizations – early ones are going to be medical ones and fund the vocational programs.
Not gonna lie this is a large section  starts on page 63 – ends on page 162 – 100 pages on dispensaries –  75 by May 2020 – and 110 by end of 2021
Article 20 – cultivation centers, which is stuck because of the existing medical marijuana cultivates, you can have up to 30 by July 2021. – Currently there are only 20 cultivation licenses
Article 25 – community college cannabis vocational pilot program – coming for the 2021-22 school year. Career in Cannabis Certificate
Article 30 – Craft Growers – where the real action for small business cultivators is 40 for July 1, 2020. No M&A until December 21, 2021 – looks like there is time to get ready for the M&A wave in 2022 in cannabis.  Another 60 craft grows shall be awarded for Christmas 2021 boy It's looking like 2022 is going to be the year for cannabis in Illinois. After that time, the number can increase, but not go above 150. This is another large section of the law we will be covering this summer – but call your attention to sub section (n) on page 219
Article 35 Infuser organizations – from my review this appears to be like a processors license.  If you make an "infusion" – "processor license" only appears 2x in the law and here's a hint. The infusing organization gets the processor license.  However, it appears that there is a difference between processing to get extract, and infusing that extract into something else like edibles.
Article 40 Transporting Organizations – Small thing on costs for this – all these licenses call for having all your business plans and corporate documents – like security policies, energy polices, policies and organizations like most businesses never do.  So when people ask me how much it costs to get it – well – a lot. You need a plan, and there will be consultants to sell them to you – remember to ask them if they have a fiduciary duty to your company – they don't
Article 45 enforcement and immunities
Article 50 – Labs and testing – let's hope the purity of marijuana for medicine is just expanded
Article 55 – general provisions – packaging, destruction policies – restricted cannabis zones – rule making – validity of contracts, may undermine the bankruptcy strategy.
Articles 60 & 65 the taxes – that's kinda interesting and we will be breaking down where the dollar of taxes goes  the pie chart writes itself and I think we are going to replace the pie with a joint in our chart.
Article 900 – Amendments – big jump in the conventions there – and longest section – you see, lots of laws had to be amended almost 300 pages of the law is in the amendments
Finally, Article 999 – miscellaneous – amendment issues and effective date stuff
So that's the law, what's it all mean?  Subscribe to the channel join our facebook group on Adult use laws in illinois and let's go to 2022 when cannabis will be more mature and M&A will come to it.