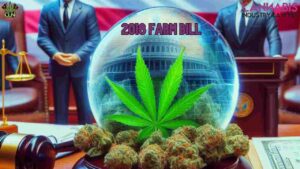 President Trump made history by legalizing hemp when he signed the Agriculture Improvement Act of 2019 (aka the 2018 Farm Bill) on December 20, 2018. The huge law included the first change to the nation's cannabis laws in almost fifty years. This opened the floodgates for farmers that want to get into the hemp industry to provide a new crop to help boost failing ag commodity prices.
Key Takeaways from 2018 Farm Bill for Hemp
Removed Industrial hemp from the Controlled Substances Act;
Defined Industrial hemp as cannabis sativa with less than 0.3% Delta-9 THC by dry weight;
legalized interstate commerce in industrial hemp;
set the USDA as the agency to create the rule for industrial hemp.
industrial hemp production is still unlawful if done without a USDA license, or in a state without an USDA approved industrial hemp production plan.
Hemp is high in cannabidiol (CBD), but with practically zero tetrahydrocannabinol (THC)
raw cannabis is very low in Delta-9 THC
Thomas Howard has been in business for years and can help yours navigate towards more profitable waters.
Thomas Howard was on the ball and got things done. Easy to work with, communicates very well, and I would recommend him anytime.
Hemp Before the 2018 Farm Bill
Even before the 2018 Farm bill fully legalized industrial hemp, the 2014 pilot program spearheaded by Senator Mitch McConnell (R-KY) provided a smaller program to explore the new commodity in various states. The pilot program became very popular in the tobacco producing states surrounding Kentucky and provided a real cash crop for farmers that had to turn away from the tobacco as it continued to decline in popularity.
The 2014 Farm Bill regarding the research aspect of industrial hemp will still apply until the USDA issues its final administrative regulations by the end of 2019, or at the latest before the 2020 crop year.  The 2014 Farm Bill required the hemp research to comply with a State's similar hemp pilot program to avoid interference from the DEA.  These rules will continue until the final rule are in place.
While both cannabis sativa, hemp is legally defined as the plant with less than 0.3% THC, while Marijuana has more than 0.3%.
How the 2018 Farm Bill Will Increase CBD Supply
CBD hemp has a spot price that, as of April of 2019, is approximately $4.00 per pound per percentage of CBD.  Most industrial hemp is about 10-12% CBD.  After it is harvested, the flower is "schucked" from the remainder of the plant and sold by the pound.  The CBD rich hemp flower then goes through an extraction process that separates the plant material from the cannabinoids.  The extraction process may temporarily cause the total amount of THC in the extract to exceed the 0.3% limit for industrial hemp, but this can be corrected with further processing and also occurs after the hemp has been tested for being the maximum levels.
Before the 2018 Farm bill, CBD businesses operated in a borderline legal status that exploited the Department of Justice policy, like the Cole Memo, that enabled state-law compliant cannabis companies (medical marijuana, adult use, or industrial hemp) to operate without federal interference.
After the 2018 Farm Bill, CBD companies have ramped up both production and certain claims about CBD that has raised eyebrows at the Food and Drug Administration (FDA).
FDA Regulations for CBD Hemp Products
FDA regulations prevent herbal supplement companies from making misleading claims that their products are effective in treating or preventing certain diseases. This is why on many of the bottles of herbal supplements, whether vitamin-C or CBD, disclaimers – like this:
These statements have not been evaluated by the Food and Drug Administration. This product is not intended to diagnose, treat, cure or prevent any disease.
Further complicating FDA regulations, it approved a CBD prescription drug, Epidolex, that is a pure version of the drug, which means food cannot include this approved drug.  However, hemp extract – for example hashish – has been in the food supply for hundreds if not thousands of years. This is one of the reasons why many of the CBD products advertise themselves not as merely the CBD chemical, but as "full-spectrum hemp extract."
How the Definition of Hemp Made Marijuana Legal (maybe)
All cannabis, whether marijuana or hemp, has very low levels of delta-9 THC in its raw plant form. However, the 2018 Farm Bill specifically defined hemp as have less than 0.3% delta-9 THC. Most marijuana falls under that definition, until it is heated too over approximately 250 degrees Fahrenheit, when the acid on it decarboxylates into the delta-9 THC.
As a result, much of the industrial hemp may actually have about 0.7% total THC, but far less than 0.3% delta-9 THC. Producers of hemp have opted to test their cannabis plants with high-performance liquid chromatography, which tests the chemicals without heat, opposed to gas chromatography, which heats it and causes false positives.
Somes states, like Illinois, has mandated through its rules that the hemp must be tested after decarboxylation.  This fixes the problem because then no one can claim their total THC somehow does not count, but only its mostly absent delta-9 THC. We will find out by the end of 2019 how USDA defines its rules for testing.
The 2018 Farm Bill Expressly Legalized Interstate Commerce in Hemp
Page 435 of the 2018 Farm bill provided guidance to the states that industrial hemp is legal and so is its commerce.  it provides:
SEC. 10114. INTERSTATE COMMERCE. (a) RULE OF CONSTRUCTION.—Nothing in this title or an amendment made by this title prohibits the interstate commerce of hemp (as defined in section 297A of the Agricultural Marketing Act of 1946 (as added by section 10113)) or hemp products. (b) TRANSPORTATION OF HEMP AND HEMP PRODUCTS.—No State or Indian Tribe shall prohibit the transportation or shipment of hemp or hemp products produced in accordance with subtitle G of the Agricultural Marketing Act of 1946 (as added by section 10113) through the State or the territory of the Indian Tribe, as applicable.