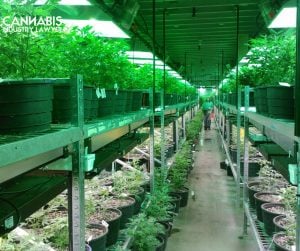 How to get a dispensary license in New Jersey? That's the question you should ask yourself if you're thinking about opening a dispensary in New Jersey. In order to obtain a dispensary license, you'd need to comply with requirements established by the new law on the matter and be awarded a license – a rigorous process.
Medical marijuana businesses became legal in New Jersey in 2010 –although heavily regulated- just to give some perspective on this: even though the state has a population of 8.8 million, there are only 13 medical cannabis dispensaries. 
Since November 2020, recreational marijuana businesses have been legalized, thanks to a ballot initiative. According to this initiative, The Cannabis Regulatory Commission (CRC) will oversee the state's marijuana program and the issuance of associated licenses, and among them, the dispensary licenses. However, the county and city where the business will be located may also determine whether you can start a business within their borders or not.
With some sources stating that the market size of legal marijuana is expected to reach $23 billion by 2025, the one thing that's certain about this state is that there's good money to be made in legal Cannabis in New Jersey –once you decide you're willing to overcome all the bureaucracy and some stiff competition.  
Medical marijuana dispensary licenses in New Jersey
Unfortunately, 22 August 2019 was the last date to apply for a medical marijuana dispensary license in New Jersey and since then, there hasn't been another period to apply for it. However, this doesn't mean that it won't open anytime soon. What's even more: with the approval of adult-use marijuana, there'll be an opening for businesses to get a dispensary license soon. 
So, now is the time when you need to know what to do, what to expect, and how much everything is going to cost, so you can get ahead of your competition. 
RELATED POST: HOW TO OPEN A CANNABIS MICROBUSINESS IN NEW JERSEY
RELATED POST: HOW TO OPEN A CANNABIS BUSINESS LICENSE IN NEW JERSEY
Opening a Cannabis Dispensary New Jersey
Although there have been some delays in signing the bill, and the road to recreational sales in early 2021 is anything but clear, recreational sales are expected to take up to six months to reach the market.
With the revenue generated by cannabis dispensaries in the billions of dollars and rising, these developments present a very lucrative opportunity. However, opening and running a dispensary is a challenging business venture:
Opening a dispensary requires a lot of considerations, compliance with numerous regulations and a significant amount of capital.
Costs to open your doors could run from $500,000 upwards of millions depending on real estate costs and the size of the operation.
Many cannabis dispensaries are selling millions of dollars of product a month
Competition for new dispensaries tends to be fierce.
It's important to mention that the first dispensaries that will sell recreational cannabis will be existing medical marijuana dispensaries, and although the application window isn't open just yet, it is generally a good idea to be prepared ahead of time for the application process.
Obtain a New Jersey Dispensary License
You can check out the details on how to obtain a cannabis dispensary license here. Obtaining a cannabis license can be incredibly difficult and costly. Further, there usually are strict requirements for prospective dispensary owners.
There is information pending regarding the licensing process. However, according to the current recreational cannabis bill:
"Each license application shall be scored and reviewed based upon a point scale with the commission determining the amount of points, the point categories, and the system of point distribution by regulation. The commission shall assign points and rank [all] applicants [, from the most to the least points,] according to the point system."
This "point system" approach is similar to what we've seen in other states that have recently legalized adult-use cannabis. Your application will be scored using a point system that considers your and your team's experience, skills, and qualifications on a wide range of topics. Here's a sample of some of the topics you may be assessed on:
Environmental impact plan
Safety and security procedures
Cybersecurity plan
Emergency management plan
Diversion prevention
Sanitation practices plan
Procedures reporting adverse events
Proof of financial competence to carry out plans
As you can see, apart from direct cannabis knowledge, you must be knowledgeable in a wide range of topics. This is because each of the above topics is essential to running a cannabis company, and any information gaps will jeopardize long-term success.
Also, your team should prepare a business plan, which should include:
Financing plan
Quality control and quality assurance plan
Dispensary/operations plan
Labor compliance plan
Workforce and job creation plan
Security plan
Environmental impact plan
Anything else you think would help you stand out and attract investors
A revenue forecast is conducted by estimating how much product you think you will sell production costs, retail price and complementary costs (payroll, rent, transport, etc.). You may also include a break-even analysis, with an estimated timeline until profitability.
New Jersey-specific Requirements – You may include details of covering your security systems, secure product transport, product tracking, waste plans and other state requirements. Note that these may be included in your application.
Investor Proposal – Involves how you will value your shares if you present your plan to investors. Consult with a CPA to ensure you are compliant with state and federal regulations
Conclusion
With the right motivation and access to necessary resources, our office can help you successfully start a profitable cannabis dispensary in New Jersey. Although it is important to note that this process takes time even when you have the resources.
Given the licensure steps, finding a suitable location and developing your storefront to meet the state requirements, it may take well over a year from application to selling.
Remember: the cannabis industry is heavily regulated and getting help from industry, and business experts is recommendable.
And lastly, don't miss out on our Marijuana Legalization Map where you can browse the current status of laws in every state in the United States and see all our posts on each of them.
Check Out:
Interested in coming on as a guest? Email our producer at [email protected]