Cannabis Justice Proposed in Congress
On February 28, 2019, Democrats in both the Senate and the House of Representatives introduced a sweeping reform of that nation's cannabis laws.  The  Marijuana Justice Act of 2019 not only deschedules cannabis from the Controlled Substances Act (CSA), but also brings sweeping criminal justice reform.
Our cannabis lawyers have been watching various bills brought to the Hill in Washington DC for years, but the Marijuana Justice Act really puts a lot of the pieces together.  Let's break it down for you, we've included an infographic to help you get the "gist" quick!
De-scheduling cannabis: the best cannabis legalization bills call for this feature.  Like HR 420 before it, the MJ Act also removes cannabis from the CSA.  It is really the best and only way to remove all of the federal crimes that have been written in such a way to provide that the scheduled substances itself creates all the crimes.  So easy fix, just cross cannabis off the list and it still applies to dangers drugs like heroin, but cannabis can be regulated in a more logical matter.
Automatic Expungement of Federal Cannabis Crimes: Huge idea, what to do with all the people that have been found guilty under the CSA for cannabis for the past 49 years?  Expunge their cannabis crimes.

Petition for resentencing: If the crimes can be expunged, many federal prisoners would be released or get lighter sentences as rarely is someone found guilty of just one thing, and convictions stack up. So the passage and implementation of the MJ Act would help a lot of cannabis prisoners have a chance at a fresh start.

State Incentives: the MJ Act will provide federal funds to states to help them choose better marijuana laws (not all that different than how the highway bills funding was tied to drinking age several decades ago.

Help reduce the disparity in the disproportionate arrests and incarceration of minority groups for marijuana-related offences.

Create a Community Reinvestment Fund: lots of money has been poured down the drain and it has taken a toll on some of the poorest and most in need among us, which is why the fund will address:

Job training
re-entry services
expenses related to expungement of convictions
public libraries (who can oppose that?)
community centers
programs for the youth
health education programs.
Here's a quick info-graphic to recapp.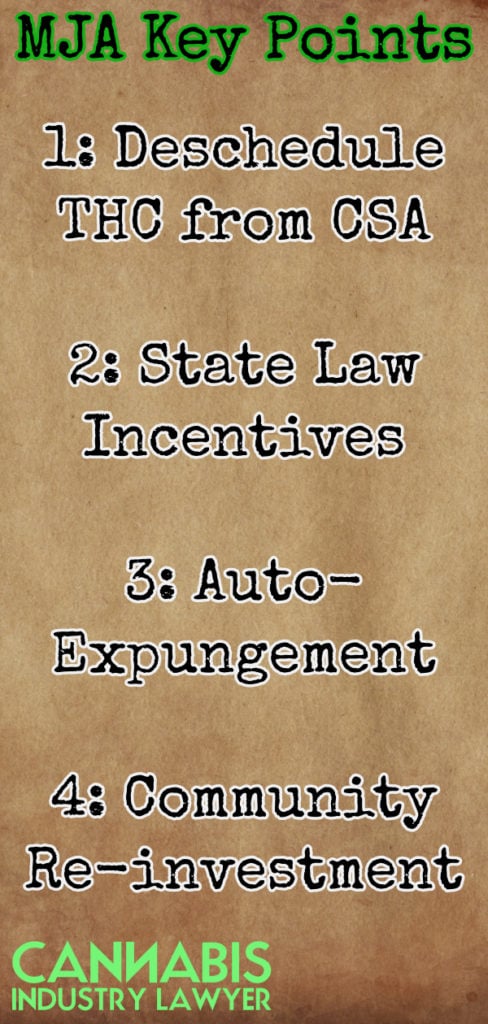 Support the Marijuana Justice Act
You can voice your support for the Marijuana Justice Act by sharing this content, but you should probably also pick up the phone and tell your Congress reps and Senators to support it.
To do that just pick up the phone and  dial 202-224-3121.
Thanks and if you have any questions for your cannabis or hemp company that you want a lawyer to answer, get in touch with me.
Talk to you real soon!