Trump again says he is allowing states to legalize cannabis
President Trump answered a question about legalization: "We're going to see what's going on. It's a very big subject and right now we are allowing states to make that decision," Trump said. "A lot of states are making that decision, but we're allowing states to make that decision."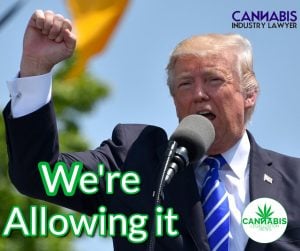 Donald Trump said the states can legalize marijuana…again?
Hi, I'm tom find me by googling cannabis lawyer and clicking on my website cannabis industry lawyer.com – an online resource for your questions about gaining entry into the cannabis industry.  Today we provide you with an update on what Trump can do to put his money where his mouth is – so smash the likes and subscribe to get notice of future episodes of cannabis legalization news.
 DC Examiner reporter Steven Nelson whether cannabis would be federally legalized while he was in office.
"We're going to see what's going on. It's a very big subject and right now we are allowing states to make that decision," Trump said. "A lot of states are making that decision, but we're allowing states to make that decision."
Oh really, Mr. President – you're allowing the states to make that decision and you are going to see what's going on?  Why stop there – you love executive orders when it comes to immigrants – how about you do some executive action like

Trump Executive Action on Cannabis
Tell the department of justice to stop all cannabis enforcement against state law compliant – right now just have defunded only medical marijuana.

Telling Bankruptcy trustees to administer cannabis business bankruptcies – Imagine if your casinos could not have filed for protection under Chapter 11 – welcome to the cannabis business!

Telling Bank examiners to allow banks to lend to cannabis businesses and take credit card and checks so that the industry no longer has to deal in cash – how much of the SAFE banking act can be done by executive action – which you love to use Mr. President, with that bold signature of you, think about taking the wind out of Bernie's sails with that one.  What a news story – people will talk about you, isn't that what you want Mr. President – isn't it?!

Tell the IRS to not enforce IRC-280E, call it the executive cannabis tax cut.

Free Lance Gloor – and the other cannabis prisoners in federal prison, that's purely an executive action to pardon or grant clemency.
Of course there are limits to executive action – but that's a matter for the courts Mr. President – they can sue you … again, you are no stranger to litigation and probably enjoy every minute of it
And now tell Trump about it – right after you like & Subscribe  – to cannabis legalization news
Call The White House comment line
202-456-1111
Check out:
Interested in coming on as a guest? Email our producer at lauryn@collateralbase.com.