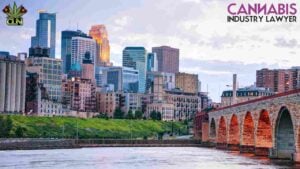 By Thomas Howard. He has over 10 years of experience in corporate and cannabis laws nationwide. 
How to Get a Cannabis License in Minnesota: An Expert Guide
Minnesota's booming cannabis market offers a world of opportunity for aspiring entrepreneurs. By securing a cannabis license, you're positioning yourself at the forefront of an industry on the verge of explosive growth. But navigating the complex licensing process and understanding the state's cannabis legislation can be challenging. That's where this expert guide on how to get a cannabis license in Minnesota comes in, providing you with all the information you need to establish a successful cannabis business in the Minnesota.
Understanding Minnesota's Cannabis Legislation
Understanding Minnesota's cannabis legislation is key to successfully launching a cannabis business. The state is actively working on revising existing restrictions and legalizing adult-use cannabis through the HF100 Bill, while the Medical Cannabis Program continues to operate.
Staying updated on the evolving cannabis laws and the array of licensing options prepares you to capitalize on upcoming opportunities.
The HF100 Bill
The HF100 Bill marks a significant milestone for the cannabis industry in Minnesota. It includes the following key provisions:
Legalizes adult-use cannabis

Establishes the Office of Cannabis Management to oversee the industry

Outlines a comprehensive regulatory framework

Sets licensing requirements and regulations for cultivators, processors, dispensaries, and other entities involved in the production and sale of marijuana products.
With this legislation in place, Minnesota is well on its way to creating a thriving, regulated cannabis market.
Medical Cannabis Program
Minnesota's Medical Cannabis Program will continue to operate alongside the new adult-use market, with some changes to its regulatory framework. The program's transition to the Office of Cannabis Management ensures that medical cannabis patients will continue to have access to safe, regulated products through a licensed medical cannabis processor.
As a prospective cannabis entrepreneur, understanding the differences between the medical and adult-use markets and recognizing opportunities in both is beneficial.
Types of Cannabis Business Licenses in Minnesota
Minnesota offers a variety of cannabis business licenses, catering to the diverse needs of the industry. From adult-use licenses that cover cultivation, processing, and retail sales, to medical cannabis licenses for businesses focused on serving patients, the state has something for everyone. Recognizing the variety of licenses available aids in selecting the best fit for your business objectives and positions you to benefit from the expanding cannabis market.
Adult-Use Licenses
Adult-use licenses in Minnesota span a wide range of cannabis businesses, from cultivation to retail sales. Whether you're interested in operating a cultivation facility, a processing plant, or a retail store, there's a license type for you. As the adult-use market grows, obtaining the appropriate license is pivotal to position your business for success in this emerging industry.
Cannabis cultivator

Craft cultivator

Bulk cultivator

Cannabis manufacturer

Cannabis wholesaler

Cannabis transporter

Cannabis testing facility

Cannabis microbusiness

Cannabis event organizer

Cannabis delivery service
Medical Cannabis Licenses
Medical cannabis licenses cater to businesses involved in the production and distribution of medical cannabis products, including medical cannabis combination business, medical cannabis dispensary, and medical cannabis retailer. These licenses, such as those for a medical cannabis cultivator, come with their own set of regulations and requirements, ensuring that patients have access to safe, effective medicine. In recent years, medical marijuana businesses have also emerged, providing similar services to those in the medical cannabis industry.
Securing a medical cannabis license allows access to Minnesota's expanding patient base, providing imperative relief to those most in need.
Each of these licenses comes with its own set of challenges and responsibilities. It's crucial to stay updated with the ever-evolving regulations by regularly checking the official Minnesota government pages. As the cannabis industry in Minnesota continues to flourish, ensuring compliance and understanding the nuances of each license type will pave the way for a successful venture.
Application Process and Timeline
The application process for a cannabis license in Minnesota involves several steps, including preparation, submission, and review by the Office of Cannabis Management. As the state concludes its regulations, staying updated and initiating preparations ahead of time is beneficial.
Understanding the application requirements and timeline guarantees your business is ready to commence operations immediately upon license issuance, after paying the initial license fee.
Preparing for the Application
Aspiring cannabis entrepreneurs should start preparing for the application process well in advance, gathering necessary materials and information. This includes:
Researching the various license types available

Understanding the state's cannabis regulations

Determining the capital needed to launch and operate your business
Being well-prepared heightens the likelihood of successfully obtaining a cannabis license in Minnesota.
Application Submission and Review
The application submission and review process for a cannabis license in Minnesota is a critical step in securing your place in the industry. During this phase, the Office of Cannabis Management will thoroughly assess your business plan, security measures, and compliance with regulations.
A comprehensive, well-prepared application aligned with the state's requirements significantly enhances your chances of license approval and a successful cannabis business launch.
Licensing Requirements and Scoring Criteria
Licensing requirements and scoring criteria in Minnesota include ownership and residency requirements, as well as provisions for social equity applicants. These factors play a crucial role in determining which businesses receive licenses and contribute to a diverse, equitable, and thriving cannabis industry.
Understanding and fulfilling these requirements enhances your chances of obtaining a cannabis license and positively impacting the local community.
The board shall award points to each completed application in the following categories:
Status as a social equity applicant

Status as a veteran applicant

Security and record keeping

Employee training plan

Business plan

and financial situation

Diversity plan

Labor and employment practices

Knowledge and experience

Environmental plan
Ownership and Residency Requirements
To obtain a cannabis license in Minnesota, business entities must meet the following requirements:
Be at least 75% owned by state residents

Ensure that the benefits of the cannabis industry are shared with the local community

Foster a diverse and equitable market
These requirements are in place to promote local involvement and ensure a fair and inclusive cannabis industry in Minnesota.
Fulfilling these ownership and residency requirements not only enhances your chances of obtaining a license and avoiding a renewal license fee, but also showcases your dedication to the welfare of Minnesota's residents.
Social Equity Provisions
Social equity provisions in Minnesota prioritize applicants from low-income neighborhoods, veterans, and those impacted by cannabis offenses. These provisions help to address the historical injustices of cannabis prohibition and create a more inclusive and diverse industry.
Utilizing these provisions not only enhances your chances of obtaining a cannabis license, but also contributes to a fairer cannabis market in Minnesota.
Local Compliance and Zoning
Local compliance and zoning are important factors to consider when establishing a cannabis business in Minnesota. Ensuring that your business complies with local regulations and zoning requirements will not only help you avoid potential legal issues but also ensure smooth operations.
Collaborating with local authorities and choosing a compliant location lays the groundwork for a successful cannabis business.
Working with Local Authorities
Working with local authorities is crucial for ensuring that your cannabis business complies with local regulations and zoning requirements. By fostering positive relationships with local regulators and staying informed about the latest developments in cannabis legislation, you can navigate the complex regulatory landscape with confidence.
Collaborating with local authorities helps evade potential legal issues and contributes to your cannabis business' success.
Choosing a Compliant Location
Choosing a compliant location for your cannabis business is crucial for avoiding potential legal issues and ensuring smooth operations. By taking local zoning regulations and distance restrictions into account, you can select a location that adheres to all necessary requirements. A compliant location not only shields your business from potential legal troubles but also fosters its long-term success in the competitive Minnesota cannabis market.
Financing and Capital Raising
Financing and capital raising are essential aspects of starting a cannabis business in Minnesota. From estimating startup costs to exploring various strategies for raising capital, understanding the financial side of the business is critical to your success.
Securing adequate funding and prudent capital management lays a strong foundation for a prosperous cannabis business in Minnesota.
Estimating Startup Costs
Estimating startup costs for your cannabis business is an important step in determining the amount of capital needed to launch and operate successfully. By taking into account factors such as licensing fees, real estate costs, and initial renovation expenses, you can develop a clear understanding of the financial investment required.
This knowledge aids in securing the required funding and guiding your decisions as you establish and expand your cannabis business.
Strategies for Raising Capital
Raising capital for your cannabis business can be a complex and challenging process. Strategies for raising capital may include working with investors, applying for loans, or seeking assistance from cannabis business consultants.
Exploring these options and identifying the most suitable approach for your business helps secure the required funding and paves the way for your cannabis venture's success.
Building a Successful Cannabis Business Team
Establishing a successful cannabis business team is key to navigating Minnesota's competitive market and ensuring your venture's longevity. From talent acquisition and management to collaboration with consultants, assembling a strong team with expertise in cannabis business operations and management will position your business for growth and success.
Talent Acquisition and Management
Assembling a team with expertise in cannabis business operations and management is crucial for success in the competitive Minnesota market. Enlisting proven talent from related industries, keeping updated on talent acquisition trends, and focusing on talent attraction and retention builds a strong team capable of propelling your cannabis business to new heights.
Working with Consultants
Working with Minnesota cannabis consultants can provide valuable insights and assistance in navigating the complex cannabis licensing process. By leveraging their expertise and industry knowledge, you can ensure that your business is well-prepared to meet the requirements of the Minnesota cannabis market.
With experienced consultants' support, including a cannabis event organizer, a cannabis manufacturer, a cannabis retailer, a cannabis wholesaler, and a cannabis microbusiness expert, you can surmount challenges and steer your cannabis business towards success, such as the implementation of a cannabis delivery service.
Expert Insights
Expert insights from cannabis business consultants can help aspiring entrepreneurs navigate the competitive Minnesota cannabis market and secure a license. By staying informed about the latest developments in the industry, working closely with consultants, and building a strong team, you can set your cannabis business up for success.
Conclusion
In conclusion, comprehending Minnesota's cannabis legislation, licensing prerequisites, and application process is key for prospective cannabis entrepreneurs aiming to secure a license and establish a successful business in the state.
To sum up, with the right knowledge, resources, and support, you can successfully navigate Minnesota's complex cannabis market and establish a thriving business. From understanding the state's legislation and licensing requirements to building a strong team and securing financing, every step of the journey is critical to your success. Keep these expert insights in mind as you pursue your cannabis business dreams in Minnesota.
Frequently Asked Questions
How much does it cost to get a cannabis license in Minnesota?
Getting a cannabis license in Minnesota requires an application fee of $2,500, an initial license fee of $2,500 and a renewal license fee of $5,000.
What is a cannabis transporter license in Minnesota?
A Cannabis Transporter License in Minnesota authorizes license holders to transport immature cannabis plants and other products from cultivators, manufacturers, wholesalers, microbusinesses, medical marijuana businesses, and industrial hemp growers to manufacturers, testing facilities, wholesalers, retailers, and medical marijuana businesses.
What is a cannabis microbusiness license in Minnesota?
A cannabis microbusiness license in Minnesota entitles the license holder to grow cannabis plants, extract and manufacture products for public consumption, and even permit on-site consumption of edible cannabis products and lower-potency hemp edibles. Additionally, a microbusiness can purchase cannabis products from other licensed businesses.
What qualifies for a medical card in MN?
In Minnesota, you may be eligible for a medical card if you have been diagnosed with Alzheimer's disease, ALS, autism spectrum disorder (meeting DSM-5 criteria), cancer, chronic motor or vocal tic disorder, chronic pain, glaucoma, HIV/AIDS, or meet other conditions under the Minnesota Medical Marijuana Law.
How much does it cost to get a dispensary license in Minnesota?
It costs $5,500 to obtain a cannabis retailer license in Minnesota, with an application fee of $2,500 and an initial license fee of $2,500, followed by a renewal license fee of $5,000.
About the Author
Tom Howard, Cannabis Industry Lawyer and Consultant has practiced commercial law since 2008 when he graduated law school and got his Series 7 & 66 Securities licenses. He pivoted to practicing litigation for financial institutions before helping cannabis teams form, capitalized and get licensed. He has concentrated in cannabis business since Illinois legalized in 2019. He won licenses for clients in Illinois, Connecticut, New Jersey, New Mexico, Massachusetts, Missouri and has gotten into lotteries in Ohio, Maryland and Maine. He became a Certified Ganjier in 2021. He chairs the ISBA's section council for Cannabis Law in 2023.