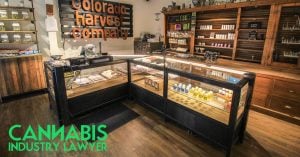 Opening a Cannabis Dispensary in Illinois will be expensive because of the security costs, capital requirements, licensing, consulting, and legal costs, which all continue into your company's operations.
Be prepared and make a great team and business plan and get the right advisors and resources for your success. 
The experts we spoke with believe costs to open your cannabis business in Illinois will be between $400,000 to $1,000,000 for a dispensary – and $6.5 million to $10 million for craft grows, depending on location & size of build-outs.
Every state is a bit different, but if you want to open a dispensary or grow in Illinois, the regulations and a limited number of licenses put up the cost more so than in non-competitive states.
How much does it cost to open a dispensary in Illinois?
Here's a brief Summary of the startup Costs to open cannabis dispensary, or craft grow in Illinois:
Statutory Application Fees
Application Compilation Costs

Legal Fees
Cannabis Operations Consultant Fees
Accountant &  Other Professionals Fees
Insurance premiums

Community Outreach Costs
Adequately Capitalized Requirements
Real Estate Build out & fixed rental costs
Employees
Flower & Inventory costs
Renewal Licensing Fees
Taxes (IRC 280E)
Marketing
Ongoing Professional Fees
Licensing fees for your cannabis dispensary or Craft Grow
These are the most straightforward of all your costs – the fees you pay to the state of Illinois. They are provided by statute and have one number.  Dead simple to plug into your budget, but that is just the toe-in-the-water of your cannabis business costs to open its dispensary or craft grow.
For Dispensaries: 
$5,000 non-refundable application fee.
$60,000 registration fee (renewable for the same amount every two years.)
For Craft Grows: 
$5,000 non-refundable application fee.
$40,000 registration fee (becomes renewable fee)

 Startup Costs & the Location of Your Cannabis Dispensary
Real estate is all about location, so where you open your cannabis business matters. Rent, as a cannabis business cannot bank a mortgage for their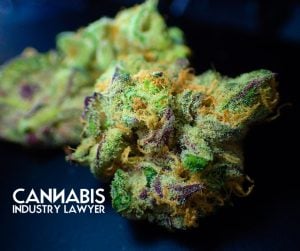 real estate, is the prime driver of a large budget item for your cannabis business.
Cannabis real estate is often referred to a "green zoned"
The square footage of your dispensary will impact your double-taxation under IRC 280E, and also your rent costs. While growers do not get hit with IRC 280E, they need to build buildings inside of buildings for closed-loop systems if they want to maintain the highest quality product.
You need to budget for and imagine your cannabis business very precisely, with the help of talented designers and architects, to determine not only your startup needs but also your day-to-day operating costs.
How much to open a dispensary as a rental tenant?
Expect a premium on the market rent and possible zoning issues. Fortunately, dispensaries in Illinois have six months from the award of their conditional use dispensing license to provide the state its address.
Additionally, security issues regarding the location of your real estate should be explored and spoken about in your application because security is a big point under its scoring.  So are the build-outs and security features required to be integrated into your dispensing or craft to grow the business, which is not so stringent in west coast states.
Furniture, fixtures, and equipment (FF&E) costs in Illinois run higher because of the exacting level of security built into the law to prevent diversion of cannabis from the supply chain, or robberies of the cash-only adult-use cannabis business.
Compiling the Application for an Illinois Dispensary or Craft Grow
Consultants will help you put together your cannabis license application, business plan, financial plans, security plans, social equity plans, and numerous other things. The completed application will resemble what was known in the 20th Century as a "Phonebook."  The phrase means that the stack of papers from a high-scoring application will be great, perhaps into the hundreds of pages.
The reason for the length of the application has to do with promises that your cannabis business is making to the State of Illinois (and your own state if you are somewhere else) on its application.
Upon the award of a license to grow or dispense cannabis to your business, then all the terms and conditions and promises regarding your cannabis business that you made in the application actually become requirements for operating your business!
Your application requires employee training policies, public outreach plans, security design and protocols, sophisticated corporate operations, ownership, and financial contracts, and the important record-keeping systems and procedures employed in growing or selling the adult-use cannabis.
No other business has so much pre-planning that goes into being awarded the license to open its doors.
If you have ever heard any business owner complain about overly burdensome regulations, ask if they are in the cannabis business.
The cost of a cost of cannabis business application can be tens of thousands of dollars and will be more fully outlined below. The important thing that your business can do when taking on the risk of applying for its license is to at least buy a good application.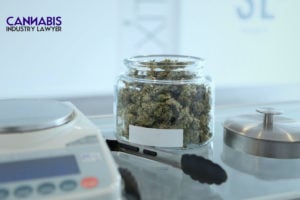 Illinois has very few seats open for the first wave of the industry. Maybe you will make the first wave, or the second, or the third.
If Illinois becomes like Colorado the number of licenses for dispensaries and craft grow will need to roughly triple over and above the current statutory maximums, which means people just like you will need to continue to lobby the State to update and amend the law for more players.
A Cannabis Business (Team) Plan Can Control Startup Costs
Who's your operator? As you may have heard me say before on Cannabis Legalization News (Wednesdays @ 2 pm CST), the cannabis industry is a team sport – there are so many angles from which your company can add or extract value from the plant.  When drafting your business plan, use this team mentality when combining: your culture, your key legal, tax, security, and operational advisors, your investors, and of course your customers.
Illinois adds a new wrinkle to the traditional cannabis business plans from other adult-use states – social equity. You can use the social equity goals to open the cannabis industry to those most negatively impacted by the drug laws of the past 80 years. Perhaps your cannabis company will make a plan for employing 10 full-time social equity applicants so that your business can proudly be recognized as helping accomplish the state's objectives in its new adult-use law.
Of course, the business plan should have traditional revenue and expense projections, and an experienced financial planner or CPA with previous retail, and hopefully cannabis, the experience will get your company its most reliable figures. Cannabis business plans, unlike plain-vanilla business plans, often need to address aspects of the business arise from regulatory compliance.
For example, you will have compliance costs to ensure your operations comply with the new and evolving laws in its operations, and how those are addressed by software or human resources can be detailed.
Our cannabis lawyers think it is a good rule of thumb to look at how the State is scoring the applications for the cannabis dispensary or craft grow licenses and speak to each aspect of them directly when answering every element required by the application, with detailed plans and descriptions of why your business is the right candidate for the job of licensed cannabis craft grower or dispensary.
Security Plan for Cannabis Dispensary or Craft Grow
Security does not simply mean having a burly dude with a gun. Security blends technology, structural design, and law enforcement surveillance best practices to deploy a system that if anything goes wrong, who did it, when it was done, and what exactly happened is all captured in high definition, printed, and provided expediently to law enforcement authorities.
Security is also built into your real estate in its layout, customer experience flow, doors, cameras, strobe lights, building materials, and even employee training policies and procedures. The security plan aspect of your application counts for a lot of the points. The cost to start a dispensary can be high, but the initial cost is compiling the right security plan so that it meets your State's approval and highest score.
Record-Keeping Plan to Prevent Diversion of Cannabis or Cash Costs
Many companies have proprietary software that arose before Illinois became even a medical cannabis state.  These are the ancillary businesses that crop up as cannabis becomes a lawful business. Which software will you use to track your supply and sales of the product will depend on the consultant that you chose. You do not want your Point of Sale (POS) system to be a real, well, POS.
If your cannabis business plan includes the development of such technologies in its five-year plans to create additional income streams by selling licenses for what it builds, then you should call me unless you are thinking about making it in C#.  Then you can hire someone else or provide a detailed reason for your choice of that language.
You employee training plans and policies should also have best practices in place that provides accurate record keeping of your cannabis.  These procedures should be followed, and include training with whatever software your company decided to go with to help track its inventory and sales.
Familiarity with your systems is vital to prevent cannabis from being diverted in the supply chain or going bad by taking up shelf space with products that should have been liquidated faster.
Financial Ability to Design, Build & Operate Cannabis Business
The application to get your license to grow or dispense cannabis includes lots of designs and plans for your facility and maybe its product packaging and labeling.  Designers are very important for the image and look they can convey for your new cannabis brand. So to have them draft the designs for your real estate, or product packaging will not be cheap.  But if your application is successful, then it becomes even more expensive because the designs now need to be built and employed.
With or without access to loans and grants available to "qualified social equity applicants," all licensed cannabis businesses need to demonstrate their financial ability to follow through with their blueprints and make them a reality.  That cost is specific and unique to your particular brand, its design, and the location of real estate.
Whether your cannabis business is highly cost-conscious, or well funded, you need to be able to prove that you have the money to carry through the designs and specifications of your application, including funding the payroll for your operations.
Employee Handbook & Education Policies Required by Illinois Cannabis Law
Many companies build their employment practices and handbooks as they grow over time, but cannabis businesses must have them in place before they open their doors.
The training of your cannabis employees is another step in both setting your brand for customer experience, but also draws in your security policies by teaching practices to observe the person's body language and actions to remember certain details in case anything goes wrong.
Further education and training of the employees can address policies to reduce and recognize theft, and keep employees and customers safe in the event of a robbery.
Of course, budtenders should have knowledge of the flower and its extracts, terpenoid profiles, and strains so that they can advise customers regarding what type of experience they intend to get from the cannabis.
Your employee training policies can help you keep your customers happy, the regulators at the State happy, and your business safe.
Community Engagement/Social Equity Plan for Achieving Goals of Illinois Cannabis Law
While not many points are specifically enumerated for community outreach, and in some cases, the points merely being bonuses in case of ties – which means you should still do it.  If you tied and did not include it, but the other applicant did, tough luck!
What does your cannabis business do to give back?  There are many things that you can do to educate people or help those harmed by the damages caused by the drug war, or another woman, minority, veteran, or disabled group.
Provide funding for this engagement plan in your business operations budget, as it should be an ongoing expense that your company continues to do to enrich the community it serves.
Costs for your Cannabis Dispensary Employees
Managers of dispensaries have to keep the business running smoothly and compliantly.  They have to deal with employees, customers, vendors, state regulators, owners of the business, and perhaps even investors.  They are in demand because of the scarcity in the industry, but consultants estimate that for a dispensary, annual staffing costs can run into the quarter-million dollar range. Don't take our word for it, here's a picture from COVA on costs.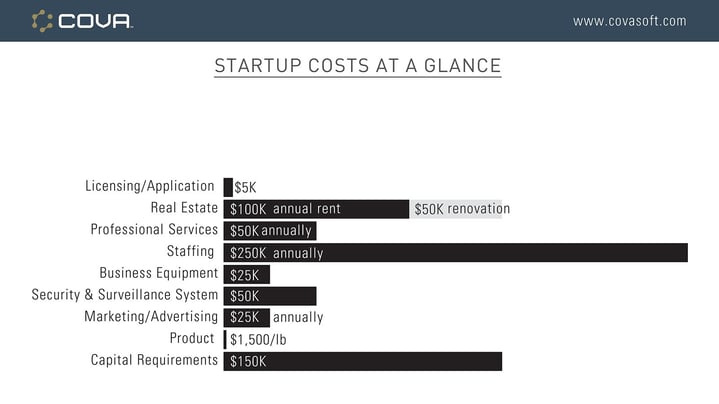 Costs for your Cannabis Professional Advisors
There are both startup and ongoing costs.  You need an attorney, an accountant, and an operations consultant, and have to be properly insured. Annual budgets for these range in the tens of thousands of dollars.
Costs to Promote Your Cannabis Business
Not just SEO, social media outreach, design, and YouTube, you can have sponsored community outreach events to build your brand.  Our favorite is to sponsor expungement seminars and job fairs in partnerships with local bar associations, politicians, and cannabis companies.  Remember to budget for these things in your plans and set yourself further apart from your competition.
Summary of Costs to Enter Legal Cannabis Market in Illinois
So now you understand why we said it would be on average about $500,000 to open a cannabis dispensary in Illinois.  We did not really go into all the equipment costs of the craft grows which can mount up due to the machinery and various HVAC, and security, requirements of the construction of a craft grow.  That average will be probably about the $2,000,000 mark but depends on the features the growing wants to offer.
Thomas Howard has been in business for years and can help you navigate towards more profitable waters.
Our cannabis business attorneys are also business owners.  We can help you structure your business or help protect it from overly burdensome regulations.