How to open a dispensary? 7 Steps to success in the cannabis industry
Few industries are experiencing such staggering growth as the cannabis industry, as the number of states providing some form of legalized cannabis continues to grow across the country, with 18 states, including Washington DC, legalizing recreational cannabis and an additional 37 states allowing medical cannabis. In 2020, legal cannabis sales in the United States increased 46 percent, exceeding the previous year's record of $17.5 billion.
This year alone it is estimated that cannabis sales will near $31 billion, and by 2026, some firms estimate that sales will grow to $62.1 billion.
While the cannabis industry certainly has great potential for establishing a very lucrative business, there are a lot of challenging legal hurdles to overcome. Another difficulty is the steep learning curve associated with navigating and grasping the complexity of such a young and rapidly expanding industry. These considerations alone may make running a cannabis shop appear intimidating. However, if you surround yourself with the proper support staff of cannabis industry advisers, ancillary professionals, and other industry experts, you will be much better equipped to manage the challenges that lie ahead.
The following step-by-step instructions will guide you through the operation's basics.
Step 1: Do some research
For running a retail cannabis company, each town, city, and state will have their own zoning and licensing laws.
The majority, if not all, states will create and administer a program-specific licensing system based on the type of dispensary you want to launch (medical vs. recreational).
And usually, you will need two licenses if you want to cultivate and prepare your own product to sell in your retail store: one for cultivation and one for retail.
To apply for the proper license, you must first conduct thorough research on the various licensing categories available in your state.
Keep in mind that each town and state will have certain deadlines for submitting applications for review before being given a license to commence operations.
Timing each component of the puzzle will be crucial not just for creating and presenting the most competitive application possible, but also for ensuring that you have met the deadlines for consideration.
Each stage of the application process, including submission, should be well examined and understood, and you should be fully prepared to carry out those processes exactly as specified.
You'll need to research both local and state regulations controlling the legal sale of cannabis and cannabis-based goods inside each market, in addition to knowing your state's licensing requirements.
It is also important to remember that, while each state has its own set of rules and regulations, local governments usually impose additional limitations that must be followed. These rules may apply to nearly every aspect of owning and operating a cannabis business, including:
Purchase limitations
The amount of THC that can be found in a single serving of cannabis and/or cannabis products
Tax regulations related to the sale and distribution of cannabis
Acceptable means of payment • Security requirements for tracking a commodity from seed to sale
Step 2: Build a winning team
A big part of building your dispensary has to do with having the right team.
Every cannabis dispensary should strive to have the following people on their team:
An attorney with experience in the cannabis sector
An accountant with cannabis industry understanding – In order to avoid being punished during an audit, cannabis-specific tax rules must be observed.
A knowledgeable compliance officer to guarantee that your cannabis business complies properly with all local and state rules.
A seasoned retail expert who is well-versed in POS systems, inventory monitoring, and reconciliation.
Each facility's security system will be developed and managed by a security contractor, who will ensure that all local and state cannabis security criteria are followed on an ongoing basis.
An experienced and qualified cannabis cultivator or horticulturalist who can properly manage each aspect of the cultivation operation (if you're planning on cultivating your own product)
A medical director (if you are opening a medical dispensary)
Now, this doesn't mean that you absolutely need to have all of these people in your team, but getting a cannabis license most of the time requires you to compete with other applicants, which means that having them will certainly increase your chances.
Further, one of the most important parts of your dispensary's success in terms of customer and patient advocacy will simply be the valued engagement of each visitor's encounter with members of your sales team. Both medical patients and recreational users will want to collaborate with dispensary personnel to prioritize the safest and most appropriate cannabis ingestion techniques, dosage, usage regulations, and cannabis item quality.
Your primary objective will be to build strong relationships between clients and the salespeople who will be selling cannabis goods.
A knowledgeable dispensary staff will be able to properly educate customers and patients on the cannabis products available, finally suggesting specific cannabis products appropriate for each visitor. Visitors must rely on the sales team's advice on cannabis administration, dosage, and consumption quantity.
Step 3: Create an attractrive business plan
Once you've understood the rules and regulations that govern cannabis dispensaries in your state, it'll be time to develop a sound cannabis-specific business plan that will be crucial for building your new dispensary for long-term success.
A strong, thorough business plan will be required not just for the licensing process, but also for possible investors, who will likely need to evaluate each component of your business plan before determining whether or not to invest money in your new enterprise.
A strong business plan that clearly explains your goals may help you create your company model more effectively, allowing you to meet the benchmarks that you and your team have set.
A great business plan should touch all the following basic points:
Clientele – Do you cater to high-end cannabis consumers, low-budget clients, or a combination of the two? It is critical that you identify your target client as soon as possible so that you may tailor your business to their unique requirements.
Product Selection – What kinds of items do you want to sell? What product options can help you stand out from the crowd? What are your future intentions for increasing your product offerings? A solid plan of action for creating core goods and selected SKUs may influence how quickly your company reaches the market.
Business Operations – You must define defined duties for each member of your core team, as well as a hierarchy of individuals making critical decisions and implementing effective plans. This section of your strategy should also include corporate hiring processes for the remainder of the team, as well as employee remuneration and benefits.
Activities for Cultivation — Describe your preferred method of obtaining cannabis goods. Will you also set up your own commercial grow operation in-house, or will you get your supplies from a licensed wholesaler in your area? Do you want to execute a vertically integrated production strategy in order to get complete control over agriculture, manufacturing, and retail? If this is the case, specialized planning for producing such events, as well as industry-proven methods for each stage of production and distribution, are necessary.
Environmental Concerns – Any agriculture producing company must adhere to environmental regulations. Cannabis-specific Environmental Reduction Plans will be especially useful during the first stages of business growth and meeting licensing criteria.
Inventory Control – As a legal cannabis distributor, your business is required by law to track each product from seed to sale. This will demand the implementation of a comprehensive, state-regulated cannabis POS system that offers the detailed tracking required to comply with all state requirements.
RELATED: How to open a cannabis dispensary in New Mexico
Step 4: Get funding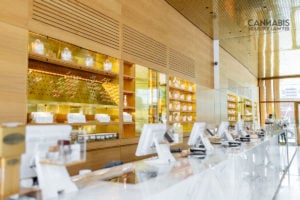 Now that you have a business plan, you should absolutely go and get some money for your company.
So, how do you go about it? Should you go to a bank and ask for a loan? Well, it is not as easy as that.
As cannabis is still an Schedule I substance according to the CSA, most financial institutions are unable to give you any money for your cannabis venture.
So what should you do now?
Proper planning and suitable funding are an absolute must in order to guarantee that you have the necessary financial resources to get your dispensary up and running.
It is essential to thoroughly research the expenses associated with acquiring a dispensary license in your state, as prices may vary according on the program requirements in your jurisdiction. In essence, sponsoring your new dispensary will involve considerably more than just paying application costs.
Before you can start the licensing procedure, you must have the following funds:
Application Fees
Licensing Fees
Annual staffing
Rent or mortgage at your retail location
Any upfront renovations necessary at your dispensary
Financial service costs
Professional fees
Security and surveillance costs
Equipment (computers, POS systems, cash registers, etc.)
Marketing costs
Product costs
These different costs will soon pile up, and you should plan on spending at least $500,000 on dispensary startup costs. And this is being conservative, as the costs can go for millions of dollars.
Because of the constraints you will find getting money from a financial institution, you will need to seek money elsewhere.
Some of the most frequent ways to finance your new cannabis business are as follows:
Business Loans – Credit unions are an increasingly popular alternative to banks. While large banks are unwilling to give you money, a credit union may be able to help you.
Strategic Partnerships – Because of the cannabis industry's tremendous growth potential, many people are seeking for fantastic opportunities to get involved in the dispensary business. Making key relationships with people who have the financial means to fund your company might be a great way to raise startup capital. Furthermore, you may frequently realize that by picking the right partner, you have someone whose skill sets complement yours, thus enhancing your corporate team.
Cannabis Specific Investment Groups – Many private investors, including cannabis investment organizations, want to get into the cannabis business. While this may be a viable funding source, keep in mind that many of these investors are seeking for high interest rates, therefore it is recommended that you check into other options before working with a cannabis investment business.
Angel Investors – Individuals or corporations contribute money in exchange for a stake in the company's ownership or equity. If you have a solid business strategy, you might be able to locate an angel investor willing to back your dispensary. Just keep in mind that anyone who provides money, especially in exchange for stock, would almost certainly have to disclose it on the application and will be subjected to thorough background checks.
Getting investors is usually the go-to in the industry. But in order to successfully get anybody interested in your company you will need to have a team -or an idea of how to get your team- and at least a pitch deck ready to show investors.
Step 5: Choose your location
Once you have secured funding for your Company, you must find and acquire the ideal place for your dispensary.
It is critical to follow municipal and state rules, as well as existing zoning limitations, while choosing a place. You don't want to get a property to only after finding out you can't carry on with your operations there.
Some states and towns, for example, will not allow a dispensary to be placed within a specified distance of schools, parks, churches, community centers, residential areas, libraries, or other locations where minors congregate.
It will be important to perform some market research to determine which locations are most suited to not only help your business thrive, but are also properly zoned.
You must consider your customer base, the local ordinances, the number of licenses permitted for each town, whether the community is cannabis friendly or not… It is not as easy as just getting a building and buying it, so you should seek help from a professional with experience in the industry,
Also, remember that just because cannabis is legal in your state does not guarantee that all commercial real estate landlords would agree to enable cannabis business activities.
To prevent difficulties with a cannabis-averse landlord, discuss your business ideas in advance to ensure that you rent from someone who supports a retail cannabis business.
Step 6: Learn about the industry
Once you've secured funding and a location, it's important that you thoroughly research and grasp every aspect of your chosen business.
To be successful in the cannabis industry, you must have a thorough understanding of the technical knowledge necessary to run a cannabis business.
It will be important for you and your team to understand, at a minimum, seed-to-sale monitoring, inventory management, the importance of industry compliance, as well as the foundations of customer service and retail sales.
Having this background knowledge will ensure that your dispensary continues to follow all rules and regulations, as well as make you a better salesman and representative of your business.
Furthermore, if you want to manufacture and/or prepare your own product, this knowledge is critical. In this scenario, you may need to enroll in a horticulture course, as well as grow room design and electrical engineering courses, to learn how to construct a functioning grow room and get the maximum potential yields per square foot inside the facility.
Further, you should be in touch with the community aspect of cannabis, to keep up with the latest trends as this will help your business. Remember that cannabis has a big, passionate community, and you are entering their territory.
To keep up with the cannabis industry's continual evolution, you and others around you should continue to educate and learn about what's trending in the cannabis market.
Different items will appeal to different clients, and staying up to date on new cannabis products will keep you in touch with market demand.
Step 7: Build your dispensary
To start, you must create a great retail experience to appeal to your potential clients.
This part of the process requires a lot of planning in order to pull of, but this is one of the steps that can either make or break your company.
However, if you manage to build a strong brand that will resonate with customers, you will probably build long-term patient/customer retention, as your brand recognition will go up and up.
It is important to understand that dispensaries have certain unique layout features that are distinct from other retail businesses, and you will need to configure your retail space with these items in mind.
Working with an architect and interior designer will help you design an efficient space that provides a warm and welcoming atmosphere for your patients/customers.
Also, you will need to start thinking about your day-to-day people. Hiring staff is important, and not as straight-forward, as you must keep in mind that some states require them to undergo some sort of training to get the job.
So, this should go without saying, but always try to have quality, trustworthy employees in your dispensary. And while you are at it, make sure to make the working environment good, and give them incentives to be in your company, as the states often take into consideration this when analyzing license applications.
Some of the staff that you will need to hire includes sales associates, security, inventory managers, software, and IT managers, etc.