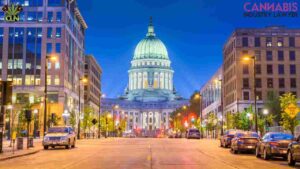 In this blog post, we learn about how to open a dispensary in Wisconsin for the legal cannabis industry. As of 2023, you cannot open either medical marijuana or an adult-use dispensary because Wisconsin is one of the worst states in the entire country when it comes to licenses for retailers, cultivation facilities, or even helping expunge convictions for low-level cannabis offenses. Let's hope their legislature gets its act together and moves fast to implement Sen. Agard and Rep. Madisons' goal of legalizing cannabis in the Dairy State. Get ready to go when the time is right with our comprehensive guide.
Forming a Business Entity
Choosing the right business structure can significantly impact your potential success in Wisconsin's cannabis market. When deciding, it's important to consider potential legal liabilities, tax implications, and the overall complexity of each structure. An LLC, for example, can provide personal asset protection and flexibility. If you want to know How to open a dispensary in Wisconsin, always seek guidance from Experienced Cannabis Consultants to make informed decisions.
Adhering to the legal requirements when forming a business entity in Wisconsin requires deep understanding; guidance from industry experts can ease this complex process.
The process of forming and registering your dispensary business may be complex. You have to register with Wisconsin's Department of Financial Institutions, obtain a tax ID from the IRS, and adhere to specific operating requirements. Working with experienced business advisers who are deeply versed in the state's legal and business landscape can help navigate this demanding process.
Choosing a Business Structure
When contemplating the right structure for your proposed cannabis dispensary, multiple factors like tax implications, liability protection, ease of operation, and potential growth should influence your decision.
Consider a sole proprietorship for absolute control, but bear in mind the unlimited personal liability risk.

An LLC offers an appealing balance with personal liability protection and pass-through taxation, however, the administrative upkeep can be challenging.

A corporation suits larger operations with potential for growth, but the double taxation and complex business requirements can serve as a drawback.
Registering Your Business
To solidify your business presence in Wisconsin, business registration hits the top of the list. This process authenticates your dispensary under Wisconsin's business laws, setting the base for a legal cannabis operation.
Perform a name availability check to verify uniqueness among existing businesses

File the appropriate paperwork with the Wisconsin Department of Financial Institutions

Pay the requisite registration fee

Acquire a Wisconsin state tax identification number

Apply for an Employer Identification Number (EIN) from the Internal Revenue Service (IRS) for federal tax purposes
Obtaining a Tax Identification Number
A Tax Identification Number (TIN) is a critical element in establishing your Wisconsin cannabis dispensary, ensuring your compliance with not only state laws but also federal tax regulations. Gaining a TIN in Wisconsin involves a streamlined process, easily navigated online.
Research how a TIN impacts your cannabis business legality and operations.

File an application to the Internal Revenue Service (IRS) to request an Employer Identification Number (EIN), which serves as your business's TIN.

Ensure the precise detail completion of Form SS-4 – Application for Employer Identification Number.

Review the progress of your application regularly and be prepared to offer additional information if requested.

Anticipate receipt of your TIN typically within two weeks after the application submission.
Obtaining a Business License
How to open a dispensary in Wisconsin? Well, securing a business license for your dispensary is crucial before you launch your operation in Wisconsin. Knowing the prerequisites and the process to apply can smooth the way and expedite your journey.
Getting your business license requires vigilance and meticulousness. It involves meeting all the city or county requirements and regulations intended to ensure the safety and legality of your dispensary.
Undergo thorough research on city and county laws and regulations

Handle all paperwork with precision

Submission of the business license application

Payment of any applicable fees

Wait for the license approval from the relevant authority
Securing Funding
A critical step in opening a dispensary in Wisconsin is securing adequate funding. Understand the financial implications and gather investors with a convincing business plan and a comprehensive understanding of the industry.
Create a comprehensive business plan detailing the potential profit, market analysis, operational costs, and unique selling proposition

Establish your dispensary's projected annual revenue and expenses for your investor's evaluation

Showcase your knowledge of the cannabis industry, state law, and the local market to instill confidence in your investors

Consider approaches such as crowdfunding, personal financing, and private investors to raise initial capital

Implement a clear financial management system to ensure financial transparency and credibility
Applying for a Cannabis Business License
How to open a dispensary in Wisconsin? When the gates open for dispensary licensing in Wisconsin, your application should be top-notch and ready to lead in the tight competition. Consider gathering pertinent documents, creating a robust business plan entailing your strategies for operation, security, and community engagement.
Wisconsin's cannabis license application process could come with hurdles – stringent background checks, hefty licensing fees, and strict adherence to location requirements. However, with careful preparation, understanding of laws and regulations, and financial readiness, you can navigate these potential roadblocks effectively.
State Requirements for Cannabis Business License
Navigating Wisconsin's unfolding cannabis business regulations promises a series of challenges and opportunities. From intricate licensing rules to strict operational standards, each component plays a pivotal role in your dispensary's framework and legality.
Understanding state compliance prerequisites is crucial; it lays the foundation for your dispensary's operation. This includes drawing clear guidelines on sourcing, security measures, bookkeeping practices, ethical marketing, and customer service norms for your Wisconsin cannabis dispensary.
Submitting the Application
The application process for Wisconsin's cannabis dispensary license is likely to involve a thorough review of your business plan, financial stability, and regulatory compliance. A precise understanding of these areas is key to a successful application.
When it comes to mastering the actual submission process, present every document clearly and professionally, give accurate and verifiable information, while ensuring compliance with every requirement. A well-prepared application will reduce the chances of rejection or delays.
Finding a Suitable Location
Wisconsin cannabis entrepreneurs must scout locations diligently. Focusing on areas with high footfall, accessibility, and receptivity to a cannabis dispensary will ensure patronage and growth.
Knowing Wisconsin's location requirements for a cannabis dispensary will be crucial. These include the proximity to schools, parks, and residential areas. Adhering to these zoning requirements helps avoid future legal consequences.
Zoning and Regulatory Requirements
Navigating Wisconsin's zoning and regulatory requirements for cannabis dispensaries is no small task. It necessitates a thorough understanding of existing rules.
Zoning laws in Wisconsin often dictate the suitable locations for cannabis dispensaries. These sites must be a safe distance from schools, parks, and residential areas.
Ensuring compliance with zoning rules is paramount for success. Failure to obey results in penalties and, potentially, closure.
Various Wisconsin authorities regulate cannabis operations within their jurisdictions. It is important to engage with local authorities to clarify their specific rules and expectations.
Utilizing the services of a local real estate expert familiar with Wisconsin cannabis laws can greatly aid this difficult process. This expert can pinpoint locations that fit within zoning requirements.
Lease or Purchase
Deciding whether to lease or purchase a property for your Wisconsin dispensary is pivotal. Both options have their pros and cons, the priority should be on the best financial and logistical decision for your particular business model.
When leasing, ensure you're protected against sudden eviction or rent increases. Leasing agreements should have a 'marijuana-allowed' clause as your lease could be voided if marijuana selling isn't permitted in your rented business premises.
In case you're keen on purchasing, it's advisable to partner with local real estate experts. They will be able to guide you to spaces compliant to zoning requirements set by Wisconsin's cannabis regulatory body and help you make a fruitful investment.
Designing and Building Your Dispensary
Identifying and adhering to Wisconsin's potential regulations for dispensaries, ranging from accessibility standards to security guidelines, is critical when designing and building your facility. Furthermore, creating an environment that respects privacy without compromising the buyer's experience enhances user interaction.
A strategic blend of customer-friendly aesthetics, regulatory compliance, and secure infrastructure should drive your design and construction decisions. Partnering with a team experienced in cannabis dispensary design can expedite your path to a captivating, code-compliant facility in Wisconsin.
Complying with State Regulations
Your new dispensary must comply rigorously with Wisconsin's state regulations for a secure and lawful cannabis operation. Overlooking a single regulation can land your business in serious legal trouble.
At the heart of these state regulations are safety protocols. These measures ensure the well-being of your customers and employees while maintaining the integrity of your cannabis products.
Wisconsin state regulations also address waste disposal and tracking features. Accurate records must be maintained to allow for tracking of cannabis sales and inventory.
Compliance with these regulations is not a one-time event but an ongoing process. Regular audits and updates are necessary to meet evolving legislative demands. Aspiring business owners should team up with experts for guidance and support.
Creating a Welcoming Environment
Creating a welcoming ambiance in your Wisconsin cannabis dispensary is crucial. Incorporating relaxing music, comfortable seating, and appealing decor can foster an inclusive environment.
Featuring local artists on your walls or hosting community events can nurture a closer bond with local customers. Furthermore, it also instills a sense of belonging and familiarity.
Consider implementing advanced technologies such as digital menus or self-order kiosks. This not only modernizes your setup but also improves customer experiences.
Attention to detail is key. Ensuring that your dispensary is always clean, calming, and inviting is pivotal to increasing customer satisfaction and loyalty.
Lastly, train your staff to maintain a friendly and professional attitude at all times. Their positive energy can significantly influence your dispensary's ambiance and directly boost customer satisfaction.
Hiring and Training Staff
A dispensary's success hinges largely on its staff, who serve as the face of your business, offering product knowledge and exceptional customer service. Investing in quality personnel should be a cornerstone of your Wisconsin dispensary plan.
For your dispensary in Wisconsin, an efficient hiring strategy can reduce turnover and streamline operations. Prioritizing local hiring could result in a workforce with a strong understanding of the community's preferences and laws related to cannabis use.
Identifying Staffing Needs
Wisconsin dispensaries require a variety of roles, each with individual responsibilities. Understanding these roles upfront can ensure your dispensary operates smoothly and complies with regulations.
Your dispensary staff will likely include budtenders, security personnel, and managers. Budtenders should be knowledgeable about cannabis products, while security personnel ensure safety and compliance with state laws.
Competencies for each role are key in a successful dispensary. Budtenders, for example, must possess excellent customer service skills, deep knowledge of cannabis strains, and sales experience.
Security personnel should have prior experience in law enforcement or security fields. Keeping a keen eye on potential issues and diffusing any incidents professionally is of paramount importance.
Your managers will need a comprehensive understanding of business operations, cannabis laws, and staff management. Prior experience in the cannabis industry can be a valuable asset, enhancing the operational efficiency of your dispensary.
Recruiting and Hiring
To attract top talent for your dispensary in Wisconsin, highlight the progressive nature of the industry and the growth opportunities your business offers. Prioritize candidates with excellent customer service skills, knowledge of cannabis, and, preferably, retail experience.
Structuring an effective recruitment process is pivotal. This encompasses clearly defining roles, outlining job descriptions, and factoring in pertinent local and state regulatory requirements in the hiring process. Make sure to conduct thorough background checks, as the law may require.
Training and Education
Training your staff is an imperative step when starting a dispensary in Wisconsin. A well-educated team ensures customers receive correct, comprehensive and compliant information about the products on sale.
A comprehensive staff training program is a prerequisite for establishing a successful dispensary. This should cover laws, safety protocols, product knowledge, and customer service practices to ensure every team member is well-versed with the business's operations.
Continuing education is also key. The cannabis industry is continuously evolving, so it's essential employees are familiar with the latest trends, research findings, and regulatory updates. Regular in-house training sessions can ensure this.
In this digitally advanced era, consider incorporating online staff training programs to reinforce learning and accommodate different learning styles. Interactive webinars, tutorial videos, or quizzes encourage active engagement and aid knowledge retention.
Dedicating the time and resources to train your staff will not only safeguard your business from regulatory missteps but also elevate customer experience. Informed staff foster trust with customers, enhancing your business's reputation and patronage.
Obtaining Insurance
Insurance protection is integral for any upcoming dispensary in Wisconsin due to potential liabilities associated with the cannabis industry.
General liability insurance:

Covering possible legal hassles due to accidents, injuries, or claims of negligence.

Product liability insurance:

Protects if your dispensary is sued for health-related issues caused by your marijuana products.

Property insurance:

Covers damage to your business property or inventory due to unexpected events such as fire or theft.

Workers' compensation insurance:

Protects if an employee suffers a job-related injury or illness.

Crop insurance:

Protects against unexpected losses due to issues when growing cannabis.
Opening and Operating Your Dispensary
How to open a dispensary in Wisconsin? When it comes to operating a dispensary in Wisconsin, securing sufficient operational funding forms a crucial step. It's essential to consider all facets of the business, from daily operating expenses to long-term financial stability. A thorough breakdown of startup costs, including inventory acquisition, employee salaries, utility bills and marketing efforts, should form the foundation of your financial plan.
Create a realistic operating budget taking into account all possible expenses.

Consider various sources of funding, such as loans, investors, or personal finances.

Develop a solid business plan to attract potential investors.

Keep a keen eye on the dynamic cannabis market and adjust your financial plan accordingly.

Consider hiring a financial advisor with experience in the cannabis industry to guide you.