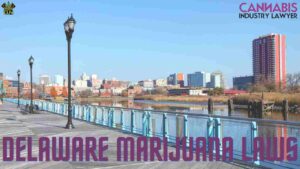 Welcome to our blog post on the new Delaware marijuana laws! If you're an entrepreneur looking to venture into the cannabis industry, understanding these laws is crucial for your success. In this article, we'll dive deep into Delaware's recreational and medical marijuana regulations, covering everything from who can use it and how much you can possess to where it can be used. We'll also explore the application process, timeline, and how it will be regulated. Stay tuned for expert insights and solutions that will help you navigate this exciting new landscape with confidence.
Medical Marijuana in Delaware
The Medical Marijuana Act (SB17) was passed into law on May 13th, 2011 allowing patients/consumers to use marijuana for medicinal purposes. This law provides access to medical marijuana for patients suffering from qualifying conditions, such as cancer, HIV/AIDS, multiple sclerosis, and chronic pain. Patients must obtain a recommendation from a qualified physician and register with the Delaware Department of Health and Social Services to receive a medical marijuana card. Once registered, patients can purchase medical marijuana from licensed dispensaries in the state. It's important to note that while medical marijuana is legal in Delaware, recreational use is separate and has its own set of regulations.
In order to qualify as a Medical Marijuana card, you must meet the following qualifications:
Be 18 years of age or older or be a pediatric patient with parental consent.

Be diagnosed with a qualifying medical condition

Have a Health Care Practitioner Certification from a Delaware-licensed MD, DO, APRN, or PA.

Be a Delaware resident with proof of residency.
Patients who are diagnosed with any of the different illnesses below can apply for a Medical Marijuana Card to buy and possess up to 6 ounces of medical marijuana from a licensed dispensary.
Qualifying Medical Conditions:

Terminal illness

Cancer

Positive status for Human Immunodeficiency Virus (HIV Positive)

Acquired Immune Deficiency Syndrome (AIDS)

Decompensated cirrhosis

Amyotrophic Lateral Sclerosis (ALS / Lou Gehrig's Disease)

Agitation of Alzheimer's disease

Post-traumatic Stress Disorder (PTSD)

Intractable epilepsy

Autism with self-injurious or aggressive behavior

Glaucoma

Chronic Debilitating Migraines

A chronic or debilitating disease

Many more, here.
Where can I buy medical marijuana in Delaware?
The medicinal marijuana program in Delaware tightly regulates the distribution of medical marijuana through non-profit compassion centers. Here's the list of Medical Marijuana Compassion Centers.
Can Medical Marijuana Patients Grow Their Own Cannabis Plant?
Yes, but you will have to get a permit/license from the DHSS to legally cultivate and manufacture Medical Cannabis Plants. Only 6 mature plants and 6 immature plants may be cultivated for each registered qualifying patient and a designated caregiver can cultivate marijuana for no more than 3 registered qualifying patients. Marijuana must be cultivated at the home address of record for the registered qualifying patient or designated caregiver.
Recreational Marijuana Legalization
Delaware joined the list of states that legalized recreational marijuana on April 23, 2023, through House Bill 1 and House Bill 2. This legislation established a regulated market for adults in the state.
What is recreational marijuana?
Recreational marijuana refers to the use of cannabis for non-medical purposes, primarily for personal enjoyment or relaxation.
House Bill 1:
Allows adult individuals aged 21 and above to legally buy, possess, transport, share, and use up to 1 ounce of cannabis or 27 Grams.

Public consumption and cultivation is forbidden.

Avoids misuse of the "Gifting" provision by making it clear that exchanging cannabis for non-marijuana items is prohibited.
House Bill 2:
Has established the Office Of Marijuana Control Commissioner, under the DATE (Division of Alcohol and Tobacco Enforcement, they would be the one responsible for regulating the cannabis market.

Allows OMCC to create and implement rules and regulatory framework for cannabis licensure and issuance of different types of licenses.
Recreational marijuana is cannabis used for personal enjoyment or relaxation, while medical marijuana is prescribed by physicians to treat specific ailments. The two types of cannabis also have different regulations regarding access, dosage limits, and taxation.
Who can use recreational marijuana in Delaware?
Age restrictions for using recreational use of marijuana in Delaware are strictly enforced. Only individuals who are 21 years of age or older can legally consume cannabis products. It is important to note that identification may be required to purchase and use these items.
Residency requirements for consuming or possessing cannabis in Delaware have been relaxed. As of now, there are no specific residency requirements in place, meaning both residents and non-residents can enjoy the benefits of recreational marijuana without any restrictions. However, it is essential to familiarize oneself with local laws and regulations regarding the possession and consumption of cannabis accessories when visiting or residing in Delaware.
Marijuana decriminalization in Delaware occurred in 2015. Under decriminalization laws, possession of small amounts of marijuana was treated as a civil offense rather than a criminal offense.
Where can you use marijuana in Delaware?
In Delaware, marijuana can be used in private residences and designated cannabis clubs. Public consumption of marijuana is still illegal, so it's important to use it responsibly and within the confines of the law. While accessories for consuming cannabis are widely available, it's crucial to understand where you can legally use them to avoid any penalties and legal consequences since it's still a federally illegal drug.
Different types of Licenses:
Retail Marijuana Store License

: Dispensaries will be able to sell marijuana to adults 21 and over.

Marijuana cultivation facility license

: Businesses will be able to grow marijuana for sale.

Marijuana product manufacturing license

: Businesses will be able to produce marijuana products, such as edibles and concentrated products.

Marijuana testing facility license

: Businesses will be able to test marijuana for quality and potency.
Delaware Cannabis Licensure Timeline:
Here are the application and issuance of different types of cannabis licenses in the State according to House Bill 2.
May 2024: The Commissioner will accept all cannabis business license applications. (Microbusiness, social equity, and open)
June 2024: The Commissioner shall start issuing licenses to qualified applicants.
July 2024: The Commissioner shall start issuing the number of the following cultivation licenses from qualified applicants. Cultivation facility licenses licenses will be issued based on the canopy area below;
Indoor facilities with a canopy of up to 2,500 square feet or outdoor facilities with a canopy of up to 1 acre will be eligible for
20 microbusiness licenses

10 social equity licenses.
Indoor facilities with a canopy of more than 2,500 square feet or outdoor facilities with a canopy of more than 1 acre will be eligible for
20 open licenses

10 social equity licenses.
August 2024: Product manufacturing facility licenses will be issued.
10 open licenses,

10 social equity licenses

10 microbusiness licenses available
November 2024: Retail store and testing facility licenses will be issued.
Retail stores:
15 open licenses

15 social equity licenses
Testing facilities:
3 open licenses

2 social equity licenses
Opportunity
The National Cannabis Industry Association noted that the adult market is expected to bring in $67,000,000 once it starts to roll out. The legalization of recreational marijuana in Delaware is a significant development that is expected to create jobs and generate tax revenue for the state. The cannabis industry is expected to grow rapidly in the coming years, and there are many opportunities for businesses to get involved. So, if you want to get into the Lucrative Cannabis Industry, contact us!
Conclusion
Marijuana use is legal for both medical and recreational purposes in Delaware. However, there are specific regulations and restrictions for medical cannabis patients, such as the qualifying medical conditions and possession limits.
It's always a good idea to stay informed about the current laws and regulations surrounding marijuana in Delaware to ensure compliance and avoid any legal issues.
The cannabis industry is a rapidly growing and evolving industry. There are many opportunities for businesses to get involved. If you are interested in getting involved, our team of experts in the field can help you navigate this highly regulated industry.