Is cannabis legal in Ohio? Activists in Ohio, like the team at My Free Ohio, are trying to bring recreational cannabis to Ohio in 2020. Check out their proposed amendment here! Ohio cannabis news.
Will Ohio Get Adult-Use in 2020?
Activists in Ohio are working hard to develop legislation that works for everybody. This week Tom and Miggy were joined by Chad Spohn and Tim Kerby from My Free Ohio to discuss what it will take to legalize cannabis in Ohio.

What is My Free Ohio?
A team dedicated to bringing legalization to Ohio
Proposed an amendment for adult-use in Ohio
Plans on using cannabis revenue to help veterans and fight the opioid epidemic
Need 1,000 signatures to take their plan to the next stage
What Makes My Free Ohio's Plan Unique?
Activists in Ohio are proposing unique ideas to get recreational cannabis legalized in Ohio. With My Free Ohio's plan, My Free Ohio would own and operate all cultivation centers and dispensaries in Ohio. Resident Ohioans would enter a lottery wherein the winners would share the profits of the cannabis business (dispensary, infusion center, cultivation center) for five years. Read their full amendment – HERE
Activists in Ohio
Written by: Howell.Natasha
Ohio is one of the few states that still hasn't legalized the use of marijuana, but that is set to change soon. Although the use of marijuana for medicinal purposes was already legalized, the use of the herb for recreational reasons remains illegal. There is a movement that is set to bring the issue to voters. This is to allow the use of cannabis for relaxation in the state. The movement is meant to help educate users on how to use the herb without abusing it and also to train sellers on how to ensure their buyers stay safe and also on ensuring that they keep up with the regulations to avoid having problems with the law.
Recreational Use in Ohio
My free Ohio is one of the platforms that aims at helping Ohio residents by giving them access to all the useful information regarding the purchase and use of marijuana. They have a lot of resources for everyone interested in understanding the use and benefits of marijuana, and that makes them one of the best websites to visit when looking for such information. Activists who are pushing for the legalization of cannabis do so based on the numerous benefits of the product. Although using cannabis for relaxation is still illegal, it's not criminalized. This means you will not face a jail term if you are caught in possession of marijuana, but there are other conditions attached to this condition, and if you're found in violation of most of them, you could end up in jail.
For instance, marijuana adult-use in Ohio is limited to specific quantities. You cannot possess more than 100 grams at a single moment or pass on more than 20 grams to someone else. Failure to keep up with these rules could lead to penalization that involves payment of fines. You could go to jail if found with more than 200 grams of marijuana or if you sell or give away more than 20 grams of the substance. If found to be "drugged driving," then you could lose your license for a period ranging between 6 months to 3 years.
Four years ago, the move to legalize recreational was rejected by Ohio voters, but that is expected to change in the next polls. The initial proposal lacked enough support because it was deemed beneficial to a few producers of marijuana instead of being beneficial to the citizens. It allowed the cultivation of a commercial scale and also allowed home production, but the latter required a license that would cost $50. Even though the bill hasn't been presented to voters yet, most people are hopeful that it will be passed. The fact that adult-use in Ohio currently means going to Michigan to buy recreational marijuana could be a good motive for Ohioans to vote in the next elections.
Medical Marijuana Program
Unlike recreational marijuana use, medicinal use is legal, but there are also conditions attached to it. The law allows the consumption of marijuana in different forms, such as edibles, oils, patches, vapor, concentrates, or tinctures. One of the conditions is that both the buyer and seller must be registered together with their caregivers. Registration is easy and can be done online and requires the provision of pictures as identification documents. Physicians are supposed to prescribe marijuana and, in the process, must explain the benefits, side effects, and potential dangers of the product before issuing it.
They are also mandated to check the prescription monthly. The state must approve physicians and patients that are expected to use the marijuana for 90 days. There are also specific diseases that one must have to qualify for marijuana use. The number of physicians and stress dispensing marijuana has increased over time, and that has made it easier for those who need it to access it. Only adults are allowed to purchase marijuana, and selling to any person younger than 21 years could lead to a jail sentence.
My Free Ohio on Cannabis Activism
My Free Ohio is a great platform to visit if you need to learn more about the regulations Ohio state has imposed on the use of marijuana and all the expected changes. They also focus on helping those affected negatively by the effects of marijuana by developing recreational programs for such people. They also have a great cause designed to help veterans having a problem with the adverse effects of cannabis.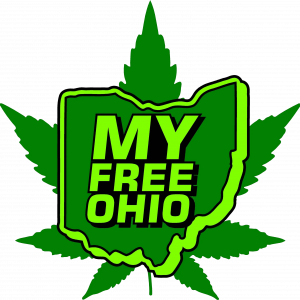 My Free Ohio Mission and Approach
Our mission is to create an even playing field in the cannabis space. We plan on doing so by giving those that meet the requirements a chance to profit from a business site for 5 years.
Along with this we're going to stomp out the opioid epidemic that plagues Ohio. The mission will be one of the most important as we have witnessed too many friends and family members end up in jail, or even worse, dead. This effects not only us individually, but Ohio as a whole, and by creating the right rehabilitation programs using affordable and accessible cannabis, it's OVER!
Lastly, we need to do better for our Veterans! We'll help with housing, job training in the cannabis space, alternative therapy using marijuana for PTSD and drug addiction. They've sacrificed for our communities and our country, now its our obligation to help these men and women thrive.
Check Out:
Interested in coming on as a guest? Email our producer at lauryn@cannabislegalizationnews.com.