This is one of the most frequently asked questions we receive at CLN, and the answer varies from state to state. Illinois is seeing a significant rush of applicants due to the high taxes on adult-use cannabis products. As a medical marijuana patient you have more benefits than adult-use consumers – home grow, more variety, cheaper prices, and even online ordering. This week we spoke with Rob Tankson from PrestoDoctor who is making the application process easier for every consumer and patient.

What is PrestoDoctor?
An online platform for patients to receive online recommendation service
Currently operating in California, Nevada, New York, Oklahoma, and Missouri
Offers medical card renewal
HIPAA and HiTech compliant
Founded in 2015
Headquarters in New York
Why Should I Get a Medical Marijuana Card? (Illinois)
Getting a medical marijuana card comes with many benefits recreational consumers don't have. Though there is a fee, it's an investment in your overall cannabis experience and convenience.
Medical patients are catered to first and served before recreational consumers
Medical patients have lower taxes than recreational consumers
Medical patients have access to online ordering
Medical patients have a higher possession limit than recreational consumers
Medical patients are eligible for home grow, while recreational patients are not
Why do some states require an in-person patient evaluation to create a doctor-patient relationship?
While some states allow patients to obtain a medical marijuana card online, some states require the patient to establish a bona fide in-person relationship with their physician.
Medical Card Doctors in Illinois
It's kind of a mix. States like Colorado originally allowed telemedicine in cannabis, unfortunately, that was abused by some physicians who essentially ran a script mill –  getting patients in and out and collecting their buck. Those types of businesses put a bad taste in legislature's mouths. Other states are just have outdated laws like Florida for example which has an old law that should eventually be changed. – Rob Tankson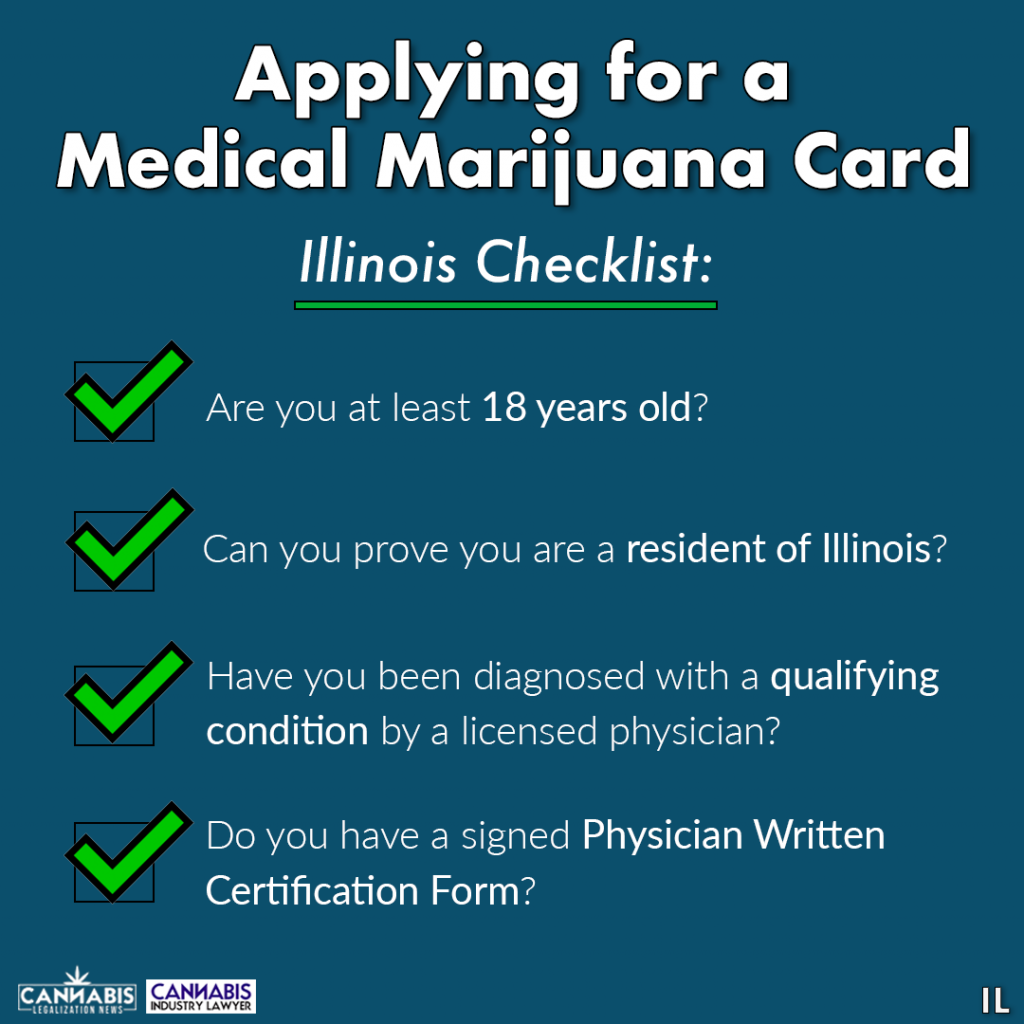 Applying For a Medical Marijuana Card
There are many ways you can get a medical cannabis card in Illinois. You can have multiple benefits if you are a patient with a certain condition that can be treated with medical marijuana. At the same time, you can get cheaper prices, a better variety of the seeds and more effective in-person experience with your physician. Let's see how you can get a marijuana card in Illinois and start consuming marijuana as part of your medical treatment.
What Are the Requirements For Getting a Medical Marijuana Card?
As from August 2013, the cultivation, use, and sale of medical pot have been legal for residents of Illinois. Medical patients can use marijuana for treating different medical conditions, but they still need to obtain a medical marijuana card for legal use of cannabis for medical purposes.
Here are the basic requirements for medical marijuana users in Illinois:
You Must Be At Least 18 Years of Age or Older
In order to use medical marijuana in Illinois, you must be of legal age. However, minors can get a medical marijuana card with the consent of their legal guardian and after they obtain two physician recommendations for medical treatment with marijuana.
You Must Be Diagnosed With a Qualifying Medical Condition
The most important requirement for getting a medical marijuana card in Illinois is to have a condition that can qualify you for this kind of treatment. These conditions include:
• Cancer
• Agitation of Alzheimer's disease
• HIV/AIDS
• Chronic inflammatory demyelinating polyneuropathy
• Crohn's disease
• Amyotrophic lateral sclerosis (ALS)
• Arnold-Chiari malformation
• Causalgia
• Glaucoma
• Hepatitis C
• Hydrocephalus
• CRPS (complex regional pain syndrome Type II)
• Dystonia
• Fibrous Dysplasia
• Hydromyelia
• Muscular Dystrophy
• Myasthenia Gravis
• Myoclonus
• Interstitial cystitis
• Lupus
• Multiple Sclerosis
• Spinal cord injury is damage to the nervous tissue of the spinal cord with an objective neurological indication of intractable spasticity
• Spinocerebellar ataxia
• Syringomyelia
• Nail-patella syndrome
• Neurofibromatosis
• Reflex sympathetic dystrophy
• Seizures (including those characteristics of Epilepsy)
• Severe fibromyalgia
• Sjogren's syndrome
• Residual limb pain
• Rheumatoid arthritis
• Tourette syndrome
• Traumatic brain injury
• Spinal cord disease (including but not limited to arachnoiditis)
• Parkinson's disease
• Post-Concussion Syndrome
• Post-Traumatic Stress Disorder (PTSD)
• Tarlov cysts
• Cachexia/wasting syndrome
You Must Have a Consent from a Physician
If you want to obtain a medical marijuana card in Illinois, you must meet your doctor to discuss your present medical condition. At the same time, you can submit an application form called Physician Certification Form to the Illinois Department of Health. You have 90 days to make an appointment with your doctor from the date of submission of the application.
What Are Other Requirements for the Application for Medical Use of Marijuana in Illinois?
Besides the mentioned requirements for medical card application in Illinois, you must also fill out the patient application, send a photo, submit proof of age and identity, and declare proof of residency. In addition, you pay the application fee which is non-refundable and applies for periods of one, two, or three years. The application fee for a one-year period of use of medical marijuana is $100.
How to Know the Right Marijuana Dosage Once You Get the Card?
The right kinds of seeds, dosages, and types of medical marijuana use are the most important matters in medical treatment. That is why you need a consultation with a doctor who knows how to create and adjust your medical marijuana dosage so that you can get the best benefits.