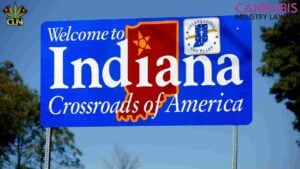 Before embarking on your venture, a comprehension of the current cannabis landscape in Indiana is crucial. Presently, there are no legal cannabis dispensaries since medical and recreational marijuana are not legalized. In this blog post, you will learn how to open a dispensary in Indiana once it goes legal. Here's everything you need to know to set up your own cannabis business successfully.
Research the Market
Analyzing the potential of the Indiana cannabis market could provide insights on future developments. Despite being presently dormant, the scene might change soon owing to the evolving attitudes and laws surrounding cannabis.
Stay abreast of the latest cannabis legalization news in Indiana
Familiarize yourself with the Indiana cannabis laws and regulations

Understand public opinion about cannabis in Indiana

Analyze potential revenue based on population and anticipated usage rates

Consider the regulatory environment and potential barriers to entry
Indiana legalized the use and sale of CBD containing less than 0.3% THC for any purpose in March 2018 with the passage of Senate Bill 52. In September 2019, a federal judge ruled that the 2018 Farm Bill had legalized the cultivation and sale of all forms of hemp, including smokable hemp. As a result, any individual in Indiana can now use hemp-derived CBD products.
Cannabis Legalization News in Indiana
There are two house bills in Indiana that would legalize cannabis:
House Bill 1154:

would permit adults to purchase up to an ounce of marijuana and/or eight grams of concentrate from a state-licensed dispensary. It would also permit individuals to cultivate up to six marijuana plants for personal use.

House Bill 1311:

would establish a procedure for the lawful production and sale of cannabis in Indiana. It would also create a Cannabis Commission to regulate the industry and manage the licensing applications in the future.
Both bills have been referred to the House Committee on Public Health, but neither has been scheduled for a hearing yet.
A Comprehensive Guide for Opening a Dispensary in Indiana
Develop a Business Plan
Crafting a compelling and comprehensive business plan is imperative. It can serve as a roadmap for your cannabis venture, specifying operational details and foreseeing potential challenges. A powerful business plan also attracts potential investors, reflecting the market potential for your dispensary in Indiana.
The Executive Summary:

Provides an overview of your business and your plans.

Market Analysis:

Details on your target market, competition, and how your dispensary will fill a gap.

Organization Structure:

Outlines how your business will be structured, managerial staff, and key roles.

Services & Products:

Describe the details and benefits of the products you'll offer.

Marketing & Sales:

Strategies for attracting and retaining clients.

Financial Projections: Details of your start-up costs, projected profit and loss, cash-flow, and balance sheet.
Secure Financing
Funding is a fundamental aspect of establishing a dispensary. You need investors who trust in your business plan and vision. Alongside this, explore public funding opportunities such as grants and loans aimed at supporting dispensaries.
Consider incorporating persuasive strategies to entice potential investors. This could range from a compelling business plan presentation to the outlining of market trends favoring the growth of dispensary businesses. In parallel, keep abreast of any government grants or loans designed for dispensaries.
Create engaging and data-driven presentations to share your business plan.

Develop a solid financial projection model that assures potential returns to investors.

Highlight the prospective growth of the marijuana industry to resonate with investors.

Explore government grants aimed at promoting small businesses.

Keep an eye out for low-interest loan programs for entrepreneurs.
Financial Projections
Anticipating your dispensary's revenue requires a comprehensive understanding of market trends and a keen insight into customer behavior. Forecast the sales volume by considering legal status, consumer demand, market competition, and the number of similar businesses.
Cannabis dispensaries' profitability hinges on market acuity, diligent cost management, improving operational efficiency, product pricing, and superior customer experiences.
Knowing your costs is paramount in forecasting your profit margin. Always consider fixed costs like rent, utilities, and salaries. And don't forget recurring variables like product sourcing, compliance, security, and marketing expenses.
The balance between revenue and cost determines your dispensary's profitability – your profit margin. To increase this gap in your favor, explore ways to improve operational efficiency, source quality products at better prices, and streamline customer experience to boost sales.
Marketing Strategy
Leverage the power of digital marketing to enhance your dispensary's brand. Create a user-friendly website, optimize for SEO, and engage with customers on social media platforms. Digital channels not only help expand your brand's presence but also foster powerful customer relationships.
Content marketing strategies can be employed to communicate your brand's story, educate your audience about products, and build trust. Publishing engaging and informative content on your blog can drive traffic to your website and boost SEO.
Email marketing campaigns can help you reach your audience in a personal, value-driven way. Regular newsletters with product updates, deals, and educational content keeps your brand top-of-mind for customers.
Consider utilizing influencer marketing. By partnering with trusted influencers in the cannabis industry, you can extend your reach and connect with new audiences.
Incorporate social responsibility into your marketing strategy. Show your commitment to community engagement, diversity, environmental sustainability, and more. This not only raises your brand's profile but also resonates with customers who value responsible business practices.
Management Team
Structuring your dispensary's management team is crucial for success. A solid management team can guide your dispensary through the complex layers of the cannabis industry, ensuring that operations run smoothly and effectively.
Strong leadership skills have a significant role within the cannabis industry. These skills are essential in managing staff, implementing procedures and policies, and navigating the industry's many regulations and challenges.
The selection of a competent management team also boosts investor confidence, showing that your dispensary is a sound business investment. The right leadership propels your cannabis business towards success and growth in an ever-evolving industry.
Find a Suitable Location
When starting a dispensary in Indiana, zoning and visibility are key considerations. It's crucial to locate in an area that's permissible under zoning laws and enjoys high visibility for customer traffic. Legal compliance is likewise a vital part of cannabis real estate selection, and not just on a city or state level.
The local community and neighboring businesses play a significant role in dispensary success. A location that's both supportive and comfortable for local traffic, while adhering to mandatory distance regulations from facilities such as schools, can make the dispensary more appealing.
Ensure the proposed location fits Indiana's zoning laws for dispensaries.

Pick a location that is highly visible and easily accessible to drive customer traffic.

Check for compliance with both local and state-level regulations.

Evaluate nearby businesses and the local sentiment towards cannabis.

Keep a regulated distance from facilities like schools as stipulated by law.
Network with Cannabis Professionals
Networking with cannabis industry professionals is advantageous for all entrepreneurs looking to learn how to Open a Dispensary in Indiana. It allows you to learn from their experiences, gain insight into market trends, and even establish partnerships.
A robust professional network in the cannabis industry can provide much-needed support as you navigate the intricacies of opening your dispensary. It's an opportunity to share ideas, access resources, and spark collaborations to grow your business.
Engage in cannabis industry events and trade shows.

Join online cannabis entrepreneur forums and discussions.

Develop strategic partnerships with existing dispensaries and cannabis brands.

Collaborate with cannabis advocates and local community leaders.

Enroll in cannabis business and law workshops and courses.
Get Involved in the Local Community
Fostering strong relations with your local community can significantly contribute to the success of your dispensary in Indiana.
Organizing cannabis education and awareness campaigns.

Partnering with local charities or nonprofits.

Sponsoring local events to gain exposure.

Facilitating community discussions about cannabis regulation.

Offering discounts or promotions for local residents.
Advocate for Cannabis Legalization
Learning how to Open a Dispensary in Indiana is not enough. Despite marijuana not being legalized in Indiana, it's imperative to understand the statutes surrounding cannabis and advocate for its decriminalization. This advocacy starts with education and understanding to emphasize the economic, medical, and social benefits of its legalization.
Engaging in cannabis legalization advocacy in Indiana can greatly contribute to the future of the cannabis industry in the state. Integrating your efforts with groups and initiatives already advocating for the legality of marijuana encourages potential changes in law, creating opportunities for your future business.
Educate yourself about the potential benefits of cannabis legalization.

Ensure understanding of current Indiana cannabis laws and proposed changes.

Engage with local and national cannabis advocacy groups.

Utilize social media and digital platforms to promote facts about cannabis.

Attend public hearings and meetings regarding cannabis legalization.

Support and sponsor academic studies on the impact of cannabis legalization.

Create awareness campaigns about the benefits of legalization.
Form a Business Entity
Selecting the right business structure is crucial for a dispensary. Forming an LLC or corporation safeguards personal assets from business debts or lawsuits. However, each comes with its pros and cons. The list below includes a few considerations for choosing LLC for a cannabis dispensary in Indiana.
Choosing the right business entity also requires understanding the legal responsibilities involved. This includes adhering to state and federal business regulations, taxation, and ensuring transparency in your operations. Several points that cover these aspects are detailed in the subsequent list.
Limited Liability:

As a dispensary owner, your personal assets will not be at risk in the event of a business debt or legal issue.

Tax Benefits:

LLCs are not taxed at the corporate level. Instead, profits and losses are reported on the owners' personal tax returns. This helps avoid double taxation.

Flexibility:

LLCs have the advantage of flexibility in management structure. You can opt for a member-managed or manager-managed structure.

Fewer Restrictions:

Unlike corporations, LLCs face fewer restrictions on ownership and don't require a board of directors or annual meetings.

Possible Stigma:

Since cannabis is not legal federally, some financial institutions may be hesitant to do business with a cannabis-related LLC.

Legal Responsibilities:

Ensuring business registration is current, maintaining accurate and detailed financial records, and conducting business in a transparent manner.

Understanding Laws:

Being aware of both Indiana and federal laws and adhering strictly to them.

Insurance Coverage:

Procuring suitable insurance coverage to ensure business continuity in the event of unforeseen circumstances.
Obtain Licenses and Permits
In Indiana, obtaining the necessary licenses and permits is mandatory for operating a dispensary. The crucial step involves acquiring a Pharmaceutical Processor Permit from the Virginia Board of Pharmacy.
In addition, local and state regulatory compliance involves securing all appropriate licenses, and permits and ensuring alignment with existing rules and standards set by state and local authorities.
Research and understand the application process of the Pharmaceutical Processor Permit.

Maintain awareness of all local and state regulatory measures.

Apply for the necessary local and state business licenses.

Ensure compliance with Indiana cannabis laws and regulations.

Keep current on all required background checks and inspections.
Hire Experienced Staff
Finding knowledgeable and experienced employees is vital for running a successful retail dispensary. The staff's expertise on cannabis products and regulations will improve customer service and ensure smoother operations.
Training your staff is equally essential. Continuous education on the latest cannabis research, updates in legislation, and safety measures will enhance their proficiency and performance.
Identify potential employees with prior experience in the cannabis industry.

In-depth training for all employees to ensure prompt and accurate customer service.

Implement a rigorous hiring process with a focus on candidates' knowledge about different cannabis strains and products.

Ensure staff members are well-versed with the local and state laws regarding sales and consumption.

Consider periodic skill enhancement programs to keep the staff updated about the latest developments and trends in the industry.
Build Out Your Dispensary
After securing funds, it's time to start the transformation of your designated space into a dispensary. You'll also need a Dispensary Security Plan to keep your dispensary secured 24/7. This phase revolves around creating an environment that complies with regulations while attracting customers. The dispensary's design and layout play a pivotal role in its efficiency and customer experience.
This involves procuring necessary equipment like point-of-sale systems, display cases, and more, not forgetting the importance of a well-designed room layout. From customer flow to ensuring enough space for staff to operate, layout considerations significantly impact your dispensary's operations and potential profitability.
Invest in a robust Point Of Sale (POS) system tailored for cannabis dispensaries.

Quality display cases to exhibit cannabis products professionally and enticingly.

A security system to ensure the safety of your staff, customers, and products.

Durable storage solutions to securely store cannabis products.

Efficient labeling and tracking systems to manage inventory precisely.

Consider a strategic layout to guide customer flow through the dispensary.

Ensure workspace efficiency with ergonomic design and ample room for your staff to operate.
Create a Safe and Welcoming Environment
In creating a safe and welcoming dispensary environment in Indiana, provide a space that ensures customers feel secure and considered. Consider strategies for comfortable navigation, optimal product display, and a warm atmosphere.
Invest in security measures including surveillance cameras and proper locking systems.

Display products effectively and transparently. Customers should have easy access to understand what they're buying.

Ensure bright and inviting interior design to foster a warm atmosphere.

Accommodate for customers' privacy, especially during consultations or transactions.

Incorporate elements such as comfortable seating, music, and pleasant aroma to enhance the shopping experience.
Source Your Products
Success as a dispensary relies heavily on the quality and variety of products offered. Establishing relationships with trusted and licensed cultivators and processors is key, to ensure a steady supply of diverse, top-notch cannabis products to meet the demands and preferences of your customers.
Consider offering a wide spread of different products – from smoking materials to ingestible items.

Form a rapport with cultivators and processors who value quality and reliability.

Incorporate feedback from customers to diversify your product range.

Stay updated with current trends for cannabis products in the market.

Practice ethical sourcing and partner with environmentally friendly cultivators.

Consider the potential to offer locally sourced cannabis products.
Open Your Doors and Start Serving Customers
At this stage, you're ready to welcome customers. Launch your dispensary with a well-crafted grand opening marketing strategy aimed at attracting potential customers. Ensuring a memorable opening day can give you a positive start.
Establishing a reputation for excellent customer service is next. It plays an integral role in retaining customers and encouraging repeat visits to your dispensary. Prioritize strong customer relationships from the get-go.
Develop a grand opening marketing strategy that includes social media promotions, local advertising, and potential partnerships with local businesses to attract initial customers.

Provide excellent customer service by training your staff thoroughly. They should be knowledgeable about your products, patient, and ready to answer any questions customers may have.

Implement a loyalty program or customer rewards system to encourage return visits.

Show customers that you value their feedback. This can be done through feedback surveys or an open-door policy.

Develop a user-friendly website to create a good first impression and provide valuable information about your products.
Contact our team of experts to help you navigate and be more knowledgeable in the cannabis industry.