Oklahoma Medical Marijuana Laws
Oklahoma medical marijuana laws are one of the most liberal in the country. An Oklahoma medical marijuana attorney joins us to discuss Oklahoma MJ laws. Oklahoma growers license rules.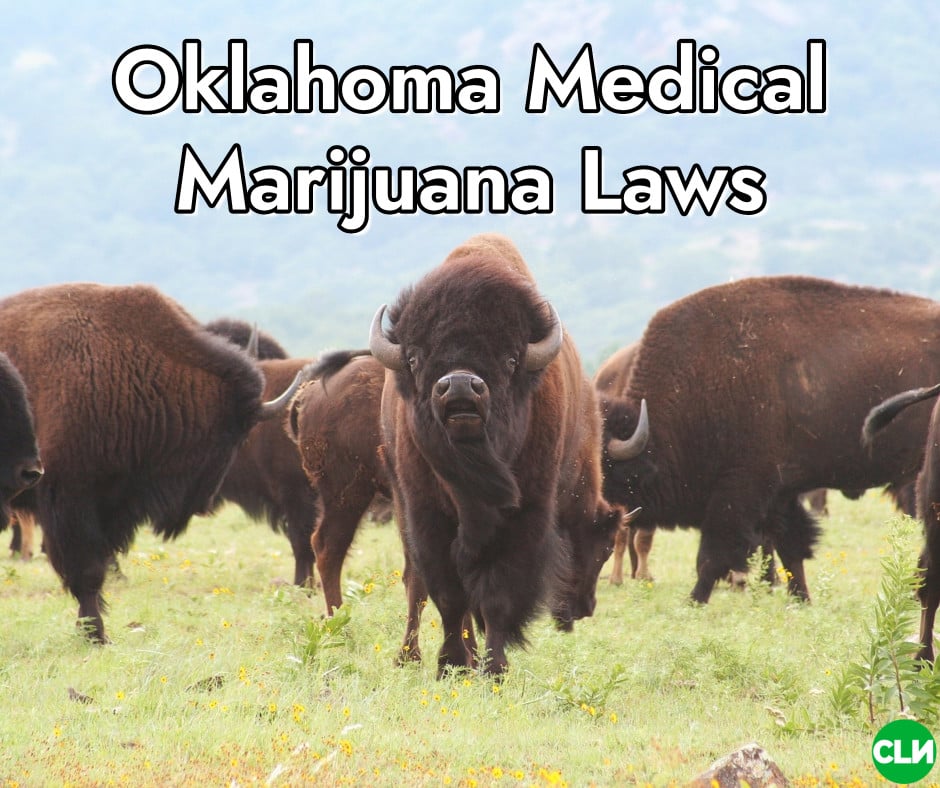 Oklahoma Medical Marijuana Laws
Oklahoma medical marijuana laws are one of the most relaxed in the country. With no specific qualifying conditions in Oklahoma, some patients report that it's relatively easy to get an MMJ card. In fact, 1 in 13 adult Oklahomans has a medical marijuana card. Oklahoma cannabis lawyer, Rachel Klubeck of Smith & Klubeck, joins us to discuss Oklahoma's medical marijuana laws and if OK has any adult-use initiatives in the works for 2020.
"To qualify for a medical marijuana card, essentially it's patient-physician confidentiality. You can say you have anxiety or depression – it doesn't have to be something that you can necessarily prove physically or by results." – Rachel Klubeck, Smith & Klubeck
Listen to it on your podcasting app or watch the video on Oklahoma Medical Marijuana Laws on YouTube.
RELATED POST: How to Open a Cannabis Dispensary in Illinois
RELATED POST: How to Open a Cannabis Dispensary in Arizona
Oklahoma Medical Marijuana Laws
Written by: Simona
Medical marijuana laws in Oklahoma are slightly different when comparing to some other states.
Oklahoma legalization brought different rules and regulations that apply on occasions when a business owner wants to get a grower's license. At the same time, medical marijuana patients are privileged to have many cannabis products that are diverse and bring different cannabis effects.
Oklahoma cannabis rules are unique, especially because of the revenues they make in this state. The market records a significant increase in sales and seed production. For all these reasons, Oklahoma has one of the most liberated politics when it comes to marijuana use.
One of the most relevant activists in Oklahoma, an attorney Rachel Klubeck, joins the discussion about the cannabis regulations in Oklahoma and brings a new perspective about the business here.
How to Get Your Medical Marijuana Card in Oklahoma
With a huge diversity on the market, Oklahoma has some of the most progressive plans for a cannabis market growth. We can see why so many people and marijuana users want to experience the freedom of marijuana consumption in Oklahoma.
How Oklahoma became one of the most progressive states when it comes to marijuana use?
They managed to become an example of marijuana liberalization by changing the application process. When you apply for a medical card, you need only a few details to acquire a card. Your personal information and a recommendation from a physician will be enough to get a medical card.
The proof of residency in Oklahoma is also necessary, and you cannot use this medical card in other states.
Conditions That Qualify for an MMJ Card in Oklahoma
Oklahoma medical marijuana laws are interesting in terms of qualifying conditions. Of course, usual conditions for getting a medical marijuana card in Oklahoma are no different than other states, with one large difference. Recommendations from a physician are necessary, but there is no list of specific conditions that qualify for an MMJ card. You can get a card if you have only slight symptoms of a specific disease, and the requirements are less rigid.
"The only time I've heard of someone get denied is when they put that they 'phantom pain' and they were not missing a limb." – Rachel Klubeck, Smith & Klubeck
How To Grow Medical Marijuana Legally in Oklahoma
It is necessary to know that growing marijuana in Oklahoma is a process that includes different aspects of location specifications, producing procedures, and cooperation with different dispensaries in Oklahoma.
If you want to be a grower in Oklahoma, you need to apply for a license certificate that complies with the regulations described in Title 63 O.S. § 420 et seq. and the Oklahoma Administrative Code (OAC) 310:681.
Oklahoma Growers License Rules
For all of the applicants, there are the same conditions. These are the following:
You have to be 25 or older
An applicant must be an Oklahoma resident
A background check will be provided for nonviolent felony convictions and any other felony conviction that might disqualify the applicant
Distance requirements claim that the location must not be within 1,000 feet from any public or private school
A certificate of a good standing document is necessary
Types of Oklahoma Growers Licence Available
Applying for the license in Oklahoma has four different types of use. The law recognizes some of the most popular licenses in Oklahoma stated below.
Marijuana Grower License – This license allows selling marijuana to licensed dispensaries and licensed processors.
Marijuana Processor License – The license includes selling to other licensed processors and dispensaries, processing marijuana and selling it to licensed medical marijuana users.
Marijuana Dispensary License – With marijuana dispensary license, you can sell medical marijuana and other marijuana products, including plants and seedlings. The selling of these products is possible if you only sell to licensed caregivers, medical patients, research license holders, and parents, and legal guardians of minors.
Marijuana Transportation License – The transportation license comes with the approved grower, processor, or dispensary licenses.
Oklahoma cannabis laws are unique when it comes to application forms, and you need to apply according to the Oklahoma Medical Marijuana Authority (OMMA) recommendations. You can find more information on their website.
Check Out:
Interested in coming on as a guest? Email our producer at lauryn@cannabislegalizationnews.com.
Thomas Howard has been in business for years and can help yours navigate towards more profitable waters.