How is cannabis waste managed & recycled?
Cannabis is just the flowers of the plant, which is pretty woody and grown for its tough fibers with industrial hemp cultivars. What do growers, dispensaries, and cultivators do with unusable cannabis waste after harvest? This week Miggy is back to join Tom in a discussion with Arman Zeytounyan, Co-Founder at EcoWaste Services, to discuss how businesses tackle the crucial last step in the cannabis production cycle – waste management.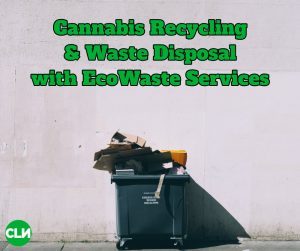 What is EcoWaste Services?
A cannabis waste management company

Provides management services for cannabis waste materials

Currently operating in Southern California

Started as medical waste service in 2011 servicing the healthcare industry

EcoWaste was founded by Arman Zeytounyan and Avo Gasparian in 2016 to offer organic waste disposal services to food and construction industries

Pivoted to cannabis in early 2018 after receiving requests from interested cannabis businesses
What is Cannabis Waste?
Unused or leftover cannabis

Expired, unused, or leftover edibles and drinks

Unused or leftover oils

Wrappings, capsules, cartridges, and packaging

Cultivation trimmings

Cultivation growing medium

Used testing samples

Havested, used plant
What Cannabis Operations Can Benefit from EcoWaste Services?
Cultivators

Dispensaries

Extractions

Testing Labs

Distributions

Infusions
Why is Tracking Cannabis So Important?
Lawmakers are concerned that cannabis that is improperly disposed of will cause people to scavenge and consume it

Cannabis waste is required to be properly documented and recorded
News & Further Reading:
Check Out:
Interested in coming on as a guest? Email our producer at lauryn@collateralbase.com.