How much does a cultivation facility make?
If you are an entrepreneur with your sights set on the cannabis industry, you might wonder how much money you can earn as a cultivation facility owner. The market has sustained growth, and growers' profits are also increasing. Likewise, growing facilities are becoming one of the most reliable and profitable sources of income in the cannabis industry.
A cannabis grower is a facility specialized in cultivating marijuana (whether indoors or outdoors) to supply the cannabis industry.
It is always important to remember that everything in this industry starts with cultivation: the entire niche depends on having facilities that can manage to grow a healthy amount of grows to sustain thousands of dispensaries and manufacturers.
Since cannabis is a multibillion industry as of 2022, there are great benefits to starting a marijuana business. With the boom of the industry in the United States, more entrepreneurs and marijuana enthusiasts are looking to open their cultivation facilities. But the question on everyone's mind when considering getting into the business is: how much do growers make?
Cost of a cannabis farm/cultivation facility
Before diving into how much can a cultivation facility make, we must venture into the costs of operating a cannabis farm, as it could be a somewhat expensive endeavor.
The current licensing costs of a cannabis cultivator facility may vary a lot from state to state, with application fees ranging from $100 to $200,000. Keep in mind that these costs only include the usually non-refundable application fees, not the annual or renewal fees.
Additionally, many states have restrictions in regards to when individuals may or may not apply for a license, as well as building and zoning requirements, which makes the endeavor much more expensive.
Once an applicant goes through the licensing process, then comes the operating costs. The first question that every grower should ask themselves is whether they want to operate as an indoors or an outdoors cultivation facility:
Indoor cultivation facilities are usually more expensive due to high rents and high-cost equipment like grow lights and temperature and humidity control. However, they can produce multiple harvests more reliably.
Outdoor cultivation facilities, while usually less expensive in the long run, since they tend to have less expensive equipment and rent prices, generally imply high costs when purchasing the land, with averages anywhere from $10 to $17 per square foot. Some states may not even be able to harvest through all year because of their specific climate conditions.
Additional costs will vary with the size of the operation. Small operations can require a budget of a couple of hundred thousand dollars, while bigger ones require a couple of million dollars to get them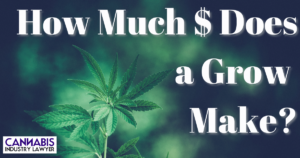 going.
Although expensive, cultivation licenses are exceedingly profitable, with various licenses having been sold for tens of millions of dollars in Florida and New York.
How much does a cultivation facility make?
A lot of factors need to be analyzed to discuss how much a grower can make, like:
the state in which you are operating
the size of the operation
the type of facilities you are selling your products to
the quality of the product
It takes a lot to run a cannabis farm or processing facility. Not only do you have to grow the plants, but also adhere to specific QA requirements during the entire process, including trimming, branding, packaging, and delivering the product.
Doing everything in order brings great benefits. As a ballpark, you can estimate that large scales operations will have revenue anywhere from $1,000,000 to $200,000,000 a year, while smaller operations may average $250,000 annually selling to dispensaries.
How much does a growing facility owner make?
Even though the cannabis industry is tricky, it pays off. While there is not much information about marijuana salaries and incomes, we estimate the owner of a successful cultivation facility will earn over $200,000 a year without much trouble. On the other hand, the staff of a grower can make a healthy profit from the industry too.
Growers salaries
Most facilities will look for certain requirements for people who want to become cannabis growers. Usually, the most important one is having a degree in botany or horticulture.
However, having a degree generally won't cut it. The cannabis industry is complex, and marijuana cultivation facilities will often require people with experience growing.
Generally, there are three staff members that every cultivation facility needs to have on board:
A master grower
Junior growers
Bud trimmers
How much do master growers make?
Master growers are responsible for managing cannabis or other crop production cycles in a cultivation facility. This job is a management position and requires extensive knowledge in horticulture. The average master grower salary ranges between $50,000 and $145,000 a year.
How much do cannabis growers make?
Junior growers are master growers in the making. They work directly under the management of the master growers, and their primary responsibility is to grow the plants by cleaning, feeding, and watering them. The average junior grower makes about $30,000 to $70,000 a year.
How much do bud trimmers make?
As their name implies, bud trimmers are responsible for trimming marijuana buds. They are in charge of hand trimming plants during harvest. It is considered an entry-level job in the industry and has a lot of room for improvement and moving forward. Typically, not much is required for this position, and their average salary goes from $20,000 to $25,000 per year.
While it may be somewhat difficult to get into cultivation, without a doubt, a cultivation facility is one of the most profitable enterprises in the cannabis industry, with total earnings going as high as hundreds of millions of dollars. This venture, however, requires a lot of planning to get it going in a healthy, secure manner. So if you are planning to build your own cultivation facility, contact us, so that we can give you a rundown on how to get a cannabis cultivation license and get to grow cannabis as soon as possible!
RELATED POSTS