---
How much does a dispensary make? (and the best 5 states to start yours)
If you're an entrepreneur with your sights set on the cannabis industry, you're likely wondering how much money you can make with a dispensary. The market has sustained growth, and dispensary profits are also increasing while becoming the most reliable and profitable source of income in the marijuana niche.
As the cannabis industry continues to grow in the United States, more entrepreneurs and marijuana enthusiasts are looking to open their dispensaries. While this is the most trusted and public-centric type of business, is a dispensary profitable?
Before investing in a Cannabis Dispensary
First, you need to understand that diving into the cannabis industry is a somewhat complex – and expensive – enterprise.
Depending on the state you wish to open your dispensary business, the licensing process can be as low as $250, while in others you will need to invest over $500,000 just during the application process.
These costs include non-refundable license fees and annual license renewal fees. Add this to the fact that many states have specific periods when individuals and entities can apply for a license, or have a limited number issued per year.
Second, there's the matter of the federal, state, and city taxes you must pay in compliance with the regulations of the agencies responsible to monitor the cannabis industry within their respective states. These taxes may include excise taxes and cultivation privilege and purchaser taxes.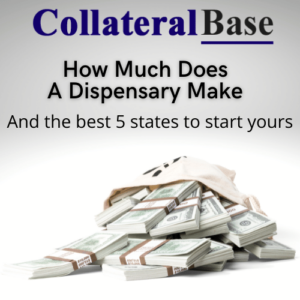 There are also the costs of opening and running a dispensary. These costs vary from state to state, but the general landscape includes the following costs and investments:
Real estate

Security

Staffing and training

Inventory

Compliant POS system

Seed-to-Sale system

Branding and marketing
Lastly, you must consider if your city or state has a saturated market. Most places with a high number of cannabis businesses within their boundaries tend to be more difficult for entrepreneurs and licensees to start a successful dispensary. 
How much does a dispensary make?
Cannabis is a booming industry that's estimated to keep growing while states legalize marijuana, and more businesses open throughout the United States.
According to MJBizDaily's 2022 Factbook, cannabis retail sales will reach $40 billion in 2023. Another report from Statista estimates that the recreational cannabis industry will reach $25.1 billion in sales in 2025, with an average yearly growth of %23.60 from 2019 to 2025.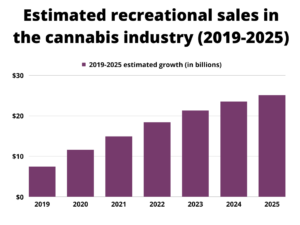 In the case of cannabis dispensaries, the average dispensary profit margin in any state ranges between 12% and 21% after taxes, with gross revenue between $2.1M and $3M.
This will vary among states since dispensaries in states with more relaxed laws around cannabis tend to be more profitable than those with stricter regulations.
This is because they can sell a wider variety of products and attract more customers.
These numbers will surely grow in the next few years. In fact, according to data from MJBizDaily, 4/20 has become the highest grossing holiday for cannabis businesses for the last 4 years, averaging an increase of almost 26% since 2019.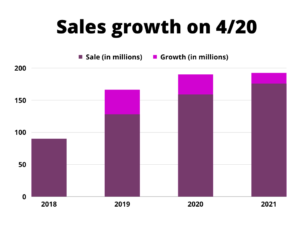 While this is data from a specific holiday, it shows that marijuana sales throughout the United States will keep growing as cannabis is legalized and adopted by more states.
How much money does a dispensary owner make?
Business owners can get huge benefits from the net income of their dispensaries. According to MJBizDaily, dispensary owners tend to make around 10% to 20% of the net income of their dispensaries, which puts their annual salary between $200k and $1 million.
This may vary depending on many factors, like the number of employees hired, the type of dispensary (recreational or medical), if it is a mom-and-pop shop or part of a corporation, the price and restocking of seeds, flowers, strains, and more.
But remember: cannabis is an industry that is just starting, and it will keep growing over the next years, meaning the revenue for everyone involved will increase too.
What are the best states to invest in a dispensary?
If you're looking to get into the cannabis business, there are a few states that stand out as being particularly friendly to dispensaries.
According to the 2021 Annual Marijuana Business Factbook from MJBizDaily, five states had the biggest share of cannabis sales, accounting for 28% ($13.5 billion) in sales in 2021. These are California, Colorado, Illinois, Massachusetts, and Washington State.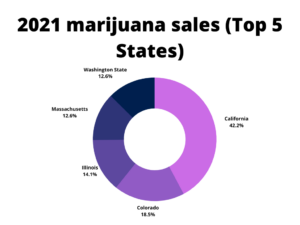 There are other states to consider when planning to open and run a profitable dispensary. Let's dive into some of the states where running a dispensary may well be a savvy investment in the short and long run:
California
Considered the bastion of the cannabis industry in the United States, California is the most reliable and attractive state to operate a dispensary for various reasons.
For starters, California has a long cannabis history since it was the first to legalize its medical use back in 1996, with recreational use being legalized in 2016. Since California is a pioneer state in the cannabis industry and legalization, it has a high demand for cannabis products.
California is also the most populous state in the US. This ensures it brings many opportunities for new business owners while ensuring the market will not be as saturated as others, and for a longer time.
While there might be some setbacks – like expensive real estate -, a dispensary owner can thrive in California with great marijuana dispensary profit strategies.
New Jersey
Since New Jersey legalized recreational marijuana in 2020, the state is bringing a lot of new opportunities to the industry, because of its dense population, favorable legal landscape, and low taxes.
Among its setbacks, there is the cost of application and licensing for retail businesses in New Jersey's cannabis industry, which can be higher than the national average.
Another factor is New York, which may have slower development in the marijuana industry that may impact New Jersey.
While the license fees are higher than in other states, New Jersey's population, the price per gram of cannabis, and approximately $1 billion in revenue by 2024 make it a great place to run a dispensary.
Colorado
Colorado became the first state to legalize the recreational use of marijuana in November 2012, and since then, the state has become one of the focal points of the cannabis industry.
One of the reasons that make Colorado a great destination for opening a dispensary is the many resources the state provides to future dispensary owners.
The application fees are very low, and it is easier to apply for and obtain a dispensary license compared to other states.
Just like California, Colorado has a large population of medical and recreational marijuana consumers, and this might make it an overcrowded market.
However, that same population could be considered a benefit, since Colorado citizens and tourists will generate a great demand for cannabis products.
Massachusetts
Since Massachusetts legalized adult-use cannabis in 2016 and opened its first dispensaries in 2018, the state has become an attractive destination for future – and current – cannabis business owners.
Back in 2020, Massachusetts' cannabis sales closed to almost $700 million, increasing by %56 compared to the previous year. This trend has not stopped, and given the booming of the industry, we can safely bet this is among the best options to start a dispensary.
Setbacks? There are some important considerations to keep in mind before opening a cannabis dispensary here. The retailer license fee is among the heftiest in the country, costing around $40k. But with strong business planning, you can recover the expenses of the licensing and opening your dispensary in no time.
Illinois
While Illinois cannabis sales have not increased a lot in the last year, the state tax revenue increased by 50% during the 2022 Fiscal Year.
Illinois wants to keep growing its marijuana economy. For that, the state approved over 100 social-equity retailer licenses to increase the number of dispensaries and other cannabis businesses.
Illinois can become a very lucrative state to open a dispensary. While it may be difficult to start yours, with strong backing and planning, you can ripe the benefits of the third state with the highest cannabis sales revenue in the US.
So, how much does a dispensary make? Business owners can earn an annual salary of at least $200,000, while dispensaries can make well over a million dollars per year. That's not too bad when you consider the potential upside of this niche.
Not only are people increasingly comfortable with cannabis as a medication, but more states are legalizing marijuana for recreational use. If you're thinking of starting your dispensary, now is the time to do it!
Contact us to learn more about what it takes to get started in this growing industry.