Illinois Cultivation Center Licenses
What is an Adult Use Cultivation Center?
Adult Use Cultivation Centers are centers that are licensed to cultivate cannabis under the new Illinois law. Their primary role will be the cultivation of cannabis products. These centers will also be allowed to package and process the cannabis plant and prepare it for sale. The products from these centers will be sold to dispensing organizations.
Below we take a detailed look at cultivation centers and terms that relate to this provision of the law.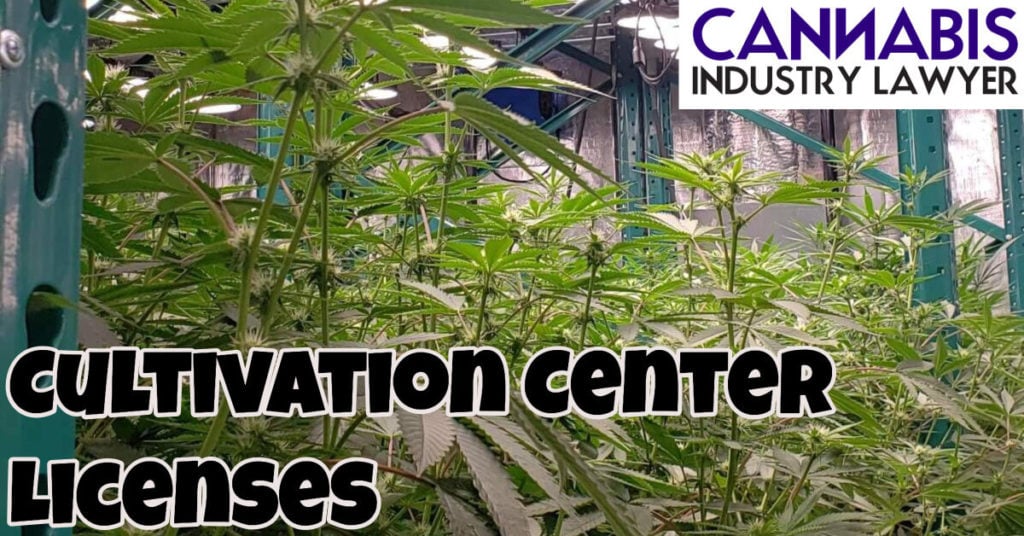 Conditional Adult Use Illinois Cultivation Center Licenses
This is a license that will be issued to top-performing Cultivation Center License applicants in Illinois come 2020. This license is legitimate "but does not entitle the recipient to begin growing, processing, or selling cannabis or cannabis-infused products."
The application window for a Cultivation Center license will be opened if the Agriculture Department deems it fit to add more cultivation centers. Those who wish to get a Conditional Cultivation Center license will be required to pay a non-refundable fee that will be set by the department in addition to providing detailed information, including the name of the cultivation center.
Some details that will be required for this application include:
The cultivation center's physical address
Operation bylaws that the cultivation center is planning to adhere to
Verification by the police showing that all prospective board members and principal officers have undergone a background check
 The employment practices that the applicant proposes
 Experience the cultivation center has in the growing and processing of marijuana and associated products.
 Processing, inventory, and packaging plans
 Detailed plans on how the cultivation center will meet its energy and water needs, as well as dispose waste arising from cannabis plant processing.
Recycling requirements
Applicants will be required to have a plan that accepts packaging and cartridges for recycling
Cultivation centers will be required to recycle all waste that is generated through cannabis processing
The applicants will also need to adhere to the waste management requirements by the state
According to the new law, disposal of liquid waste should be made in accordance to the state's requirements. All applicants must provide their plan for, "Disposing liquid waste containing cannabis or byproducts of cannabis processing in compliance with all applicable State and federal requirements, including, but not limited to, the cannabis cultivation facility's permits under Title X of the Environmental Protection Act."
Early Approval For a Cultivation Center License in Illinois
This is a license that allows a cannabis cultivation center to start cultivating, packaging, infusing, and selling marijuana products once the act takes effect in January 2020. The license was established under the Compassionate Use of Medical Cannabis Pilot Program Act.
The department of Agriculture may change the number of cultivation centers after July 2021. That said, this number will not go beyond 30 cultivation centers. Some of the factors that may force this department to increase or decrease the number of cultivation centers include:
The percentage of sales of cannabis products that are not happening in the regulated market
The supply of cannabis products versus the demand of the same especially for registered cannabis patients
The presence of oversupply causing trafficking of cannabis products in states where the consumption of these products is illegal

Change in federal law

Security
Some of the actions the department of agriculture will take to increase adult cultivation center applicants include:
Changing the process of cultivation center licenses application to make it friendlier to investors
Eliminating or reducing some of the barriers that may be hindering interested investors from entering the marijuana cultivation industry as adult cultivation centers.
Cultivation Center Requirements
According to the law, cultivation centers must have a comprehensive operation document that outlines all the procedures the cultivation center will put in place to ensure security. The security system will include a weekly inventory as well as a staff plan.
All cannabis plants in a cultivation center should be grown in an enclosed place. The enclosure should to be lockable and only the licensed agent will have access to this area.
All products grown and made in cultivation centers will be sold solely to dispensing organizations, craft growers, or infusers. When it comes to pricing, the cultivation centers are prohibited from discrimination. The same price should apply to all buyers.
Early Approval of Cultivation Center Licenses Requirements
Medical cannabis cultivation centers that are already in operation may submit their application for the Cultivation Center license once this law takes effect. The applications should be submitted within 60 days and not more than 180 days after this act becomes law.
Aside from completing the application, interested cannabis cultivation centers will also need to provide proof of registration. A non-refundable fee of $100,000 will be required when submitting the application for this license.
Cultivation Center Agent Identification Card
This is an identification document that will be issued to cultivation center agents responsible for managing and ensuring that these centers are compliant with the law. This document will be issued by the Department of Agriculture.
Cultivation Center License
This license will be issued to those who have already been awarded with a Conditional Cultivation Center License. Those renewing their Early Approval Cultivation Center License may also apply for this license.
The department of agriculture will first inspect cultivation centers to verify whether they meet the minimum requirements as stipulated in the act. A registration fee of $100,000 will also need to be paid. This amount may be higher depending on the time difference.
Factors that may cause the department of agriculture to deny an application from a qualified entity include:
• All the materials required for approval are not submitted
• The applicant has not complied with the local zoning laws
• If any of the principal officers or board members is below the age of 21
• If any of the submitted information is falsified
These are just some of the highlights of this act as far as Cultivation Centers are concerned. Those interested in starting cultivation centers should ensure that they understand all details and meet all the requirements as stipulated by the law.
An experienced attorney can help you navigate the rigorous requirements needed by this act. Get in touch with a qualified cannabis lawyer who can help you understand all the requirements and restrictions put in place and guide through the application of licenses.
Thomas Howard has been in business for years and can help yours navigate towards more profitable waters.
Thomas Howard was on the ball and got things done. Easy to work with, communicates very well, and I would recommend him anytime.
Our cannabis business attorneys are also business owners.  We can help you structure your business or help protect it from overly burdensome regulations.