New York Cannabis Dispensary License
Is a New York Cannabis Dispensary License a possibility for businessmen and women in the cannabis industry? Not yet, but it may be closer that what we expected. Start setting your business ideas in the table, and get ready for the New York Cannabis License Application process. 
New York is looking to pass a new legislation that would legalize adult-use marijuana on its territory. And even though it's the fifth attempt of legalizing weed in the state, there are more incentives than ever to pass a bill of this nature.
With the recent legalization of marijuana in the neighbor state, New Jersey, and the economic struggles that COVID-19 has brought to the table, adult-use cannabis dispensaries can be used as a measure to lessen the economic impact of the state and bring in some extra money, and expecting that tourism regains strength this 2021, New York lawmakers would be making a very wise financial-oriented decision . 
Any other state has gone through the drafting process to regulate their Adul-use Marijuana Program, we are eager to finally see those final rules released once legalization happens in New York
We are going to focus on the requirements that –so far- have been established in order to get a New York Cannabis dispensary license in the future, so that any cannabis entrepreneurs can start preparing themselves for the venture.
"Retail sale" means to solicit or receive an order for, to keep or expose  for  sale, and to keep with intent to sell, made by any licensed person, whether principal, proprietor, agent, or employee, of any cannabis, cannabis product, cannabinoid hemp or hemp  extract  product  to  a cannabis consumer for any purpose other than resale.   

"Retailer" means any person who sells at retail any cannabis product,  the  sale  of  which a license is required under the provisions of  this chapter.
RELATED POST: NEW YORK CANNABIS LICENSE APPLICATION
RELATED POST: NEW YORK CANNABIS CULTIVATION LICENSE
What is New York Dispensary License
According to the proposed "Marijuana Regulation and Taxation Act", a New York dispensary license "shall authorize the acquisition, possession, sale and delivery of cannabis from the licensed premises of the retail dispensary by such licensee to cannabis consumers".
Limitations for New York Dispensary License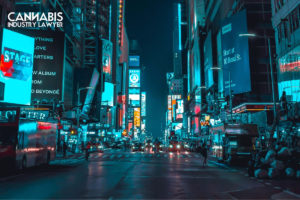 As stated by the proposed act in the retail dispensary license section, no person may have a direct or indirect financial or controlling interest in more than three adult-use retail dispensary licenses issued.
Also, no person holding this type of license may hold an adult-use cultivation license, nor a processor, microbusiness, cooperative or distributor license or be registered as a registered organization, except for such organizations licensed with an organization adult-use cultivator processor distributor retail dispensary license or a registered organization adult use cultivator license. 
in the same line, no retail license would be granted for any premises, unless the applicant is the owner or demonstrates possession of the premises within thirty days of initial approval of the license through a lease, management agreement or other agreement giving the applicant control over the premises, in writing, for a term not less than the license period.
With the exception of New York Cannabis Microbusiness License, no premises can be licensed to sell cannabis products, unless said premises are located in a store, the principal entrance being from the street level and located on a public thoroughfare in premises which may be occupied, operated or conducted for business, trade or industry.
Also the dispensary would have to be at least five hundred feet away from any school ground, understanding this as defined in the NY education law.
Other Types of New York Cannabis Licenses
Don't miss out on our Marijuana Legalization Map where you can browse the current status of laws in every state in the United States and see all our posts on each of them.
Check Out:
Interested in coming on as a guest? Email our producer at lauryn@cannabislegalizaitonnews.com