New York Cannabis Dispensary License Application 2022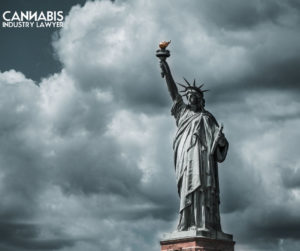 Is a New York Cannabis Dispensary License a possibility for businessmen and women in the cannabis industry? Now it is! Start setting your business ideas on the table, and get ready for the New York Conditional Adult-Use Retail Dispensary License Application process. 
As other states have gone through their drafting process to deregulate their adult-use marijuana programs, we are proud to finally see those final rules released in New York, lifting its cannabis prohibition.  Cannabis lawyers in NY are salivating at the opportunity to help as many applicants as they can get into the dispensary lottery in 2022.
For our help – Click here for the package we offer for the NY
Conditional Adult-Use Retail Dispensary (CAURD) Licenses
As the New York cannabis industry has started to take shape since 2021, it's important for business owners to understand the licensing process and what will be required for them to open a dispensary in the state. New Yorkers can rest assured the state has already legalized recreational cannabis, joining the existing medical cannabis businesses. And while there is still some work to be done before that happens, it's important for business owners to start preparing now to dive into this new industry.
New York Justice Involved Dispensary Applications
The application window for conditional adult use retail dispensary (CAURD) licenses opens August 25, 2022.
Licenses for cannabis businesses in New York are already a reality since the city legalized adult-use recreational marijuana in 2021, but there are a few things cannabis New Yorkers and business people can do to prepare. In this article, we will update the steps to request a license for an adult-use marijuana dispensary business in New York, as well as the costs and limits of it.
With the legalization of marijuana in the neighboring state, New Jersey, and the economic struggles that COVID-19 has brought to the table, adult-use cannabis licenses can be used as a measure to lessen the economic impact of the state and bring in some extra money, and expecting that tourism regains strength this 2021, New York lawmakers would be making a very-wise financial-oriented decision.
What is a New York Dispensary License?
As we mentioned in the article, New York legalized adult-use cannabis back in 2021. This is a great opportunity for cannabis entrepreneurs, as New York joined the growing list of states with legal cannabis. There are a few things you need to know if you're thinking about starting a cannabis business in New York, and the most important (albeit basic) is to know that is a marijuana dispensary business license.
According to the proposed "Marijuana Regulation and Taxation Act", a New York dispensary license "shall authorize the acquisition, possession, sale, and delivery of cannabis from the licensed premises of the retail dispensary by such licensee to cannabis consumers".
What is the marijuana regulation to request a license in NY?
First, future marijuana entrepreneurs should familiarize themselves with the proposed regulations and understand what will be required under the new law. One such article to know about is the article 4 of the New York state's Cannabis Law, especially the articles:
68-A, about registered organization adult-use cultivator processor distributor retail license.
72, about the adult-use retail licenses.
85, about the provisions for governing adult-use cannabis retail dispensaries.
New York is still working on the regulations for cannabis businesses. The state has not released more information about what the licensing process will be like or what the requirements will be. However, it's safe to assume that there will be a high bar to meet in order to get an adult-use retail dispensary business license.
What will the likely requirement for a New York marijuana dispensary license be?
In order to apply for a New York cannabis-business dispensary, applicants will have to:
Be at least 21 years of age
Be a New York resident
Have no felony convictions
Demonstrate that they have the financial resources to open and operate a dispensary by having audited financial statements
Submit a complete and accurate application
Once the license application process is open, business owners will need to provide detailed information about their company and demonstrate that they meet all of the requirements to become a qualifying business.
The application process is likely to be competitive, so business owners should make sure their application is well-prepared and complete.
Learn how to get a cannabis business license in New York. 
What will be the economic benefits of a cannabis business dispensary in New York?
The legalization of recreational marijuana in New York has opened a new income source for the state. New York has been struggling economically due to the pandemic, and many are hoping that cannabis dispensaries will help to boost the state's economy by providing an estimated net profit of $1.25 billion to New York.
There are several reasons this may be a possibility. First, it is expected that tourism will rebound in 2022, and many people will come to New York to visit its dispensaries through marijuana sales. Second, the tax revenue generated from cannabis sales could be used to fund important state programs. Finally, the legal cannabis industry is estimated to create thousands of new jobs in New York.
The New York cannabis market is expected to be lucrative, so it's important for business owners to get started now and be ready when a cannabis license becomes available. The state expects that recreational marijuana businesses will generate a net profit of $300 million in tax revenue by 2024. So if you're thinking about starting profitable businesses in the adult-use cannabis industry in New York, now is the time to start planning and preparing.
New Yorkers who request a license should also start planning their business model, and the location of their facilities, and determine what products they will offer. They will also have to get the best marijuana plants to provide quality to consumers looking for recreational cannabis. You will also have to prepare your staff and team to sell marijuana in a safe manner.
What is the Seeding Opportunity Initiative?
As a progressive incentive to move forward with cannabis legalization and business procedures, New York Governor Kathy Hochul announced the Seeding Opportunity Initiative program, which offers people that may have a previous marijuana-related offense to be the first eligible for a marijuana dispensary license in the New York State and to sell cannabis products.
According to the official statement from the New York Government office:
"This farm-to-store initiative makes sales in New York possible before the end of 2022, jumpstarts New York's Cannabis Industry, guarantees support for future equity applicants, and secures an early investment into communities most impacted by the disproportionate enforcement of cannabis prohibition."
This ensures that offenders with past marijuana convictions will be able to purchase from local growers and farms to work, sell and distribute cannabis products.
What does an adult-use retail dispensary license mean?
We will focus on the requirements that –so far- have been established to get New York Cannabis retail licenses in the future so that any cannabis entrepreneurs can start preparing themselves for the venture.
"Retail sale" means to solicit or receive an order for, to keep or expose for sale, and to keep with intent to sell, made by any licensed person, whether principal, proprietor, agent, or employee, of any cannabis, cannabis product, cannabinoid hemp or hemp extract product to a cannabis consumer for any purpose other than resale.   
"Retailer" means any person who sells at retail any cannabis product, the sale of which a license is required under the provisions of this chapter.
Limitations for New York Dispensary Licenses
As stated by the proposed act in the retail dispensary license section, no person may have a direct or indirect financial or controlling interest in more than three adult-use retail dispensary licenses issued.
Also, no person holding this type of license may hold an adult-use cultivation license, nor a processor, microbusiness, cooperative, or distributor license or be registered as a registered organization, except for such organizations licensed with an organization adult-use cultivator processor distributor retail dispensary license or a registered organization adult-use cultivator license.
In the same line, no retail license would be granted for any premises, unless the applicant is the owner or demonstrates possession of the premises within thirty days of initial approval of the license through a lease, management agreement, or other agreement giving the applicant control over the premises, in writing, for a term not less than the license period.
With the exception of the New York Cannabis Microbusiness License, no premises can be licensed to sell cannabis products unless said premises are located in a store, the principal entrance being from the street level and located on a public thoroughfare in premises that may be occupied, operated or conducted for business, trade or industry.
Also, the dispensary would have to be at least five hundred feet away from any school grounds, understanding this as defined in the NY education law.
Other Types of New York Cannabis Licenses
Don't miss out on our Marijuana Legalization Map where you can browse the current status of laws in every state in the United States and see all our posts on each of them.
Related content