New York Conditional Adult use Retail Dispensary (CAURD) License
150 CAURD licenses for qualified Justice Involved applicants will be issued in New York by the Office of Cannabis Management.  These dispensary licenses are going to be awarded only to eligible individuals pursuant to Section 116 of the rules.  These are the only New York dispensaries issued in 2022. 
What documents will I need to apply for a CAURD license?
The application will ask for information about the applicant and all "true parties of interest" in the applicant.
True parties of interest include persons:
that are sole proprietors, partners, LLC members, LLC managers, shareholders, and their spouses;
with control over a licensee;
holding an actual or future right to ownership, investment or compensation, including by stock, convertible bond, note, warrant, option, SAFE, equity swap agreements over a licensee;
serving in a leadership, senior, or control position, such as a member, manager, president, vice president, secretary, treasurer, officer, board 4 member, trustee, director, or a person with equivalent title or position in a licensee, and their spouses;
holding a revenue sharing agreement or a right to gross profit or net profit;
that guarantee the debts of the licensee; or
making up the ownership structure of each level of ownership of a licensee that has a multilevel ownership structure, and their spouses.
Only like 25 of the 150 licenses are earmarked for non-profits.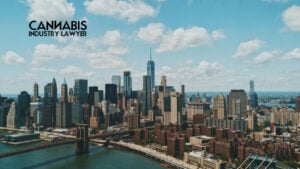 Unless you are eligible under the qualifying non-profit criteria, you will also be asked for information about the justice involved individual who is the sole control owner of the applicant and their qualifying business experience. You'll be required to submit documents to prove your eligibility.
Examples of documents you may need include:
tax documents showing the qualifying business' profit;
a record of the conviction of the justice involved individual or their family member;
documents proving where the justice involved individual, or their convicted family member, lived at the time of their conviction;
and proof of the applicant's New York State presence or other satisfaction of the definition of applicant in the Cannabis Law.
If you are eligible under the qualifying nonprofit criteria, you will be asked about the qualifying nonprofit's social enterprise, as well as about the qualifying nonprofit organization itself.
Get the full FAQ from OCM right here.
Let's get going today on your New York application because if you are reading this near September 25, 2022, good luck my friend.
Who's helping you with your Conditional Adult-Use Retail Dispensary (CAURD)application?
Attorney – Ohio & Michigan
Experienced Cannabis, Business, and Employment Attorney. Assisting medical and recreational marijuana and industrial hemp clients since 2012. Successfully helped cultivators, processors, and dispensaries obtain marijuana and industrial hemp licenses throughout the United States. Drafted winning cannabis license applications in numerous states.
Assisting American cannabis operators with multi-state expansion, mergers and acquisitions, real estate acquisition and financing as well as general contract and employment law.
Check John out on Linked'in.
Licensed to practice since 2008, Thomas Howard has represented numerous financial institutions in litigation to enforce their security interests.  Since 2018, he has helped numerous cannabis companies in both the hemp and the adult use cannabis industry.
Thomas has successfully resolved numerous multi-million dollar non-performing loans for many community banks throughout Illinois. As a result of his efforts, Mr. Howard earned Rising Stars by Super Lawyers, and as an Emerging Lawyer by Leading Lawyers from 2015 to 2018. Only two percent of attorneys ever receive such distinction.
Check Thomas out on Linked'in.

Boston cannabis lawyer, David Leavitt, has been licensed to practice law in Massachusetts for more than 20 years. As an advocate for cannabis reform, he believes all voices should be heard. A graduate of Clark University's Regulatory Affairs for Cannabis Control Master's certificate program, Leavitt has dialed into the social equity applicant process for Massachusetts cannabis delivery licensing.
David is an accomplished, reliable administrative professional. He proactively and creatively manages broad ranging functions, needs of the organization, and serves as a collaborative cross-functional business partner while remaining consistent with company policies, procedures and philosophies.
Check David out on Linked'in.