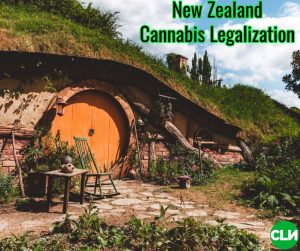 Cannabis Legalization Vote Coming to New Zealand
Cannabis legalization in New Zealand may be here before too long! On Saturday September 19, 2020, New Zealand may vote to legalize cannabis by referendum. The people get to decide in a non-binding vote whether they should legalize – which is spelled legalise for some reason down there. If the Kiwis vote to legalize cannabis, then their legislature may introduce a bill to make the will of their people law. Interestingly, the government has already drafted a 154 page bill and a 41 page summary for it that accompany the referendum.  Presumably, the New Zealand government would introduce substantially the same bill they already drafted if their people want to pass the law.
RELATED POST: Australia Cannabis Laws
RELATED POST: Cannabis Laws in India
New Zealand has almost 5 million people living there, which means it would be a cannabis market about the size of Oregon  According to cannabis data firm BDSA, Oregon's total cannabis market sold 84.5 million dollars of product in April of 2020. 
Therefore, the New Zealand market could be worth about a billion dollars when fully mature. 
The law will allow people over the age of 20 years old to buy cannabis, consume cannabis at home or a licensed premises.  It includes possession limits for being in public and for purchase to 14 grams, which is half an ounce.
The New Zealand Cannabis Law includes:
Home grow, but sets a limit of 2 plants per person, or

4 plants per household.

plants can yield ounces and ounces of cannabis for the good Kiwis growing their own. 

The home growers with more than they need may also gift up to 14 grams to other adults over 20,

it remains a crime to give it to people 19 or younger.

separation of license types
vertical integration with enough cannabis licenses
separation between micro-growers and large scale cultivation of cannabis.
Regulated Cannabis Controlled Activities in New Zealand
New Zealand's cannabis law contemplates numerous different license types. The law provides for many different types of controlled activity that require a license.  They cannabis controlled activities include:
A nursery activity

Micro-cultivation activity

Cultivation activity

Processing activity

Wholesaling and distribution activity

Retail activity

Consumption premises activity

Nursery retail activity

Research activity

Testing activity

Destruction activity. 
How many different types of cannabis licenses are available in New Zealand?
The different types of cannabis controlled activities require a license.  New Zealand proposes restrictions on the number of licenses, which seemingly prohibits vertical integration because it says that a person may hold only one of the following types of licenses.  Then it segments it into three categories, which subcategories for the cultivation side of the plant.  A cannabis production license may include:
Nursery activity

Cultivation activity

Processing activity

Wholesale and distribution activity

Nursery retail activity

research activity and
In addition to the cannabis production license, New Zealand also allows for a testing license, and a cannabis distribution license.  The cannabis distribution license may hold the key to vertical integration because it enables for the distribution of cannabis, its retail sale and perhaps even public consumption. The law points you to Schedule 2 – which permits vertical integration – but separates people from holding both a cultivation and a micro-cultivation license, which is common in the industry to protect the craft cannabis market from the larger players. 
The proposed New Zealand Cannabis law also places further restrictions on who may hold a cannabis license. The law requires that any license holder be a New Zealand citizen, so don't think you can expand into the country.  Much like other states in the US, you cannot import or export cannabis from New Zealand – of course New Zealand is a country and not a state. 
Social Equity in New Zealand Cannabis laws
Social equity somewhat comes into the 154 page proposed bill, it provides nothing concrete, which is why I say somewhat – nothing compared to Illinois' social equity provisions.  Section 85 of the New Zealand cannabis law incorporates the interests of the indigenous Maori people. The law proposes to represent Maori people and those from economically disadvantaged areas, plus they go further to incorporate the Whanau, or the family of the Maori people, further they want to promote the employment in the cannabis industry for Maori people.  So it sounds really similar to the social equity applicants in Illinois, but the point scoring system for the applicants will bear more into the success of these principles. 
All and all it looks like a great bill.  It allows for legal cannabis, for adults 20 and over, for up to a half ounce in public, which may be gifted, and you can hold enough licenses to have a vertical integrated cannabis business – but only if you are from New Zealand. Plus, it offers social equity aspects to the Maori people. The application process itself looks quite similar in other jurisdictions so one day – maybe we will help some Kiwis get into the cannabis industry and do some good for their country.  Yeah, nah, most of them will probably do it for the money – but it looks like that money is going to good use. 

Sources on New Zealand Cannabis Legalization
The Bill: https://www.referendums.govt.nz/materials/Cannabis-Legalisation-and-Control-Bill-Exposure-Draft-for-Referendum.pdf
The Summary: https://www.referendums.govt.nz/cannabis/summary.html
The B: https://www.referendums.govt.nz/materials/Guide-to-the-Draft-Exposure-Cannabis-Legalisation-and-Control-Bill.pdf
The news: https://mjbizdaily.com/new-zealand-issues-unprecedented-recreational-cannabis-bill-ahead-of-referendum/