Alabama Marijuana Business Licenses: Fall 2022 Guide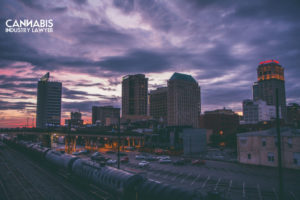 Applying for an Alabama Marijuana Business License might be tiresome, but with the correct guidance, it can be easy. This post will outline the process of applying for a license, whether you are an entrepreneur looking to get into the marijuana industry or only want to know more about the process.
In February 2021, Alabama became the 36th state to legalize medical cannabis through the Darren Wesley 'Ato' Hall Compassion Act. Then back in May, Governor Kay Ivey signed the Alabama medical marijuana legalization bill. This opened Alabama to the cannabis industry, bringing a great opportunity for those interested in being the first marijuana business owners and licensees.
Obtaining a medical marijuana license in Alabama may seem more difficult than in other states. However, with the right information and guidance, it can be an achievable goal.
Types of Alabama marijuana business licenses
According to the current cannabis industry laws in Alabama, the state will issue six different types of licenses for marijuana businesses:
State testing laboratory license
What are the requirements for an Alabama Marijuana Business License?
To obtain a license to grow, sell, or distribute marijuana in Alabama, you must submit a license application to the Alabama Medical Cannabis Commission through its official portal. The application process includes an extensive list of requirements the applicant for a medical cannabis license must provide for a successful application. The basic requirements include:
Type of license you're applying to

Name

Business address

Business email address

Business phone number

Social Security Number or Federal Tax Identification Number

Have no prior felony convictions
You will also have to include the information of the marijuana lawyer or be accountable for your licensing process. The information should include:
Name

Business address

Email

Direct dial phone number

Verification to act as a surrogate
The AMCC will post any changes to the verification and licensing process through its official website.
Content for a successful Alabama marijuana business license application
In addition to the basic requirements for a marijuana license application in Alabama, the AMCC requests a series of documents and information that are crucial for a successful process and must be submitted in order. These requirements include:
Résumé or CV from each applicant, detailing all educational institutions, residential addresses for the last 20 years, and business name, telephone, and address of previous employers, including contact information.

Demonstration of sufficient capital, including a certification as a responsible professional designated by the applicant or an independent certified public accountant.

Certified copies of business formation documents.

Records indicating majority ownership with proof of residence in the state for no less than 15 years before the application date.

In the case of applicants for an integrated facility or cultivator license, records that show majority ownership is attributable to an individual, individuals, entity, or entities.

A Verified Written Consent from all individuals for a background check.

Certified copies of the applicant's business license, resolution, or ordinance by local authorities approving the business presence of the facility in the community.

A current financial statement, including a balance sheet report, profit & loss report, and cash flow statement.

Demonstrated compliance with all applicable tax laws in Alabama.

The proposed Employee Handbook, with a verified copy.

The proposed Policies and Procedures Manual, with a verified copy.

A statement of each facility the applicant proposes to operate at the start of operations and for the following two years thereafter. The statement must include:

address

GPS coordinates

an aerial photograph of the facilities

proof of authorization to occupy the facility

proof of local zoning

a blueprint of each facility

a timetable for completion and start of operations

a statement explaining if the facilities will be open to the public

and anticipated business and operation hours.

A complete site map of the website destined for the business.

A roster of all the personnel affiliated with the company.

A Verified Business Plan.

A Standard Operating Plan & Procedures, that must include the following plans:

IT

Maintenance & storage

Quality Control/Quality Assurance

Contamination & recall

Criminal Activity

Emergency procedures/disaster plan

Alcohol, smoke, and drug-free workplace policies

Employee safety plan compliant with OSHA standards

Confidential Information & Cybersecurity

Tracking and correct disposal of waste cannabis and medical cannabis

Verified Security Plan for each proposed facility
Fees for an Alabama cannabis business license
The application fees for a marijuana license in Alabama vary depending on the license you are applying for. The fees range from $10,000 to $50,000.
The license application will also require a non-refundable application fee. Additional fees, like a background check or fingerprinting, may also be required. All said fees are compliant with the regulations of the AMCC through its Application Fee Schedule.
Timetable for application and licensing
It is important to note that the law regarding marijuana use in Alabama is still evolving, so the process for applying for a license may change in the future. However, if you are interested in getting into the marijuana industry in Alabama, it is important to stay up-to-date on the latest developments.
The prospective applicants for a marijuana license already have a date to start their application process. Here's the AMCC's timetable for Alabama marijuana business license applications:
| | | |
| --- | --- | --- |
| | Start | Deadline |
| Request for License Application Forms | September, 1, 2022 (10:00 am CDT) | October, 17, 2022 (10:00 am CDT) |
| License Applications | October 31, 2022 (10:00 am CDT) | December 30, 2022 (4:00 pm CST) |
| Amended License Applications | November 1, 2022 (10:00 am CDT) | December 30, 2022 (4:00 pm CST) |
The application forms are sent to requestors and applicants on October 24, 2022, at 4:00 pm CDT, and the Alabama marijuana licenses will start to be issued on July 10, 2023, at noon, CDT time.
In case of appeals, the AMCC will extend the process to select applicants, and will also bring subsequent offerings between 15-45 days before opening a new window in any of the marijuana license categories. 
What is the number of business licenses to be issued in Alabama?
Since Alabama just started to roll out its medical marijuana industry, the state allows a small number of licenses per period. The licenses that will be issued starting in September 2022 amount to:
Cultivators: 12 licenses

Processors: 4 licenses

Dispensaries: 4 licenses

Integrated facilities: 5 licenses
This may increase over the weeks and months. While Alabama has legalized adult-use cannabis, we are hopeful it will do so soon. The AMCC will also update citizens of the state with any additional information regarding the number of licenses to be issued.
Additional considerations during the application
The first you need to know is that the state and the AMCC will heavily monitor the cannabis industry in Alabama. Communications between the applicants (or lawyers representing their clients during the application process) must always be official and in compliance with the AMCC through its Applicant Questions portal. Any unsolicited or unrecorded communication will disqualify the applicant.
The applications must be filled out and correctly delivered to the AMCC. An applicant for a marijuana license in Alabama will be disqualified if:
The form is delivered out of time

It is not filled properly

It is submitted (or attempted to be submitted) by any means than the AMCC's portal.
That's it! You now have a general understanding of what to expect when the application process opens up in Fall 2022.
Of course, we will be keeping you updated as things progress, but if you want more specific information or just need someone to talk to about your business plans, please don't hesitate to reach out to us.
We are excited for this new chapter in Alabama and look forward to helping businesses grow and succeed here. Are you ready to apply for a medical marijuana business license in Alabama? Contact us today and get our retainer services!