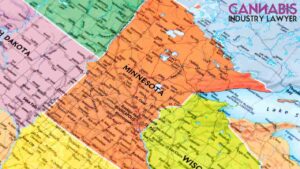 Are you an ambitious entrepreneur looking to get involved in the cannabis industry? If you live in Minnesota,  your chance is coming soon. The state has recently introduced a bill that is moving fast through the legislature, with a chance to pass in 2023.
With an application process that can seem overwhelming at first glance, it's important to know what all requirements must be met before submitting the completed package. In this blog post, we will discuss How to Apply for A Cannabis Retailer License in Minnesota!
How to Apply for A Cannabis Dispensary License in Minnesota
If you want to start a marijuana business outside of the Minnesota medical cannabis program, then you will need to open a dispensary in Minnesota. Recreational marijuana is going to be passed soon and cannabis products will be legal to sell to adults in the North Star State. The current legislation provides for many different license types and is moving fast through the Minnesota house of representatives, with hope that the Senate will also pass it so that your dream of owning a cannabis dispensary can come true.
Ownership Requirements for Minnesota Cannabis Retailer
A cannabis retailer, commonly called a dispensary, may only sell immature cannabis plants and seedlings, adult-use cannabis flower, adult-use cannabinoid products, and hemp-derived consumer products to individuals who are at least 21 years of age.  The proposed bill also will regulate the hemp market in Minnesota.  Here's some of the bill's language regarding hemp-derived cannabis products. 
Hemp-derived consumer products other than hemp-derived topical products that:
Are obtained from a licensed Minnesota cannabis cultivator, cannabis manufacturer, cannabis microbusiness, or cannabis wholesaler; and 

Meet all applicable packaging and labeling requirements. 

A cannabis retailer may sell up to two ounces of adult-use cannabis flower, eight grams of adult-use cannabis concentrate, and edible cannabinoid products infused with 800 milligrams of tetrahydrocannabinol during a single transaction to a customer. 

Edible cannabinoid products may not include more than ten milligrams per serving and a single package may not include more than a total of 100 milligrams of tetrahydrocannabinol. A package may contain multiple servings of ten milligrams of tetrahydrocannabinol provided that each serving is indicated by scoring, wrapping, or other indicators designating the individual serving size. 
Minnesota Cannabis Retailer License Application Requirements
In order to open a dispensary in MN, you must apply.  The law covers what we can expect in the application in its Section 14.  It provides that an application must contain the all the information listed below:
the name, address, and date of birth of the applicant; 

the disclosure of ownership and control required ; 

the disclosure of whether the applicant or, if the applicant is a business, any officer, director, manager, and general partner of the business has ever filed for bankruptcy; 

the address and legal property description of the business; 

documentation showing legal possession of the premises where the business will operate; 

a diagram of the premises, including a security drawing; 

a copy of the security plan; 

proof of trade name registration; 

a copy of the applicant's business plan showing the expected size of the business; anticipated growth; the methods of record keeping; the knowledge and experience of the applicant and any officer, director, manager, and general partner of the business; the environmental plan; and other relevant financial and operational components; 

an attestation signed by a bona fide labor organization stating that the applicant has entered into a labor peace agreement; 

certification that the applicant will comply with the requirements of this chapter relating to the ownership and operation of a cannabis business;

identification of one or more controlling persons or managerial employees as agents who shall be responsible for dealing with the office on all matters; and 

a statement that the applicant agrees to respond to the office's supplemental requests for information. 
b) An applicant must file and update as necessary a disclosure of ownership and control. The office by rule shall establish the contents and form of the disclosure. At a minimum, the disclosure shall include the following: 
1) the management structure, ownership, and control of the applicant or license holder, including the name of each cooperative member, officer, director, manager, general partner or business entity; the office or position held by each person; each person's percentage ownership interest, if any; and, if the business has a parent company, the name of each owner, board member, and officer of the parent company and the owner's, board member's, or officer's percentage ownership interest in the parent company and the cannabis business; 
2) a statement from the applicant and, if the applicant is a business, from every officer, director, manager, and general partner of the business, indicating whether that person has previously held, or currently holds, an ownership interest in a cannabis business in Minnesota, any other state or territory of the United States, or any other country; 
3) if the applicant is a corporation, copies of its articles of incorporation and bylaws and any amendments to its articles of incorporation or bylaws; 
4) copies of any partnership agreement, operating agreement, or shareholder agreement; 5) copies of any promissory notes, security instruments, or other similar agreements; 
6) explanation detailing the funding sources used to finance the business; 
7) a list of operating and investment accounts for the business, including any applicable financial institution and account number; and 
8) a list of each outstanding loan and financial obligation obtained for use in the business, including the loan amount, loan terms, and name and address of the creditor. 
c) An application may include:
 

proof that the applicant is a social equity applicant; 

a diversity plan that establishes a goal of diversity in ownership, management, employment, and contracting; 

a description of the training and education that will be provided to any employee; or 

a copy of business policies governing operations to ensure compliance with this chapter. 

Commitments made by an applicant in its application, including but not limited to the maintenance of a labor peace agreement, shall be an ongoing material condition of maintaining and renewing the license. 

An application on behalf of a corporation or association shall be signed by at least two officers or managing agents of that entity. 
What Are the Fees to Open a Dispensary in Minnesota
The office may charge a nonrefundable fee, not to exceed $250, to cover the costs associated with reviewing and processing applications.
The cost of applying for a Minnesota dispensary license varies depending on the type of license that you are applying for. The application fees are only one small part of it.  Additionally, there are other costs associated with the application process such as legal and consulting fees because of the complexity of the application requirements, more on that below. 
We have won many licenses for teams all over the country. Should you have any questions or need assistance with your application, please reach contact us.