If you're a Conditional Adult-Use Retail Dispensary (CAURD) licensee in New York, it's important to be aware of the regulations governing delivery operations. On May 9, 2023, the Office of Cannabis Management (OCM) in New York gave notification of Guidance for CAURD license holders that want to start with delivery licensing.
In this blog post, we'll walk you through the key requirements and expectations for CAURD cannabis delivery in New York, including recordkeeping obligations and direct-to-consumer sales restrictions. In this article we provide an overview of a opportunity only for the small group of CAURD license holders in New York.
If you are a CAURD license holder that is trying to get their Delivery Authorization, please call our offices with the phone icon or leave your info with our chatbot on this page.
Delivery Authorization
CAURD license holders in New York can only accept delivery orders online from customers who are 21 years of age and older, and deliver products to those customers from their approved location to the residential address provided by the customer. Licensees may operate from a temporary delivery-only location for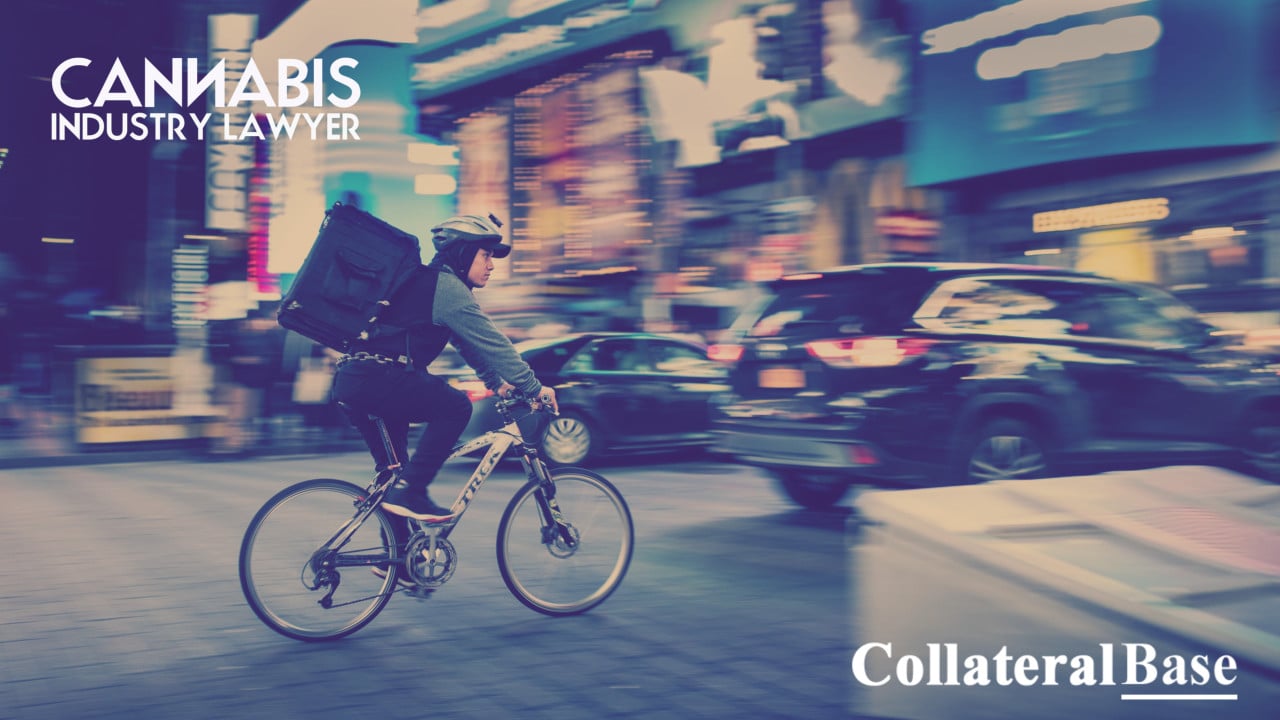 up to 12 months unless granted an extension by the Office. In-person customer sales, including pickup or curbside pickup, are not permitted from a temporary delivery-only location. All deliveries must be pre-paid at the time of order placement.
Direct-to-Consumer: Conditional Adult-Use Retail Dispensary licensees (CAURD) in New York can only make direct-to-consumer sales through cannabis product acquisition from a licensed distributor within state lines. Conditional Cultivators and Processors can distribute within state lines as well under certain conditions; however, they cannot distribute extract products exclusively but rather only cannabis flower products.
Cannabis consumers must receive deliveries at all forms of residential properties or private businesses located anywhere in New York State except public spaces such as parks or school grounds where it's prohibited by law. Licensees must comply with these regulations once formally adopted under Title 9 Part 116 Section 7 of NYCRR §116.7 or risk having their licenses suspended or revoked with additional fines imposed if they're found non-compliant with this guidance document issued by The Office of Cannabis Management (the Office).
Requirements for Delivery Transactions
The age verification process is crucial for delivery transactions. All customers must be 21 years or older to receive cannabis products from a licensed dispensary. Inventory and record-keeping requirements are also important to maintain compliance with the Cannabis Law (MRTA) and avoid penalties. Additionally, packaging and labeling regulations must be followed to ensure safe consumption of cannabinoid products by consumers. As CAURD license holders in New York, it's essential to understand these requirements for successful delivery operations of adult-use cannabis products.
Temporary Delivery-Only Locations
For CAURD license holders in New York, temporary delivery-only locations are an option for retail dispensary operations. Licensees may operate from a non-residential location for up to 12 months from license issuance and must locate their temporary delivery-only location in their first preference region as indicated on their application. An extension may be granted by the Office upon request. However, submitting a temporary delivery-only location is not permitted after the Office has approved in-person sales at the licensee's approved retail dispensary location.
To obtain a temporary license, applicants need to go through an application process with compliance requirements that must be met during its duration of validity which is up to 12 months depending on approval or extension by the Office. Compliance includes maintaining up-to-date records and plans described in guidance documents either submitted with your application or disclosed later as material changes occur along with other regulations currently in place or those that will be promulgated soon.
Restrictions on In-Person Sales
In-person sales at delivery locations are prohibited under the new regulations for New York CAURD Delivery License holders. The amount of cannabis sold per transaction is also limited, and license holders must provide consumers with information about responsible consumption. These restrictions aim to ensure compliance with Cannabis Law and Title 9 Part 116 Section 7 of the New York Codes, Rules and Regulations (9 NYCRR), as well as mitigate potential risks associated with in-person sales. Licensees who fail to comply risk cancellation, suspension or revocation of their license, fines or other penalties authorized by the law.
Accepting Orders and Payment
When it comes to accepting orders and payment, there are certain policies that CAURD license holders in New York must follow. This includes pre-order policies and procedures, payment processing regulations, and security measures to protect customer data. Here are some key points to keep in mind:
Pre-order policies:

Licensees may only accept online or phone orders for customer delivery from their approved location or temporary delivery-only location. In-person customer sales or pickup options are not permitted.
Payment processing regulations:

All deliveries must be prepaid at the time of order placement. Deliveries can only be made to physical addresses within the state of New York.
Security measures:

Licensees have an ongoing obligation to maintain up-to-date records & plans described by NY law while also having a duty of care with respect to customers' privacy by following applicable data protection laws.
By adhering closely to these guidelines, CAURD Cannabis License Holders can ensure compliance with local laws and provide top-notch service without compromising security standards.
Delivery Locations
To qualify for delivery services, customers must be above 21 years old and within the state of New York. Deliveries are strictly prohibited in public buildings, parks, community centers, schools or houses of worship. Licensees can operate from temporary delivery-only locations for up to 12 months as non-residential facilities unless granted an extension by the Office. During this time-frame they may only accept online orders through their own application or retail delivery platform, and employees should post signage notifying customers that deliveries are taking place.
Limitations on Delivery Services
Delivery services for CAURD Cannabis License Holders in New York are subject to certain limitations. Firstly, there is a maximum distance that can be covered by a delivery from the dispensary. Additionally, deliveries must occur within specific hours as per state law and only permitted cannabis products can be delivered. It's important for businesses to ensure they hold a valid license and follow the regulations set out by the Office of Cannabis Management to avoid disciplinary action such as fines or license revocation.
Direct to Consumer
CAURD Cannabis License holders in New York can make direct-to-consumer deliveries of cannabis products. To do so, they must acquire the products from a licensed distributor and take possession at their approved location before making the delivery to the customer's residential address within the state. Deliveries to locations outside of New York State are not allowed, and deliveries inside motor vehicles or certain public spaces such as parks, day-care centers, schools and houses of worship are also restricted. Additionally, one license is limited to no more than twenty-five individuals providing full-time paid delivery services per week.
Acquiring Cannabis Products
To acquire cannabis products, which is different than hemp products, it's crucial to understand the legal requirements and ensure compliance with regulations when acquiring and transporting them. Sourcing legal and high-quality cannabis products from licensed suppliers is also essential for meeting customer demand while maintaining product safety. Here are some tips to keep in mind:
Check state laws and regulations before purchasing or delivering cannabis products.
Only source products from licensed microbusinesses or distributors who comply with state regulations.
Keep records up-to-date and disclose material changes as necessary.
Ensure that all deliveries are pre-paid, made only to physical locations within New York State, and not delivered inside motor vehicles.
Limit delivery personnel to no more than 25 individuals per week under one license.

Be very cooperative with the OCM in operating your business.
CAURD Delivery Hours of Operation.
Licensees may only be available to sell cannabis products during their hours of operation. Municipalities are authorized to pass local laws and regulations governing the time, place, and manner, including the hours of operation for the licensed temporary delivery location, which:
Shall not be allowed to operate from 12:00 AM to 8:00 AM, unless given express written permission by such municipality, or the municipality passes a local ordinance, authorizing it to operate beyond such hours; and
Shall not restrict operations to less than 70 hours a week provided however; this provision shall not be construed as removing the licensees' discretion to operate for less hours of operation. This does not prohibit licensees from allowing customers to place orders, such as through an online website or application, or accepting payment for those orders outside of the licensee's hours of operation but does prohibit licensees from providing the customer with any cannabis products they have ordered (including through delivery) until the licensee's hours of operation begin.
By following these guidelines, CAURD Cannabis License Holders can maintain compliance with state regulations while providing their customers with safe, high-quality cannabis products.