New York Cannabis Delivery License
New York's cannabis delivery license may resemble what other states have done with their weed delivery, though we won't know for sure until legalization passes and final regulations are drafted in the Big City. 
If the legalization bill passes, New York would be joining the list of states that have opened their cannabis industry. Governor Cuomo's endorsement of the bill is a closer reality for new yorkers. 
This time we bring you all the facts we have so far on the New York marijuana delivery license, while we wait for the legalization process to happen and the regulations to be finalized. If you are interested in starting a cannabis delivery business in New York you may be interested in start getting that business plan ready.
What is a Delivery License? 
"Delivery"  means  the  direct delivery of cannabis products by a retail licensee, microbusiness licensee, or delivery license holder to a cannabis consumer.
A cannabis delivery license will authorize the delivery of cannabis and cannabis products by licensees independent of another adult-use cannabis license.
RELATED POST: NEW YORK ADULT-USE PROCESSOR LICENSE
RELATED POST: NEW YORK CANNABIS MICROBUSINESS LICENSE
Cannabis Delivery License Limitations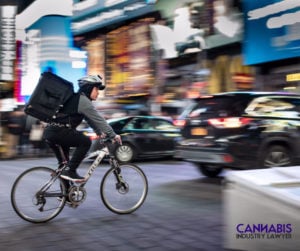 No person may have a direct or indirect financial or controlling interest in more than one delivery license. Such licenses are intended to promote social and economic equity applicants as provided for in this chapter.
Cannabis Delivery license regulations
Once the bill passes, the state cannabis advisory board will provide recommendations to the board for the application process,  license criteria,  and scope of licensed activities for this class of license. There is no time period established so far for these regulations to be drafted
Delivery License Characteristics
We'll have to wait for the bill to pass before we know more about the New York weed delivery license. So far there is not much information on what the licensing requirements and characteristics are.
Among the few rules that are already defined, the bill states that each delivery licensee may have no more than twenty-five individuals, or the equivalent thereof, providing full-time paid weed delivery services in NYC, per week under one license.  
Other Types of New York Cannabis Licenses
Don't miss out on our Marijuana Legalization Map where you can browse the current status of laws in every state in the United States and see all our posts on each of them.
Check Out:
Interested in coming on as a guest? Email our producer at lauryn@cannabislegalizaitonnews.com