New York Cannabis Delivery License
New York's office of cannabis management will one day release the cannabis delivery license. It may resemble what other states have done with their weed delivery, though we won't know for sure until legalization passes and final regulations are drafted in the Big City. 
If the legalization bill passes, New York would be joining the list of states that have opened their cannabis industry. Former Governor Cuomo's endorsement of the Marijuana Regulations And Taxation Act brought New Yorkers that dream of running a cannabis delivery service.   Currently only CAURD dispensaries may have their employees deliver cannabis to the purchaser provided they stay compliant with all limits. 
This time we bring you all the facts we have so far on the New York marijuana delivery license, while we wait for the legalization process to happen and the regulations to be finalized. If you are interested in starting a cannabis delivery business in New York you may be interested in start getting that business plan ready.
What is a 420 NYC Delivery License? 
"Delivery"  means  the  direct delivery of cannabis products by a retail licensee, microbusiness licensee, or delivery license holder to a cannabis consumer.
A cannabis delivery license will authorize the delivery of cannabis and cannabis products by licensees independent of another adult-use cannabis license.
How do I apply for a New York cannabis delivery license?
The legalization of cannabis in New York has opened up a new avenue for entrepreneurs looking to capitalize on this burgeoning industry. One of the most sought-after licenses is the cannabis delivery license, which allows businesses to deliver cannabis products directly to consumers. In this blog post, we will guide you through the process of applying for a New York cannabis delivery license.
Step 1: Determine eligibility
Before you apply for a cannabinoid delivery license, you must determine if you meet the eligibility criteria. To be eligible for a cannabis delivery license in New York, you must:
– Be at least 21 years old
– Pass a criminal background check
– Have a valid driver's license
– Be a resident of New York State
– Have no prior drug convictions
Step 2: Prepare the necessary documents
Once you have determined your eligibility, it's time to gather the necessary documents for your application. These documents include:
– A completed application form
– Proof of identity (e.g. driver's license, passport)
– A detailed business plan
– Description of your delivery plan
– Proof of residency in New York State
– Proof of insurance coverage
Step 3: Submit your application
After you have prepared all the required documents, it's time to submit your application. You can apply for a cannabis delivery license online through the New York State Department of Health's website.
Step 4: Wait for your application to be reviewed
Once your application has been submitted, it will be reviewed by theNew York State Department of Health. The review process can take several weeks, so be patient. During this time, you may be contacted for additional information or to schedule an interview.
Step 5: Receive your license
If your application is approved, you will receive your New York cannabis delivery license. With this license, you can legally operate a cannabis delivery service in the state of New York.
In conclusion, applying for a New York cannabis delivery license can be a complex process, but with the right guidance and preparation, it can be a rewarding opportunity for entrepreneurs looking to enter the cannabis industry. Remember to carefully follow all the steps and requirements outlined by the state, and seek professional assistance if necessary. Good luck on your cannabis delivery business journey!
RELATED POST: NEW YORK ADULT-USE PROCESSOR LICENSE
RELATED POST: NEW YORK CANNABIS MICROBUSINESS LICENSE
Cannabis Delivery License Limitations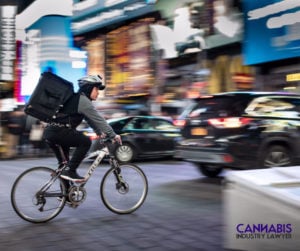 No person may have a direct or indirect financial or controlling interest in more than one delivery license. Such licenses are intended to promote social and economic equity applicants as provided for in this chapter.
Cannabis Delivery license regulations
Once the bill passes, the state cannabis advisory board will provide recommendations to the board for the application process,  license criteria,  and scope of licensed activities for this class of license. There is no time period established so far for these regulations to be drafted
Delivery License Characteristics
We'll have to wait for the bill to pass before we know more about the New York weed delivery license. So far there is not much information on what the licensing requirements and characteristics are.
Among the few rules that are already defined, the bill states that each delivery licensee may have no more than twenty-five individuals, or the equivalent thereof, providing full-time paid weed delivery services in NYC, per week under one license.  
Other Types of New York Cannabis Licenses
Who can I contact for more information on obtaining a New York cannabis delivery license?
Obtaining a New York cannabis delivery license requires a detailed understanding of the legal and regulatory landscape surrounding the cannabis industry in the state. It is crucial that you consult with experts who possess the requisite knowledge and experience to guide you through the licensing process.
One of the first points of contact that you should consider is the New York State Department of Health's Office of Cannabis Management (OCM). The OCM is responsible for administering the state's cannabis program and can provide you with valuable information on the eligibility criteria, application process, and other pertinent details related to obtaining a cannabis delivery license.
In addition to the OCM, you may also want to reach out to legal and consulting firms that specialize in cannabis licensing and compliance. These firms can provide you with tailored advice and support to help you navigate the complex legal and regulatory landscape associated with the cannabis industry in New York.
Furthermore, it is also advisable to network and connect with other cannabis industry stakeholders and trade associations, such as the New York Medical Cannabis Industry Association (NYMCIA) and the New York Cannabis Growers and Processors Association (NYCGPA). These organizations can provide you with industry insights, advocacy, and networking opportunities that can be invaluable in helping you obtain a cannabis delivery license in New York.
In conclusion, obtaining a New York cannabis delivery license requires a multifaceted approach that involves engaging with various industry stakeholders and regulatory bodies. By consulting with experts, networking, and staying abreast of the latest developments in the industry, you can position yourself for success in obtaining the license. It is important to remember that the cannabis industry is highly regulated, and compliance is critical to maintaining a successful and sustainable business. Therefore, it is recommended that you seek the guidance of professionals who can help you navigate the complexities of the industry and ensure that you are in full compliance with all applicable laws and regulations.
If you are interested in obtaining a New York cannabis delivery license, do not hesitate to reach out to the relevant authorities and industry stakeholders. Take advantage of the resources available to you, including legal and consulting firms, industry associations, and regulatory bodies. With the right guidance and support, you can successfully navigate the licensing process and join the growing cannabis industry in New York.