New York lawmakers created an adult-use distributor license for those interested in starting a cannabis business to get in the industry. After Bill S854 was presented New York is on its way to becoming one of the sixteenth states to legalize recreational marijuana. 
The adult-use distributor license is one of the 10 types of cannabis licenses available in the Big Apple. And while we have to wait until the state passes the bill and officially legalizes cannabis for New York cannabis application to be open, we can give you information about the adult-use distributor license for you to familiarize and consider your options to start your cannabis business
What is an Adult-use distributor license?  
A distributor's license shall authorize the acquisition, possession, distribution, and sale of cannabis from the licensed premises of a licensed adult-use cultivator,  processor,  small business adult-use cooperative, or microbusiness authorized to sell adult-use cannabis,  to duly licensed retail dispensaries.
"Distributor" means any person who sells at wholesale any cannabis product,  except medical cannabis,  for the sale of which a license is required under the provisions of this chapter.

"Wholesale" means to solicit or receive an order for, to keep or expose for sale, and to keep with intent to sell, made by any licensed person, whether principal, proprietor, agent or employee of any adult-use,  medical-use cannabis or cannabis product or cannabinoid hemp and hemp extract product for purposes of resale.
RELATED POST: NEW YORK CANNABIS LICENSE APPLICATION
RELATED POST: NEW YORK MICROBUSINESS LICENSE
Limitations for the Adult-use Distributor License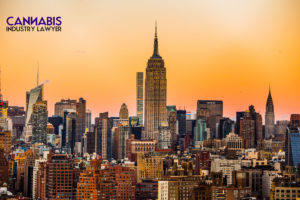 ​No distributor is allowed to have a direct or indirect economic interest in any adult-use retail dispensary or in any adult-use cultivator or processor licensed or in any registered organization. This restriction does not prohibit a  registered organization authorized from being granted licensure by the board to distribute adult-use cannabis products cultivated and processed by the registered organization to licensed adult-use retail dispensaries owned and operated by such registered organizations.
A distributor will not be prevented from charging an appropriate fee, authorized by the board, for the distribution of cannabis,  including based on the volume of cannabis distributed. 
If you want to be on top of what's happening in the cannabis industry, you should take a look at our map of marijuana legality by state.
RELATED POST: NEW YORK ADULT-USE PROCESSOR LICENSE
RELATED POST: NEW YORK CANNABIS DELIVERY