New York may become the sixteenth state to legalize marijuana, as Gov. Cuomo renewed his vow to legalize marijuana in 2021. And considering the positive implications that this multi-millionaire industry may bring to the state's economy, along with the legalization of weed in the neighboring state, New Jersey, this time the proposal might be able to pass.
In this sense, this is the perfect opportunity for any cannabis entrepreneur in New York to hop on the industry. But as in any other state, there's a fair amount of prepping that needs to be done in order to get a license.
This time we'll get into the requirements established -so far- for the New York small business cooperative license. Take into consideration that these requirements will likely suffer some changes with time, however, it's good to keep them in mind from now: it's never too early to start working on the compliance aspect of your business.
What's the small business cooperative license?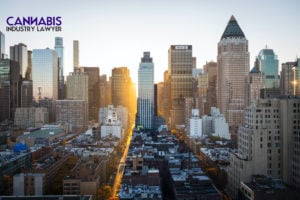 New York small business cooperative license authorizes its holder to acquire, possess, cultivate, process, and sell cannabis from the licensed premises of the adult-use cooperative by such licensee to duly licensed distributors, on-site consumption sites, and/or retail dispensaries; but not directly to cannabis consumers.
In order to obtain a New York small business cooperative license, the cooperative must comply with the following requirements:
Be comprised of residents of the state of New York as a limited liability company or limited liability partnership under the laws of the state, or an appropriate business structure as determined and authorized by the board.

Subordinate capital, both as regards control over the cooperative undertaking, and as regards the ownership of the pecuniary benefits arising from the cooperative;

Be democratically controlled by the members themselves on the basis of one vote per member;

Vest in and allocate with priority to and among the members of all increases arising from their cooperative endeavor in proportion to the members' active participation in the cooperative endeavor;

The cooperative must operate according to the seven cooperative principles published by the International Cooperative Alliance in 1995.
Requirements to be a member of a small business cooperative
In order to be a member of a cooperative, you would need to comply with the following requirements:
Has to be a natural person

Can't be a member of more than one small business adult-use cooperative licensed pursuant to the Act.

Can't have a direct or indirect financial or controlling interest in any other adult-use cannabis license issued pursuant to the Act.
No small business adult-use cannabis cooperative shall have a direct or indirect interest, including by stock ownership, interlocking directors, mortgage or lien, personal or real property, or any other means in any premises licensed as an adult-use cannabis retail dispensary or in any business licensed as an adult-use cannabis retail dispensary pursuant to the Act.
The Board must promulgate regulations governing cooperative licenses, including –but not limited to- the establishment of canopy limits on the size and scope of cooperative licensees, and other measures designed to incentivize the use and licensure of cooperatives.
If you want to be updated on the current state of Cannabis legalization, you should check out our map of marijuana legality by state.
RELATED POST: