The New York Cannabis Cultivation License is one of the ten types of licenses included in the new legislation.
This may be the year for New York recreational marijuana. On January 6, Bill S854 was presented to the New York State Senate. This bill seeks to enact the "Marihuana Regulation and Taxation Act", which would set regulations -among other things- on how to obtain a marijuana business license.
Even though the act is still in the senate committee, some people, including Gov. Andrew Cuomo, appear very optimistic that the legalization of adult-use cannabis is going to be a reality soon enough. In this sense, it's important for people that want to get into the cannabis industry in New York to start preparing themselves.
The "Marihuana Regulation and Taxation Act" contains provisions for 10 different adult-use licenses for the recreational marijuana industry. If you want to read about how to apply for one of these New York cannabis licenses, you should check out our "New York Cannabis License Application" post about it. 
In this post, we'll be focusing on how to get a cannabis license in New York for cultivation, which is known as the Adult-use cultivator license which will allow cultivating cannabis in the state of New York under the regulations established by the Act.
What's a New York cannabis cultivation license?
The adult-use cultivator license is a legal document that authorizes the acquisition, possession, distribution, and sale of cannabis from the licensed premises of the adult-use cultivator by such licensee to duly licensed processors in the state of New York.
However, according to the Marihuana Regulation and Taxation Act, the New York State Cannabis Control Board may establish regulations allowing the holders of a marijuana cultivation license to perform certain types of minimal processing without the need for an adult-use processor license.
The New York state growers license holder would be permitted to sell cannabis to licensed dispensaries, as well as to the agricultural production practices of:
Planting

Growing

Cloning

Harvesting

Drying

Curing

Grading

Trimming
Pursuant to the Act, a person holding a cannabis cultivation license may apply for one processor's license but will be unable to opt for a retail dispensary license. 
Restrictions on ownership for legal cannabis industry
Further, no holder of a cannabis cultivation license shall have a direct or indirect interest, including by stock ownership, interlocking directors, mortgage or lien, personal or real property, or any other means, in any premises licensed as cannabis dispensaries or in any business licensed as an adult-use cannabis retail dispensary or in any registered organization registered pursuant to article three, § 34 of the Act.
Also, a person that holds a cannabis cultivation license can't hold a license to distribute cannabis nor have a direct or indirect financial or controlling interest in more than one adult-use cultivator license.
RELATED POST: NEW YORK DELIVERY LICENSE
RELATED POST: NEW YORK ADULT-USE PROCESSOR LICENSE
What are the types of New York cannabis cultivation licenses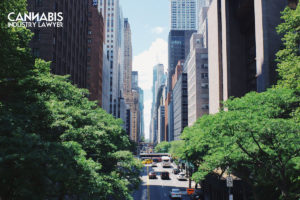 ​The Act also establishes another type of license, named the "Registered organization adult-use cultivator processor distributor license". The owner of one of these cannabis business licenses shall have the same authorization and conditions as the adult-use cultivator, adult-use processor, adult-use distributor, and other adult-use  licenses issued pursuant to the Act.
However, the sales of adult-use cannabis and cannabis products cultivated, processed, or distributed by such organizations must be limited to the organization's adult-use retail dispensaries and the location of such adult-use dispensaries shall be limited to the organization's medical dispensaries premises and facilities authorized pursuant to article three of the Act.
Further, these organizations must maintain their medical cannabis license and continue offering medical cannabis to a degree established by regulation of the board.
Registered organization adult-use cultivator license in New York
Lastly, the Act establishes the "Registered organization cultivator license", which would give the same authorization and conditions as a cultivation license New York, provided that sales of adult-use cannabis and cannabis products by such organizations shall be limited to licensed adult-use processors and such license does not qualify such organization for any other adult-use license.  
What authority issues New York Cannabis Licenses?
The Office of Cannabis Management (OCM) is charged with issuing adult use cannabis licenses to participate in New York's adult-use, medical, and cannabinoid hemp industries. The OCM is developing regulations which will outline how a person or business can apply for and receive a license in the new adult-use cannabis industry. We will keep updating this page to provide further information on this matter as the state progresses.
Conclusion on how to get your adult-use cultivator license in New York
When trying to get your cannabis license in New York, remember our lawyers can help, don't miss out on our Marijuana Legalization Map where you can browse the current status of laws in every state in the United States and see all our posts on each of them.
RELATED POST: NEW YORK SMALL BUSINESS COOPERATIVE LICENSE
RELATED POST: NEW YORK ADULT-USE DISTRIBUTOR