Cannabis microbusiness licenses appear to be a new trend for states when regulating their adult-use cannabis programs. New York microbusiness license is an opportunity for small business owners to have a chance in the industry without having to directly compete with the big cannabis companies        
What is this NY cannabis license type?
 A microbusiness license authorizes the limited cultivation, processing, distribution and dispensing  of their own adult-use cannabis and cannabis products.
"Microbusiness" means a  licensee  that  may  act  as  a  cannabis producer for the cultivation of cannabis, a cannabis processor, a cannabis  distributor  and  a  cannabis retailer under this article; provided such licensee complies with all requirements imposed by this article  on licensed producers, processors, distributors and retailers to the extent the licensee engages in such activities.       
As of 2022, the New York adult use marijuana industry is in full swing even on site consumption lounges are springing up everywhere. There are now five types of licenses available: cultivator, processor, retailer, distributor, and microbusiness. A microbusiness license is a new addition to the list, and it's perfect for small businesses that want to get into the cannabis industry without having to obtain multiple licenses.
What does the license allow a NY business to do?
A microbusiness license allows you to cultivate, process, and sell cannabis products on site. This makes it a great option for small dispensaries and coffee shops that want to add cannabis products to their menu. It's also a great option for growers who want to process and sell their products.
There are some restrictions on what you can do with a micro-business license. You can't own a cultivator or processor license, and you can only sell cannabis and cannabis products that you've cultivated or processed yourself. But other than that, the sky's the limit.
If you're interested in getting a any NY cannabis license whether or not it includes limited a retail dispensary license aspect, contact your us at cannabis industry lawyer for more information.
RELATED POST: NEW YORK CANNABIS LICENSE APPLICATION
RELATED POST: NEW YORK CANNABIS CULTIVATION LICENSE
Size of a Micro Business in NY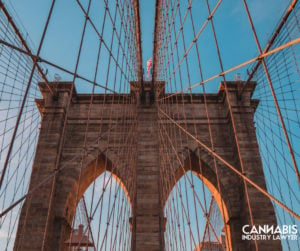 The size and scope of a microbusiness will be determined by regulation by the board in consultation with the executive director and the state cannabis advisory board. Such licenses will  promote  social  and economic equity applicants.
Limitations for Adult-Use License
A micro-business licensee is not allowed to hold interest in any other license and  may only  distribute its own cannabis and cannabis products to dispensaries but maybe not to on site consumption lounges.
Other Types of NY Cannabis Licenses
Don't miss out on our Marijuana Legalization Map where you can browse the current status of laws in every state in the United States and see all our posts on each of them.
Related Posts: