How to Plan a Cannabis Event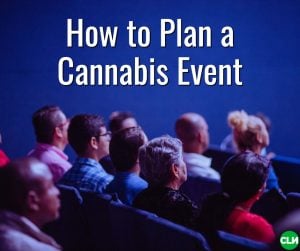 How to plan a cannabis event? A question many community organizers find themselves asking. Cannabis culture is all about community, and social distancing practices have created a space for community events to continue virtually. This week, Tom and Miggy are joined by Adelia Carrillo of EventHi to get a few tips on throwing (or attending) a cannabis event.
Listen to it on PodCast or Watch the YouTube on How to Plan a Cannabis Event.
RELATED POST: Cannabis Marketing 101: How to Market Your Cannabis Brand
RELATED POST: How to Grow Your Cannabis Business
​What is EventHi?
"How to plan a cannabis event?" might be your first question when organizing an event but the second question should be "How will I get the word out about my event?" That's where EventHi comes in.
EventHi is an online ticketing platform catering to the cannabis culture. They provide event hosts with a safe hosting platform to sell tickets and sponsorships for their cannabis-related events while creating a marketplace for event-goers and brands to find these events.
What advice would you give someone planning their first virtual cannabis event?
Create a game plan. Every event should have a strategy. Start with a key goal and concept, then take it from there. The earlier you can get planning, the better.
Choose the right time. Picking the right date and time for your event is important, regardless of size or platform. Do a little research. Make sure there are no competing events or holidays that would interfere with attendance.  Take time zones into consideration, too. If you plan to go global, try your best to pick a time that works for as many of your customers and followers as possible. Make sure content is accessible after live presentations for those who couldn't make it.
Promote the event. Determine the key selling points your event has to offer attendees. It could be a noteworthy speaker, skill-sharing, an opportunity to network, and more.  Whatever you choose, make sure the value proposition is clear in your marketing.
Prepare for tech troubles. If physical events have hitches, virtual events have glitches.  Before kicking things off, test your Internet connection—and have your speakers do the same. Prepare backups of visuals and presentations in case a file goes wonky or awol. Schedule a practice run and tech check.
 Encourage engagement. Ask viewers to submit questions in comments or through a chat tool. Chances are the people who ask questions are going to stick around to see if they get answered.
What advice would you give someone attending their first virtual cannabis event?
Treat a virtual event as you would an in-person event with respect to your calendar and task load. Be present in the experience, engage with the sessions or presenters, and use the chat regularly to connect with other attendees.
Minimize distractions: When you're watching alone, it's easy to "multi-task" and get distracted. Instead, try to reduce notifications, grab a notepad, and get ready to start learning!  
Check your technology before the day of the event. The last thing you want to do is wait until the event starts to realize your browser is not updated, or your wifi doesn't work well or there is an app you have to download. 
Have fun! Virtual events don't have to just be for work or business, especially now you can experience all types of unique experiences. Have fun, learn and get connected.
Cannabis Events – 10 Best Events You Shouldn't Miss
Written by: TRprabs
Ever since some states in the US legalized the use of marijuana for medicinal purposes, a whole new industry has begun to grow. It's a relatively new field that starts with growing the hemp and extends to the manufacture and marketing of the CBD oil. If you are in any way related to this field, you must be part of the many cannabis events being organized across the country. You may not be in a position to attend them all, but if you know when and where they are held, you could make a plan.
There are several events for the growers of hemp and other events for the end products and possibilities. EventHi presents you ten of them here. Let's take a look.
Event Date: May 3-5, 2020
Location: Buffalo, NY
Description: This is a 3-day expo cum conference dealing with the cultivation of hemp in the state of New York. The US Hemp Expo organizes these events in many cities in the Eastern part of the US.
Why You Should Attend: If you are in any way connected with agriculture in the state of New York or any other location, you will find this extremely useful. The sessions include the full range of topics from sourcing the seeds to planting and finding the market for hemp. You will get to hear directly from people who have cultivated hemp and have benefitted. The information and knowledge you gather here will help you plan your activities back in your farm. There are trade shows which give you exposure to the latest developments in the field.
Event Date: May 29-30, 2020
Location: Dallas, TX
Description: Lucky Leaf Expo in Dallas, Texas is one of the first events here after the state joined the others to pass the law making the use of cannabis legal. The expo will cover a vast range of related subjects.
Why You Should Attend: The organizers of Lucky Leaf Expo see the growth of the cannabis business as a positive development. They feel it has been beneficial for the health of the people as well as offering better business opportunities. You can help yourself to a wealth of knowledge, whichever category you belong to. The expo will expand your vision on what cannabis can do to your health if you are a consumer. You can plan to start a new business in cannabis and learn all the inputs you need to succeed in it.
Event Date: June 26-27, 2020
Location: Chicago, IL
Description: The CannaFarm CON – Hemp Edition brings hemp farmers, specialists and scientists together on a single platform. The 2-day conference is meant to highlight innovative technology adopted for cultivating hemp with discussions on harvesting techniques.
Why You Should Attend: This could be a rare opportunity to meet and interact with master growers from around the world. There are also reputed keynote speakers on the various topics of relevance with interactive sessions. These will give you a deeper insight into this sunrise industry. There is even an Investor Pitch session where you can make a presentation on your bright idea for a project in cannabis and win a prize. Investors, if they are impressed with your idea, might pitch in with the funds.
Event Date: August 26-27, 2020
Location: Detroit, MI
Description: The Midwest Cannabis Business Conference in Detroit will address the entire gamut of the cannabis industry. It will cover areas like the seed and hemp cultivation to the marketing of end products. It is one of the best Cannabis events as it attracts the best experts in each area.
Why You Should Attend: This event brings together the whole bunch of people involved in the cannabis business. You would be missing out if you are not there. Whether you plan to cultivate hemp in your farm or wish to enter into retailing the products, you should be there. Hear the speakers share their knowledge and experience and have your questions answered. You will be able to forge new relationships with people who matter in the cannabis business. You will find the event very useful.
Event Date: September 16-17, 2020
Location: Los Angeles, CA
Description: The CWCB Expo brings together some of the best brains and professionals in the cannabis trade. They share their ideas and the latest developments in the cannabis industry.
Why You Should Attend: CWCB Expo is the place to be for anyone connected to the cannabis business. California is where it all started and LA offers a huge market for CBD in all its derivative forms. The expo will have product displays and the conference will offer immersive and educative sessions to lift your level of knowledge. Almost all stakeholders in the cannabis business, from legal luminaries to delivery firms will be there. This is the best opportunity for networking and creating new relationships to expand your business.
Event Date: September 17-20, 2020
Location: Lake Ozark, MO
Description: The Grow Tradefest conference will have a galaxy of speakers delivering their address on diverse topics related to the cannabis business. There will be an update on how Missouri has progressed in the trade.
Why You Should Attend: This is a unique conference and a cannabis event that attracts speakers with varied experience in the production of cannabis to its processing and use. There will be speakers from the field of sports who will speak on how the use of CBD has improved recovery times for injured sportspeople. Overall, this event can enlarge your vision on cannabis as a commercial product and spur you on to develop your business. You should be there if you wish to know what's happening to the industry at these times.
Event Date: September 20-22, 2020
Location: California
Description: This is a unique event in the cannabis event calendar since it is more focused on the medical aspects of cannabis. The organizers position this event more like a science and technology program aimed at a clearer understanding of cannabis.
Why You Should Attend: If you are a cannabis user and have the scientific inclination, you must attend this event. If you are a medical practitioner and your patients have been asking you about CBD and its uses, you can attend CannMed 2020. The event has participants from the industry who manufacture cannabis-based products. You can directly hear from these experts on the scientific perspective of cannabis and its therapeutic uses. Learn about the breakthrough technologies in the field too.
Event Date: September 29-October 1, 2020
Location: San Francisco, CA
Description: This expo is a premier cannabis event and it is a B2B summit. Cannabis business owners congregate to refresh their knowledge on the latest developments in the industry. A lot of networking happens too.
Why You Should Attend: If you have a business dealing with cannabis, this event would offer you the best ringside view of the industry. You can meet and greet the best brains in the industry and build new relationships. You can consider booking a stall and display your products. The expense will pay off as hundreds will be visiting the exhibition. The event consists of tours, workshops and solution rooms. There is no way you will return from the Cannabis Business Summit & Expo without your knowledge and confidence boosted.
Event Date: October 30, 2020
Location: San Francisco, CA
Description: Though the event is titled as Cannabis Drinks Expo, it will include products other than drinks made from cannabis. A dedicated one-day expo on cannabis drinks, however, is an exciting prospect since this is a fast-growing business. It has already generated a lot of interest among the stakeholders.
Why You Should Attend: If you are in any way connected with the production, distribution and retailing of cannabis products, you should be here at San Francisco for the Cannabis Drinks Expo. You can understand how the innovative industry has harnessed the power of CBD to make sports drinks. These drinks are gaining popularity as its usefulness is being experienced by more people. As with most such events, you get the chance to meet experts in various connected fields, including medical experts. They can share their knowledge on the latest developments in the processing of cannabis which can be useful in your business.
Event Date: December 4-5, 2020
Location: Orlando, FL
Description: The Original CBD Tour Southeast 2020 is positioned by its organizers as a hybrid' conference. Its neither business to business nor business to consumer. It's all-encompassing. This could be the final event in the 2020 calendar for cannabis enthusiasts.
Why You Should Attend: There are the latest innovations exhibited. You can explore and test CBD products you might be hearing for the first time. There are expert presentations on topics that include laws, regulations, marketing, holistic medicine, medical trends, and technology. If all these are exciting subjects for you, you must attend the Original CBD Tour Southeast 2020. The workshops offer a unique experience in areas like extraction methods and CBD cooking processes. The event accumulates consumers, entrepreneurs, and professionals all in one place.
Bottomline
Cannabis is the new exciting business prospect as the country learns its multiple uses and benefits. There are a lot of things still to be known in the trade. From regular users to cultivators of hemp and medical professionals getting introduced to the product, all can gain from attending the Cannabis events.
Check Out:
Interested in coming on as a guest? Email our producer at lauryn@collateralbase.com.