Where can a cannabis business owner turn to get product reviews from cannabis lovers, maybe some 420 magazine or a forum on social platforms that reports on cannabis news and cannabis products. Since the cannabis business has developed tremendously in recent years, many cannabis business social networks popped up to serve the industry's needs. We report on the top cannabis social media platform you can find online.
Cannabis Social Media accounts often get shut down or censored, but some new social media companies are tailored for cannabis companies. While many cannabis users utilize mainstream social media sites such as Facebook, Twitter, and Instagram, you might want to check out some of the cannabis-specific networks available.
What is the best cannabis business social network?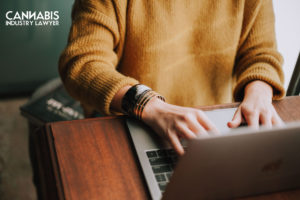 Adults over the age of 21 can consume cannabis recreationally in 19 states. The majority of states in the United States have decriminalized drug possession and usage. With this advancement, the possibility to lawfully advertise cannabis and associated goods has become feasible.
Cannabis companies, however, may suffer from some restrictions or have their accounts permanently suspended if they attempt to post cannabis-related information on some mainstream social media marketing platforms.
Those in the cannabis industry who want to connect with customers and other specialists on their mobile devices have frequently encountered resistance from Apple and Google app stores, which refuse to offer cannabis-related apps.
This opposition was viewed as an opportunity, and the cannapreneurs quickly established their own cannabis business social network.
Nowadays, you may connect, communicate, and engage with other businesses/customers and promote the growth of your product using social media, whether you're a publicly traded firm, a local dispensary, or someone who simply grows a few plants in their garden.
In this article, we list 7 cannabis business social networks you need to be a part of, if you want to succeed in 2021.
Top Cannabis Business Social Media
By giving shops with the infrastructure they need to thrive, this company hopes to make marijuana more mainstream.
Weedmaps is the Yelp of the cannabis industry. Weedmaps is a dispensary and delivery service directory. There is no social component to it, but it does provide you access to a lot of information about each ad on their site.
You may read reviews from other people who have used the product or service, learn about the hours and location of a dispensary, and look at their menu of goods for sale, as well as their costs.
Weedmaps is available for iOS/Android smartphones on the App Store or Google Play. It receives over 500,000 monthly visits from throughout the world, with over five million app downloads.
If you're a cannabis enthusiast, this platform can assist you in finding the greatest strain, the best retailer, or even a dispensary for cannabis-related health services. Cannabis companies, on the other hand, may register and list their brand on Weedmaps' official website.
You may also provide pertinent information about your company to reach out to the large audience that exists here.
Pros:
Highly user-friendly website
Allows you to promote your products through campaigns and promotional strategies
You can insert videos and images in your posts
Cons:
Their customer services are not yet refined
Weedtube
Launched in 2018, Weedtube is a social network and content hub platform similar to YouTube but with a marijuana twist. This is the home of cannabis content.
While YouTube censorship can make cannabis-related videos very restrictive, Weedtube is a video platform focused solely on the cannabis industry. You can find videos from vloggers who display several types of cannabis-related content; ranging from business, culture, cuisine, growing & gardening, opinion & politics, business, and more.
Weedtube also counts with a written blog. You can get official merchandise from them through their e-shop, and download their app from Google Play and App Store.
If you're looking for a new place to watch and share videos, Weedtube is definitely worth checking out!
Pros:
Free and easy to join
You can watch cannabis-related content videos on a safe environment
You can advertise like on YT
Cons:
Content is still very limited
This social network for cannabis businesses makes networking simple whenever you're on the road, thanks to a mobile app that sends notifications directly to your device. Cannabis enthusiasts may build profiles in order to engage with one another, and online buying is very simple. Weedable allows social users to follow their favorite brands and business users to engage with consumers on a personal level. It also serves as an online water cooler, bringing together all of the newest marijuana-related news.
Weedable allows you to follow, post, and purchase all from one web platform. You may join Weedable and create your own online profile, whether you're a business, an individual, or just wanting to interact with other cannabis enthusiasts.
Pros:
Easy to use display section
You can list your products here
Provides real-time news about cannabis
Best cannabis educational platform
Cons:
Lacks some features available in web-based platforms
Did you find a social network that works for your cannabis business?
Maybe you'd want some help with your license application too!

Click Here
RELATED: What Municipalities Have Opted in for the New Jersey Cannabis Program
The GrassCity forums are the oldest cannabis social network on the internet. GrassCity began as a forum for cannabis growers where they could get how-to manuals and share their experiences, but it has now evolved into an all-encompassing social network where users can connect, share cannabis tales, and swap advice and product evaluations.
GrassCity has around 700,000 members and has recently created a mobile app to make it easier to access from any device.
Pros:
A great platform to introduce you to the world of cannabis
Wide user base
Have a mobile app that is highly convenient to use
Provides a comprehensive list of U.S cannabis-based dispensaries.
Cons:
You must be 19 years or older to use the network.
LeafWire, founded in 2018, is a cannabis business social network with a more professional focus concentrating on b2b sales than a recreational one. It's been dubbed the "LinkedIn" of the cannabis industry. There are two types of profiles available: cannabis professional and accredited investor.
LeafWire is a platform that connects investors with cannabis entrepreneurs to sell products. You can network with investors if you are a business owner. If you're an investor, you'll be able to assess a variety of cannabis enterprises.
With yearly sales of almost $25 billion and 250,000 employment, the cannabis sector is booming. LeafWire is taking advantage of this trend, and a wise cannabis company owner may benefit from it.
Pros:
There is a good pool of cannabis investors
You can connect with business owners and get investment ideas.
You can post a job listing if you want to hire professionals for your canna-business.
Good platform to find jobs in the Cannabis industry
Cons:
Highly professional and may not be suitable for recreational cannabis users
MassRoots, was founded to connect college students. Its aim is to connect college students who consume cannabis and are frequently looking for reputable stores in their area. Over a million people are already connected to this network.
MassRoots is a great place for cannabis businesses and shops to use for branding. The most notable feature of MassRoots is that it does not encourage user participation via discussion forums. Users are encouraged to leave comments and review goods. It also features a loyalty program that entices users to participate actively by offering movie tickets, concert tickets, and festival passes.
Pros:
Highly convenient place to find a reliable dispensary
Wide user base (over 1 million connected followers)
Has a rewards program that ensures users participate actively
Customer analytics that helps businesses assess the performance of their marketing/promotional campaigns
Cons:
Some features such as location finder may fail sometimes
Berner's Social Club is an app that provides a reliable platform for connecting those within the cannabis industry. The app is designed to help users find dispensaries, products, and opportunities that are local to them. Berner's Social Club has become increasingly popular due to its user-friendly design and feature-rich platform.
One of the biggest advantages of using Berner's Social Club is that it enables users to easily find what they need in the cannabis industry. Whether you're looking for a dispensary, product, or even a job opportunity, you can quickly search for what you need on the app. Additionally, users can narrow down their searches by location since it offers a location search feature based on zip code.
Overall, Berner's Social Club App is a great tool for connecting those within the cannabis industry as well as finding dispensaries, products, and opportunities locally. It offers several features such as reviews sections, location search functionality based off zip codes and an engaging loyalty program which encourages active participation from its members while providing useful insights into customer analytics for businesses alike.
Pros:
You can find and book accommodation
Listing your business is one click away
Free and easy to use
Cons:
Still in the development stage
Conclusion
The cannabis industry is rapidly expanding. As a result, using a social media network to reach out to potential customers is a good idea.
Thousands of buyers and vendors may be found via a social media platform. Despite the fact that there is a perplexing array of cannabis social networks. You should engage in them if you own a business and are attempting to advance in the industry.
Each cannabis business social network has its own set of advantages.
You should seek for one that meets your precise requirements. For example, if you want to focus on privacy and product evaluations, you'll probably choose MassRoots.
However, if you're wanting to employ workers for your business or find a career in the field, LeafWire is a good option.
Remember that one of the things that makes cannabis great is its community.  So , give these top cannabis social networks a try, you won't regret it!
RELATED: Cannabis Real Estate