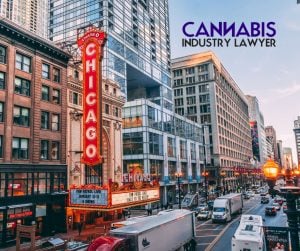 If you are looking for a Chicago cannabis attorney, you've come to the right place. In this article, we reveal all the aspects which a Chicago cannabis attorney covers in the cannabis business. It is important to know how to comply with the rules and how to stay protected as a business owner.
A good Chicago cannabis attorney can help you lower the risks and prolong the time of effective business operations.
A Chicago cannabis attorney is an official person who can help you with compliance with Illinois cannabis laws. The purchase of recreational marijuana will be legal in Illinois from January 1, 2020, and this is the time for a huge change in the cannabis industry. Users with a valid Medical Cannabis Patient ID card will be able to purchase medical marijuana and all the other users will be allowed to purchase marijuana for recreational purposes.
Businesses that are registered as dispensaries will have an option to verify customers' information using special types of Cova's ID scanners. With these scanners, customer experience will be much better thanks to the fast check-in process and seamless transaction. The purchase limit is 2.5 ounces of cannabis flowers. It will be possible to purchase this amount of 2.5 ounces every 14 days.
Another rule in cannabis regulations in Illinois is the amount of THC in cannabis-infused products. No more than 500 milligrams of THC will be allowed in these products. Automated purchase limit alerts will allow retailers to prevent overselling to patients and customers who have already reached the purchase limit. In this case, the officials of the state of Illinois officials want to reduce overselling and over-consuming of medical marijuana.
Cannabis retailers in Illinois want to remain compliant with the rules, and they will track the following actions:
Sales transactions
Beginning and ending inventory
Acquisitions of cannabis
Disposal of cannabis
Reporting is fully automated as the Cova scanners are fully integrated with the statewide verification system of Illinois. Inventory control and point of sale systems are web-based and accessible by the state at any time. The Cova system meets the requirements when it comes to inventory control which is a prerequisite for keeping the products out of the hands of minors. At the same time, the products are protected from the black market and illegal activities.
A Chicago cannabis attorney can help you craft the contracts that are relevant to your business operations. In the exact contracts, you can define the rules and obligations of each party. With great attention to each detail, a Chicago cannabis attorney can define the following contracts:
Articles of Incorporation or Organization
Internal Governance Agreement
Lease Agreement
Employee handbook
Third-party agreements
All of these contracts are made to provide legal protection for your business rights and property. Each document defines how you can operate with your business entity during specific business situations. Complying with the Illinois rules and regulations is the most important thing in the overall agreement making procedure. A Chicago cannabis attorney will make the agreements easy to use and understand so that you can be introduced with the most important points of the contracts.
Besides the mentioned contracts, you may also need the documents that define your business in a more detailed way. In this matter, you may need to have an employment agreement that recognizes the limitations and regulations of employees. Another relevant document is a stock purchase agreement which defines selling stocks or other forms of ownership in the company. The third document comes in the form of a business plan. This document defines a cannabis business plan that has implementations in many different forms. To craft all of these documents, you may need additional consultations with your Chicago cannabis attorney.
Interaction with the State of Illinois is important in different aspects. All business owners who want to get a license must comply with the official regulations. The main types of applications for licenses require very specific details. You may need to provide your personal information, criminal background check, business plan for the specific cannabis business, and the overall application fee for the specific license.
In the situation when you want to obtain a medical marijuana dispensary license, you may need to pay an application fee of $30,000 which is an official fee in the state of Illinois. If you get a dispensary license, you will be able to sell cannabis products to adults aged 21 and older. This will be possible from January 1, 2020.
Applications will be ranked according to the special scoring system, and applicants will know if they are accepted by May 1, 2020. Up to 75 conditional licenses will be issued and the applicants who get a conditional license have 180 days to find a suitable location for selling cannabis. The location must be approved by the department officials.
The official agency that is in charge of cannabis licensing in Illinois is the Illinois Department of Financial and Professional Regulation (IDFPR).
In Illinois, it will be legal to grow and sell cannabis in certain zones of the state from 2020. To meet the official requirements, you must consult a Chicago cannabis attorney who will suggest which zones are available for cannabis business and how you can operate within the regulations.
If you are starting a cannabis business and want to buy a real estate, it is good to consult your attorney about the possible options you may have. Starting a cannabis business in Illinois is easier with the help of a Chicago cannabis attorney. You will be able to see what is possible to start in the state and how the right license can make a difference. With a good plan and professional Chicago attorney, you will have an opportunity to have the most effective cannabis business with a great perspective for growth in the state of Illinois.
Thomas Howard has been in business for years and can help yours navigate towards more profitable waters.
Thomas Howard was on the ball and got things done. Easy to work with, communicates very well, and I would recommend him anytime.
Our cannabis business attorneys are also business owners.  We can help you structure your business or help protect it from overly burdensome regulations.