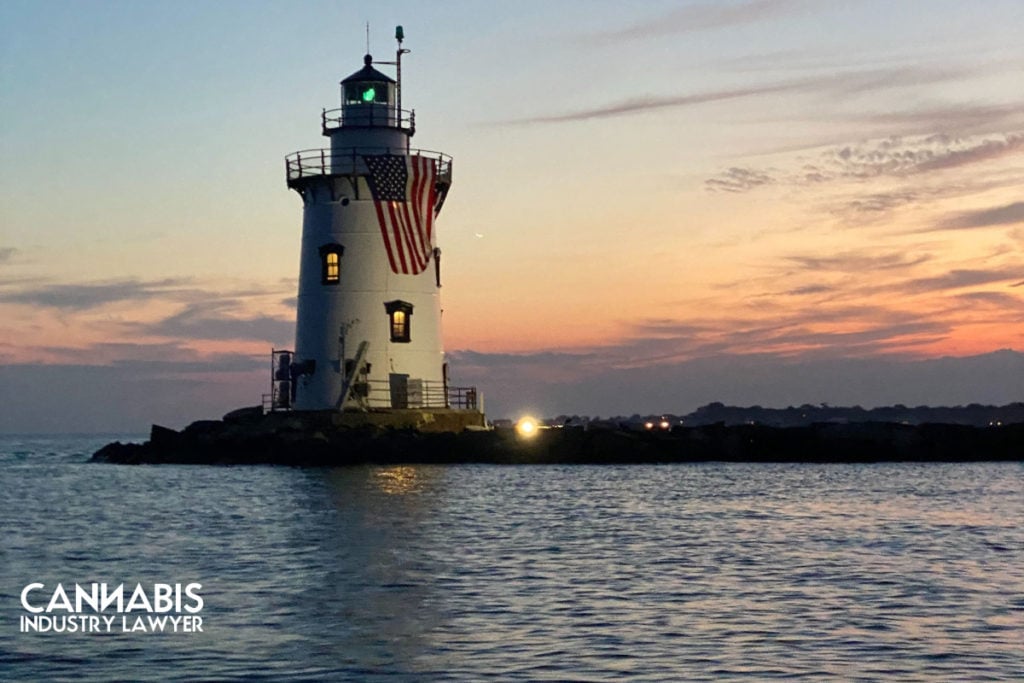 Connecticut has become the 19th state to legalize adult-use cannabis, on June 22, 2021, when Governor Ned Lamont signed SB 1202 into law. Aside from the creation of the adult-use program, the bill changed the preexisting medical-marijuana program.
The law went into effect on July 1, 2021.
The new CT Cannabis law prioritizes social equity by allowing certain Social Equity Producer licenses that will spawn two related Equity Joint Ventures (EJV). The Connecticut cannabis licensing program has a strict limit to the numbers of cannabis business licenses that that state intends to award.  In this article, we go over the basic information behind the Connecticut cannabis license program.
General information of the bill
The Connecticut Department of Consumer Protection (DCP) is in charge of overseeing the program, as well as the soon to-be created Social Equity Council.
The DCP will be in charge of licensing and regulating cannabis businesses, while the Social Equity Council will create criteria for social equity applications, making recommendations to DCP for the cannabis program.
Significant dates
On July 1, 2021: Adults 21 and older will be able to possess cannabis and cannabis products legally

Adults may not have more than 1.5 oz of cannabis on them
Adults may not have more than 5 oz of cannabis in their homes or locked in their car trunk or glove box

By July 31, 2021: All appointments shall be made to the Social Equity Council
On or before September 1, 2021: The Social Equity Council will post the necessary documentation requirements to inform applicants of the ownership, residency, and income requirements to qualify as a social equity applicant.
On October 1, 2021: Medical patients can cultivate marijuana at home
No later than 30 days after the Social Equity Council identifies ownership, residency, and income criteria for social equity applicants: DCP and the Social Equity Council will begin accepting applications for all classes of licenses
Sometime in 2022: Retail sales of cannabis will begin
On July 1, 2023: Adults 21+ can cultivate marijuana at home
What adult-use license types will be available?
Cultivators
Micro-Cultivator
Product Manufacturer
Food and Beverage Manufacturer
Product Packager
Delivery Service or Transporter
There will be a two-step license process: provision (expires after 14 months) and final license.
Half of the licenses will be reserved for social equity applicants, which are businesses that are 65 percent owned and controlled by individuals who lived for 5 of the last 10 years, or 9 of their first 18 years of life, in a disproportionately impacted area and have had an average household income of less than 300 percent of the state's median household income over the last three years.
Location provisions
Until June 30, 2024, municipalities cannot grant zoning approval for more retailers or micro-cultivators than a number that would allow for one retailer and one micro-cultivator for every 25,000 municipal residents
The DCP cannot approve the relocation of dispensary facilities or hybrid retailers to a location that is further than 10 miles from the current location
Municipalities can set restrictions on cannabis establishments' proximity to religious institutions, schools, charitable institutions, hospitals, veterans' homes or certain military establishments
Municipalities can prohibit all classes of cannabis establishments from opening within their jurisdiction, but cannot ban or prohibit cannabis delivery
When will people be able to apply for a license?
We don't have a date for when the people in Connecticut will be able to apply for a license.
The State of Connecticut has established that the Social Equity Council must determine what information will be required for evaluation before the Department of Consumer Protection can publish any application.
In that sense, to be up to date on this matter people will need to regularly check their website for updated information.
License Fees
The license fees for different license types in the Adult Use Cannabis program are as follows:
Non-Social Equity Fees
Social Equity Fees
Name
Lottery
Provisional
License
Lottery
Provisional
License
Cultivator
$ 1,000
$ 25,000
$ 75,000
$ 500
$ 12,500
$ 37,500
Micro-cultivator
$ 250
$ 500
$ 1,000
$ 125
$ 250
$ 500
Retailer
$ 500
$ 5,000
$ 25,000
$ 250
$ 2,500
$ 12,500
Product Manufacturer
$ 750
$ 5,000
$ 25,000
$ 375
$ 2,500
$ 12,500
Food and Beverage
$ 250
$ 1,000
$ 5,000
$ 125
$ 500
$ 2,500
Delivery/Transport
$ 250
$ 1,000
$ 5,000
$ 125
$ 500
$ 2,500
Product Packager
$ 500
$ 5,000
$ 25,000
$ 500
$ 2,500
$ 12,500
Hybrid
$ 500
$ 5,000
$ 25,000
$ 500
$ 2,500
$ 12,500
About 70% of Americans support the legalization of marijuana and Senate Majority Leader Chuck Schumer recently introduced a federal bill to decriminalize cannabis.
Don't miss out on our Marijuana Legalization Map where you can browse the current status of laws in every state in the United States and see all our posts on each of them.