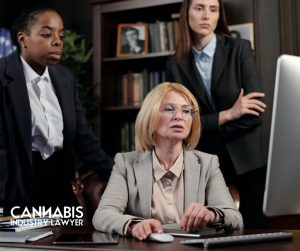 The budding legal cannabis market is a complex web of laws and regulations. These laws can be so convoluted at times that some states, like Pennsylvania and Florida, are having trouble implementing their own licensing schemes. Perhaps it's not surprising that some of the biggest names in Illinois cannabis were founded by lawyers.
We've previously written about why your company might need a cananbis attorney. In this article, we want to go over one of the most common arrangement that companies of all kinds use to service their legal needs: outside general counsel.
What Is a "General Counsel?"
Most large and mid-sized companies have someone designated as their "general counsel." The general counsel is the chief legal officer for the company, who has broad oversight over all of the company's legal issues. This means they (and their staff) handle everything- corporate governance, contracts, employment, intellectual property, regulatory compliance, etc. The general counsel will usually not handle litigation; even very large companies with huge in-house legal staff tend to outsource litigation to law firms on a case-by-case basis. The general counsel might also rely on law firm assistance for discrete and/or major work, such as a major acquisition or a large annual filing with the Securities and Exchange Commission. In contrast, the general counsel handles more of the day-to-day legal operations, and acts more as oversight for when the company needs to bring in a law firm to handle special matters.
What is an Outside General Counsel?
Smaller companies still have serious legal needs. While a small family business or sole proprietorship might have minimal legal obligations, any company of a moderate size, especially a highly regulated company like a cannabis business, is going to need regular, routine legal advice. At the same time, adding a senior employee like a general counsel can be expensive, and you might only need them for 5-20 hours per week, not a full 40.
That's where the concept of an outside general counsel comes into play. Many mid-sized companies hire a law firm to work as their outside general counsel. It's the best of both worlds for everyone involved. The company gets a seasoned, experienced lawyer to do their routine, necessary legal work, but doesn't have to deal with the problems of having a senior full-time employee. On the other side, the law firm gets a steady client, while the lawyers involved are still free to pursue additional business and hone their expertise in a way that only a law firm setting allows.
Why Your Company Should Get an Outside General Counsel
The Illinois Cannabis Regulation and Tax Act creates a huge list of obligations to obtain and maintain your status as an approved, licensed cannabis business in Illinois. Here are just some of the ongoing requirements you have as a cannabis business in Illinois:
Annual reporting regarding your social equity status (410 ILCS 705/7-30)

Employee training plan, labor and employment practices plan:

Making sure your employees follow the law and best practices

Updating best practices on a regular basis

Responsible vendor training

Environmental, health, and safety compliance

State and federal regulations on cannabis waste and disposal

Proper use of pesticides

Proper product packaging and labeling

Security compliance

Making sure all equipment is working and meets industry and/or state standards

Recordkeeping plans to make sure your company properly records and stores all of the information required by the State;

Periodic inspections and record requests from the State or local government

Annual review of all laws, rules, and regulations
In addition to all of the cannabis-specific regulations, cannabis businesses in Illinois have a host of other legal concerns that apply to highly profitable mid-sized companies, such as:
Corporate governance matters:

Corporate resolutions

Buying and selling shares of the company

Resolving management conflicts

Employment matters:

Hiring and firing employees

Unemployment and wrongful termination claims

Employee benefits, minimum wage, paid time off, etc.

Commercial contracts:

Buy/sell agreements

Contracts with dispensaries, growers, infusers, and transporters

Out-of-state contracts

Sales and marketing arrangements
This is just a sampling of the many legal issues that you are virtually guaranteed to face as an ambitious cannabis entrepreneur
Final Thoughts on Hiring Outside General Counsel 
Cannabis is a tough, complex, and highly-regualted business. Given the high capital costs and the complexity of the rules involved, along with the high costs of failure, every cannabis business should strongly consider hiring someone as a general counsel. 
Contact a cannabis lawyer to discuss your options and secure the longevity of your business.  Ours are business owners just like you.